Record-Breaking Distance Runner Diane Leather Never Let Lack of Opportunity Slow Her Down
The first woman to run a mile in less than five minutes has died at age 85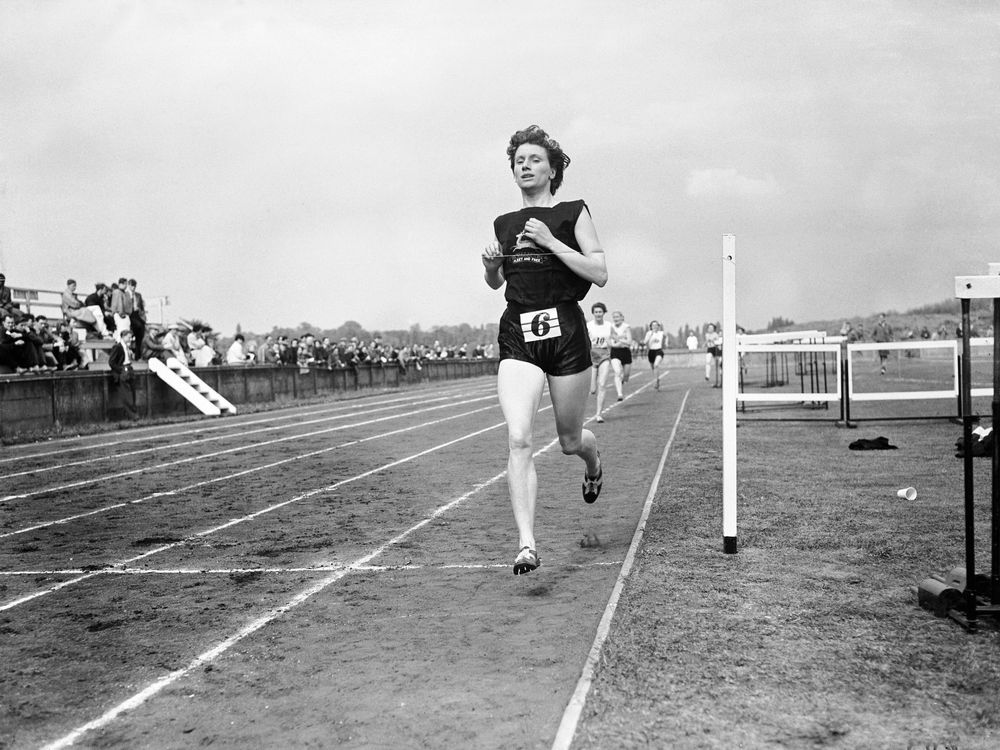 On May 29, 1954, a young chemist named Diane Leather became the first woman to run a mile in under five minutes. For most of her life, Leather's accomplishments were met with little fanfare. But in later years, the record-setting athlete, who died of a stroke earlier this month at the age of 85 as Amisha Padnani reports for the New York Times, was recognized as a pioneer in the sport and an inspiration to other runners.
Born in Staffordshire, England, in 1933, Leather decided to start running after catching a broadcast of the women's 100- and 200-meter races at the 1952 Helsinki Olympics.
"I thought I'd love to do that," she told the Great Barr Observer, a local Birmingham publication, in 2014, according to Padnani.
At the time, Leather was working as a chemist at Birmingham University. She joined the Birchfield Harriers, a local running group, and began training with the influential British coach Dorothy Nelson. On May 26, 1954, Leather broke a world record when she finished a mile run in 5:00.2. But she was determined to crack the five-minute mile.
Three days later, Leather sped across the track at Alexander Stadium in Birmingham, breaking her own record with a time of 4:59.6. It wasn't even Leather's first race of the day; she had run 800 meters earlier that afternoon, Neal Sean Ingle noted for the Guardian in 2014.
"When I broke the record, it was very exhilarating," Leather told Jessica Shepherd of the Birmingham Post & Mail in 2004. "I enjoyed the competitive aspect of breaking the barrier and it was, of course, great to win the race."
A few weeks before Leather's victory, the British runner Roger Bannister became the first person to break the four-minute mile. His feat was trumpeted in headlines around the world. Leather's did not even make it into the record books.
In 1954, women's track and field remained hamstrung by prejudice and taboo that had plagued women's endurance events throughout the 20th century. The global body in control of women's track and field, the International Amateur Athletics Federation, only began recognizing world records in the mile for women in 1967.
After a long push led by the International Federation of Women's Sports in the 1920s, the IAAF had first allowed the inclusion of five women's track and field events as an "experiment" at the 1928 Amsterdam Games. But the natural exhaustion showed by women at the finish line of the 800-meter race, the longest distance for women to be included in the program, was seized upon by officials and the press to claim that such a distance was too dangerous for women's bodies. That smear campaign was so effective that the women's 800-meter race was not reinstated at the Olympic Games until 1960.
But the lack of opportunities for recognition did not stop Leather from running. In May of 1955, she once again beat her own best time when she ran a mile in 4:50.8. Four months later, she finished a mile in 4:45.0—an unofficial record that she would hold for seven years.
Leather also won two silver medals for 800-meter events at the European championships, and broke world records in women's 440-yard, 800-meter and 880-yard relay races.
When the 800-meter race returned at the 1960 Rome Games, Leather competed in a preliminary heat, but did not advance. She retired from competitive running that year, at the age of 27. She went on to study social work and worked at a nonprofit agency in Cornwall.
In 2013, Leather was inducted into the England Athletics Hall of Fame. And this past Sunday, when 57,000 athletes converged in northeast England for the Great North Run, the U.K.'s largest half marathon, Leather was on the minds of prominent participants. Athletes Mo Farah, Kathrine Switzer and Laura Muir "all paid tribute to Leather Charles as an inspiration since 1954," reports Roger Robinson of Runner's World.
Leather's great-niece Ellie Leather, who runs track and cross country at California State University, Fresno, remembered her aunt as "a huge pioneer for the sport" who "led the way for women, in general, to break barriers that had never been broken before."
For many years, however, Leather took a more humble view of her accomplishments. "We used to see [running] as something we did in our spare time, after a day at work," she told the Post & Mail. "Now it is so professional and intensely competitive."