Rebuilding Ukraine's Cultural Sector Will Require Nearly $7 Billion, UNESCO Says
The agency's director-general traveled to the war-torn country to pledge additional support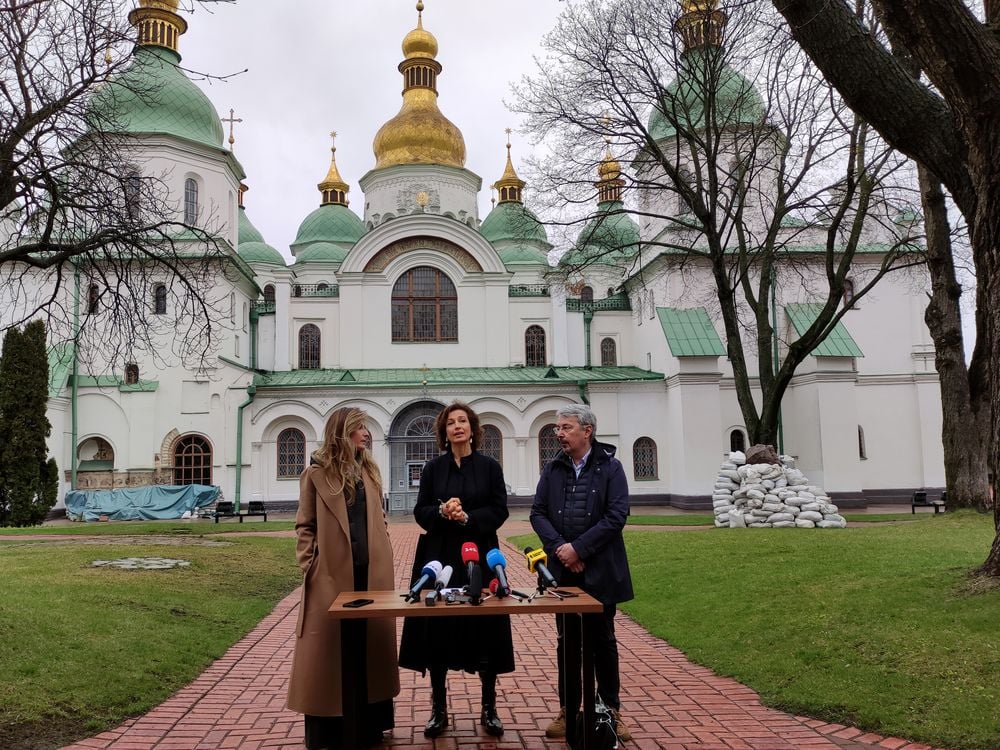 Since the Russian invasion last spring, Ukrainian cultural sites have sustained extensive damage. "The destruction is a deliberate attempt to obliterate Ukrainian history and culture," wrote Richard Kurin, the Smithsonian's distinguished scholar and ambassador at large, in Smithsonian magazine earlier this year. "To support Putin's wrongful argument that Ukraine doesn't have a culture and history independent of Russia, his forces figure they can simply bomb away the country's cultural heritage."
Now, UNESCO has promised to direct more resources toward Ukraine's recovery. Audrey Azoulay, the group's director-general, traveled to the country last week to tour cultural heritage sites, announce new initiatives and meet with Ukrainian President Volodymyr Zelenskyy.
In #Ukraine for a two-day @UNESCO Mission to reaffirm our support for the Ukrainian people and to advance cultural and educational recovery wherever possible. pic.twitter.com/HSNXjHDfoI

— Audrey Azoulay (@AAzoulay) April 4, 2023
"We are fighting on the battlefield for the values of democracy, our freedom and independence, for the future of our children, as well as for our historical values and cultural heritage," says Zelenskyy in a statement regarding the meeting. "It is very important to protect them."
UNESCO has already implemented a $30 million emergency plan, which funds cultural preservation and education causes. During her visit, Azoulay pledged an additional $10 million that will go toward these efforts.
But the total cost of repairing the damage will be much larger.
"In order to rebuild but also to redress the situation, it will be necessary to invest $6.9 billion in the cultural sector in Ukraine over the next ten years," says Azoulay in a statement.
According to a UNESCO report, that $6.9 billion includes $2.3 billion over the next three years, as well as an additional $4.6 billion by 2033.
"The war has significantly impacted the diversity and richness of culture and cultural heritage in Ukraine, causing damage to cultural infrastructure and assets, reducing livelihoods for cultural creators, bearers and practitioners, limiting access to culture, and impeding the exercise of cultural rights," says the report.
During her two-day visit, Azoulay traveled to Kyiv, Chernihiv and Odesa. In Chernihiv, a northeastern Ukrainian city, she announced that UNESCO will work with Ukrainian authorities to rehabilitate the city's historic center, according to the Art Newspaper's Gareth Harris.
Just a few months ago, UNESCO added Odesa's historic center to its List of World Heritage in Danger, giving the city access to additional resources in the wake of Russian attacks. Soon, Azoulay wrote on Twitter, "two additional public monuments will be protected, and we will prioritize the preservation and digitization of artistic and documentary heritage." UNESCO will also support conservation efforts at the Archaeological Museum of Odesa.
"Since the very first days of the war, UNESCO has stood by the Ukrainian people to help protect culture, heritage, education and the safety of journalists," says Azoulay in the statement. "These are the pillars of our humanity, of our identities; the pillars of the country's recovery and of peace."