Rains Transform Australia's Uluru National Park Into a Waterfall Wonderland
Record storms flooded roads and swelled rivers near the park's iconic natural feature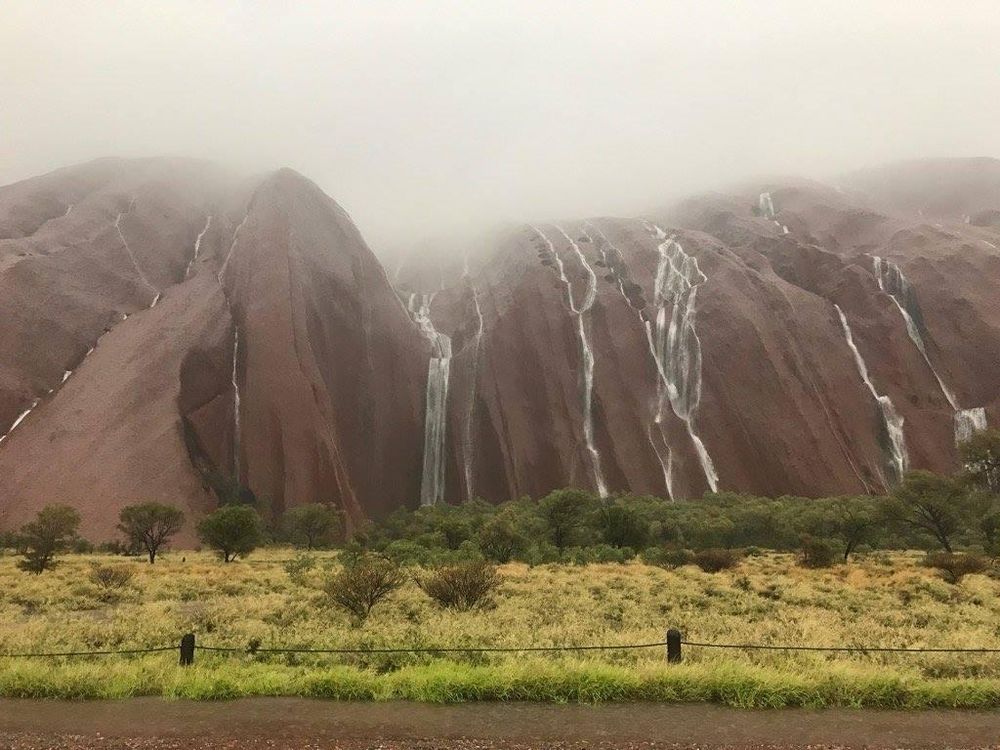 Uluru, the large, iconic red-orange sandstone formation in Australia's Western Desert, otherwise known as Ayers Rock, is beautiful and impressive under clear skies. But a massive rainstorm that took place this past weekend transformed this natural feature—a symbol of the land's harsh, arid climate—into a stunning display of waterfalls, reports Josh Butler at Huffington Post Australia.
According to Neda Vanovac at the Australian Broadcasting Corporation, about nine inches of rain fell on the tourist attraction over a 24-hour period, with 2.4 inches of that falling in a single hour Sunday night. The Bureau of Meteorology deemed the downpour a once-in-50-year rainfall event, Vanovac reports.
The rainfall transformed Uluru into a series of stunning cascades and waterfalls, many of which were photographed and videoed by park personnel and tourists.
@ABCNews24 @BiancaH80 here's some cool videos & pics of the Uluru Xmas rain! pic.twitter.com/X3RE2dz9mO

— Lee Hewes (@waginski) December 26, 2016
In another story for ABC, Vanovac reports that one family had just finished a six-mile hike around the base of Uluru when the rains began. Lee and Bianca Hewes along their two sons and nephew took shelter in a cave decorated with 30,000-year-old rock art at the Mutitjulu Waterhole on Christmas Day to watch the floods unfold.
"The water was flowing straight off the rock, it was amazing, it was just a massive inundation," Lee Hewes tells Vanovac. "We were lucky to see it, we were quite excited."
@BiancaH80 and some more! Such an amazing experience for our sons! pic.twitter.com/cqzsbpJez1

— Lee Hewes (@waginski) December 26, 2016
Others were not quite so excited to experience the rain. According to Vanovac, two people in a car were washed off a causeway near the Hugh River as the flood waters rose. They were both rescued with minor injuries.
A group of six people in two cars traveling the remote highway from Kiwirrkurra to Kintore also became trapped by floodwaters. According to Kieran Banks at The Queensland Times, two of the family members trekked 36 miles through the desert searching for help before rescue helicopters spotted them this past Wednesday.
The rainfall broke the 24-hour rainfall record for Yulara, the tourist village closest to Uluru and also for nearby Curtin Spring.
While the intensity of the most recent storm is not typical, occasional rains at Uluru are relatively common. In January of 2016, for instance, rain over the rock also created some beautiful waterfalls captured by the park's staff.