Quarantine Hospital and Cemetery Found Underwater Off the Coast of Florida
Before it was submerged, a small island was home to 19th-century yellow fever patients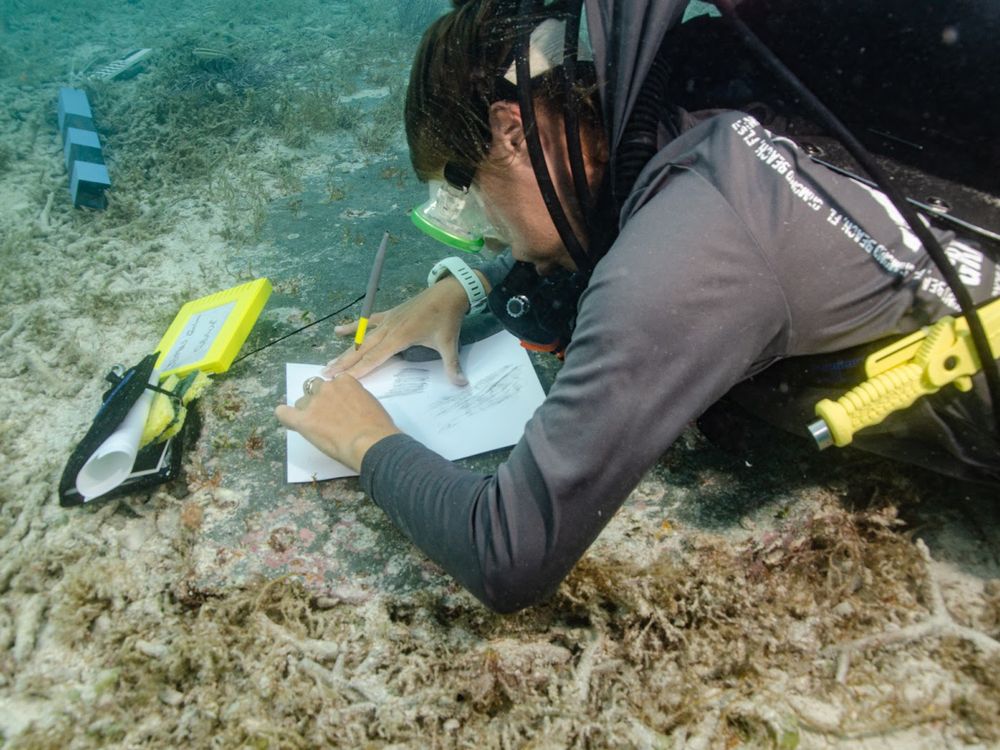 Off the coast of Florida, divers have discovered a 19th-century quarantine hospital and cemetery on a submerged island.
Based on historical records, the hospital was likely used to treat victims of yellow fever outbreaks, while the cemetery may hold dozens of soldiers, prisoners and workers stationed at Fort Jefferson, a now-abandoned military fortress in the Dry Tortugas National Park. Located 70 miles from Key West, the park comprises a series of tiny islands. Due to climate change and severe storms, several of these islands are now underwater. 
"This intriguing find highlights the potential for untold stories in Dry Tortugas National Park, both above and below the water," says Josh Marano, a maritime archaeologist with the National Park Service, in a statement from the park.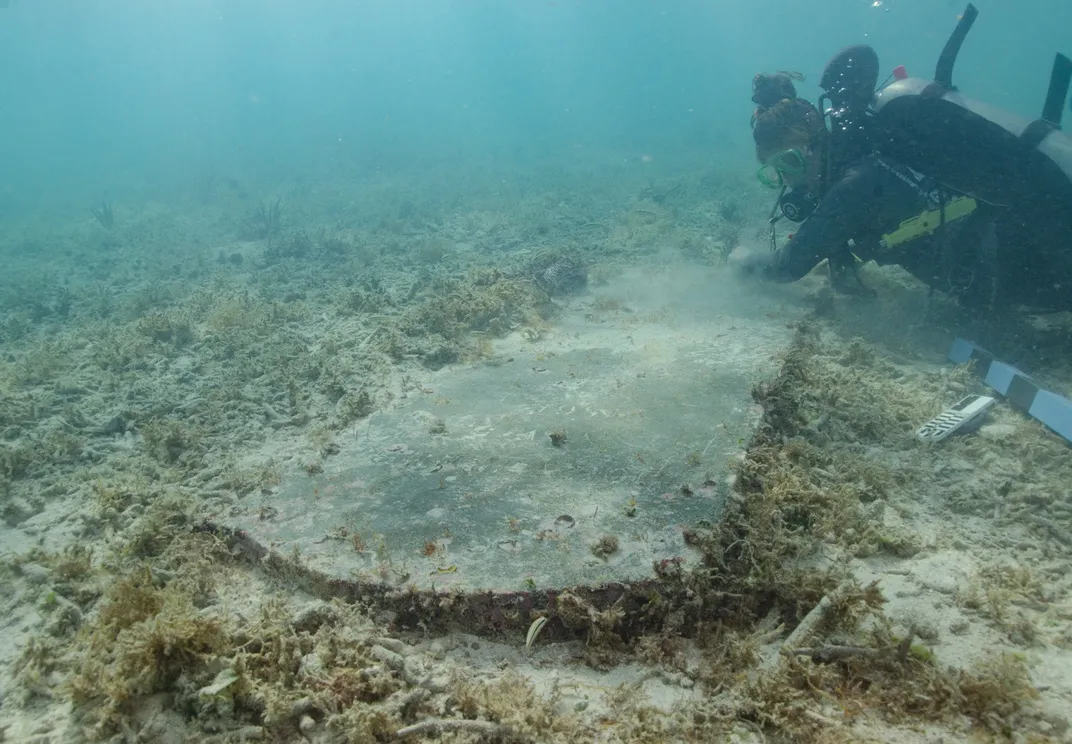 Marano, who also teaches at the University of Miami, was part of the team that made the discovery last summer. 
"The very first thing we came across was a single post," he tells the New York Times' Livia Albeck-Ripka. "Basically like a pipe sticking out of the sand." As they found other posts nearby, they realized that their placement matched the measurements of the hospital. 
Then, Devon Fogarty, one of Marano's students, found something even more intriguing: an engraved headstone. "I didn't believe it," she tells the Times. "It felt like it shouldn't be happening."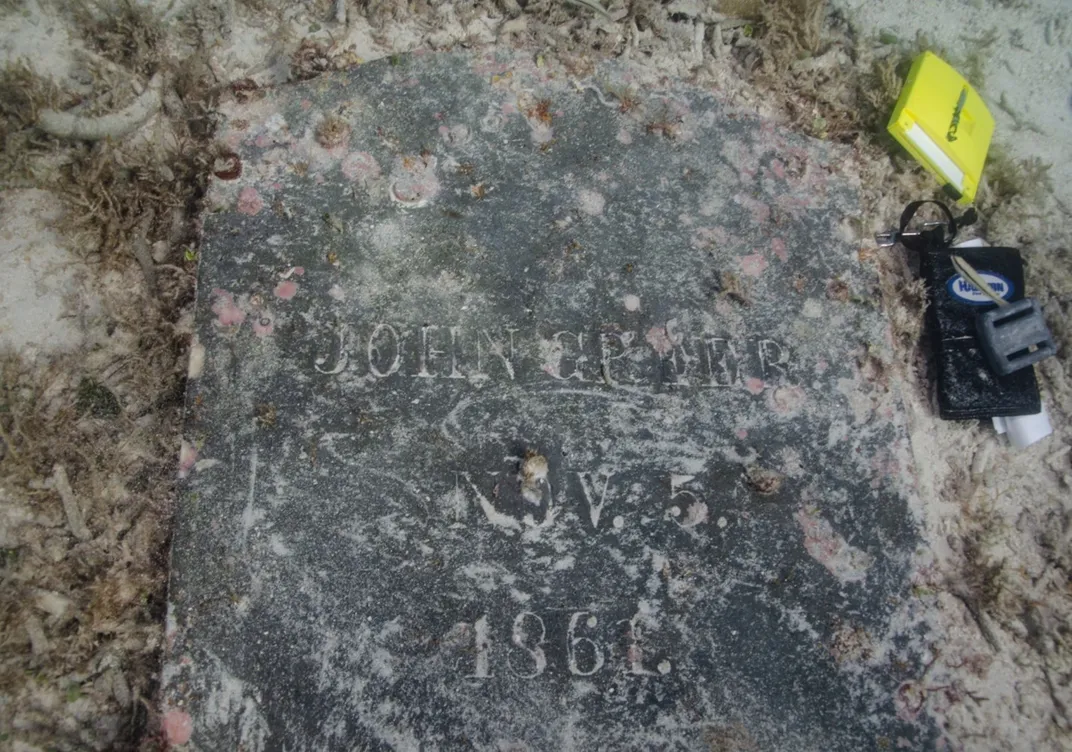 The writing indicated that the gravestone belonged to John Greer, who is listed in historical records as a laborer at the site. The circumstances of his death in 1861 remain a mystery, but evidence suggests he may have died during the fort's construction.
Work on the fort began in 1846 and continued for nearly three decades. Over the years, the fort and its surrounding islands served many purposes, though they are best known for housing a military prison during the Civil War. 
With time, writes the park, as the population "swelled with military personnel, prisoners, enslaved people, engineers, support staff, laborers and their families, the risk of deadly communicable diseases, particularly the mosquito-borne yellow fever, drastically increased."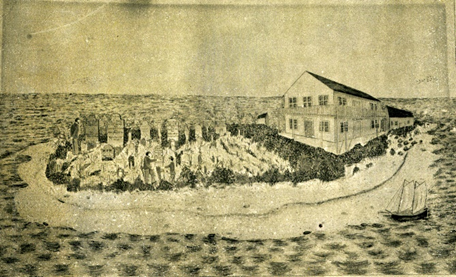 In the 18th and 19th centuries, yellow fever ravaged American cities, killing tens of thousands of victims and taking a lasting toll on the national psyche. At Fort Jefferson, small quarantine hospitals were built on nearby islands amid outbreaks in the 1860s. Quickly transferring sick patients from the fort to these hospitals "likely saved hundreds" from illness and death, says the park.
Since making their discoveries, the researchers have been combing through historical records, hoping to learn more about life at the fort. Marano thinks that the new find is an opportunity to examine the site's untold stories.
"Although much of the history of Fort Jefferson focuses on the fortification itself and some of its infamous prisoners," he says in the park's statement, "we are actively working to tell the stories of the enslaved people, women, children and civilian laborers."