U.K.'s Oldest Toy Museum Shuts Its Doors
Thousands of historic toys will sit in storage until Pollock's Toy Museum finds a new home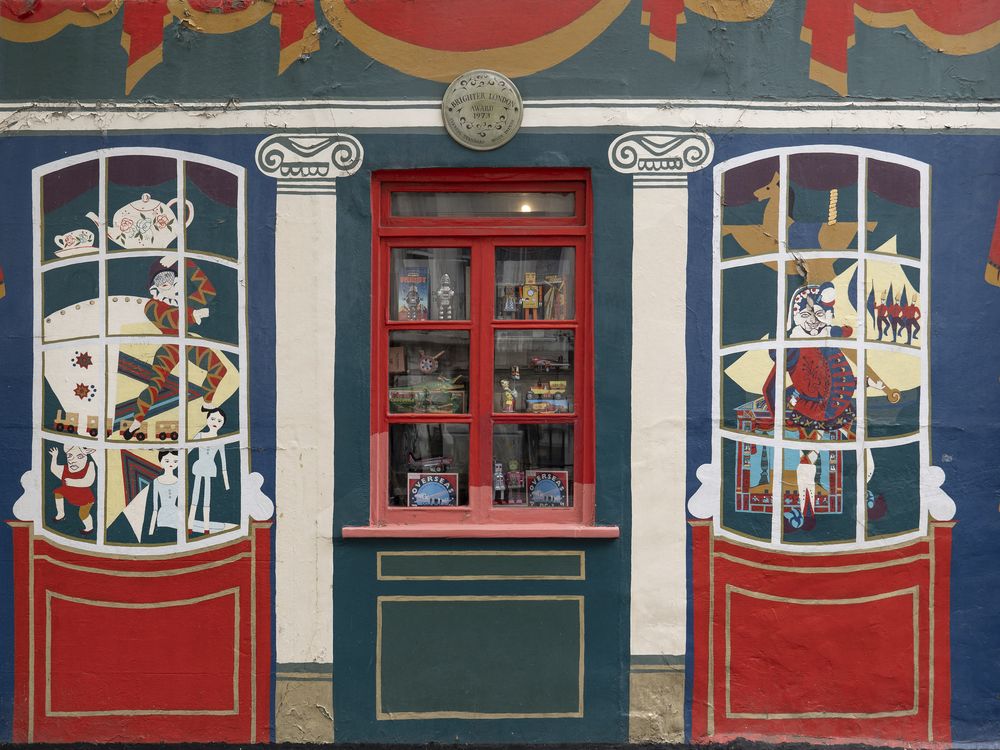 For more than 50 years, Pollock's Toy Museum was a cheerful fixture of London's Fitzrovia district, its colorful exterior beckoning visitors to explore the vast collection of historic playthings within. Victorian toy theaters, antique wax dolls, wartime tin toys and an ancient Egyptian clay mouse were among the eclectic artifacts that lined the museum's rooms and winding staircases.
But as Tom Seymour of the Art Newspaper reports, the future of Pollock's—the United Kingdom's oldest toy museum—is now in jeopardy.
According to a statement, the museum has "not been able to negotiate a sustainable future" at the Fitzrovia location, where it occupied two historic buildings dating to the 18th and 19th centuries. Pollock's has officially closed its doors, and the thousands of toys that make up its collection have been put into storage.
"[I]t's a huge loss," writes Time Out's Caroline Whiteley. "After all, what made the museum so captivating wasn't just the charm of its collection but the old building itself, with its peculiar narrow corridors and winding stairs."
Jack Fawdry-Tatham and Emily Baker, who run the museum and its trust, are already looking for a new home for Pollock's whimsical assortment of artifacts and curios. But to resurrect the institution, "major capital funding in cash or in kind will be needed," they say in the statement. They have launched a fundraiser, hoping that supporters will help the museum relocate.
Though Pollock's was founded in 1956, its story begins in the first half of the 19th century with John Kilby Green, a printer and publisher. Green, along with other artisans, capitalized on theater's growing popularity in London by making and selling toy theaters, which came complete with miniature proscenium arches, set pieces, actors and a play text. On these tiny stages, children could perform their own dramas for family and friends.
After Green's death in 1860, his printing plates were passed on to his agent, and then his agent's son-in-law, Benjamin Pollock. For decades, Pollock printed and sold toy theaters rendered from Green's plates. During World War II, a bookseller named Alan Keen acquired the printing equipment from Pollock's daughters and tried to resurrect the business "with more flair than the post-war austerity years could support," wrote the Independent's Alan Powers.
On the brink of financial collapse, this historic venture was salvaged by one of Keen's customers, Marguerite Fawdry. While attempting to track down a part for her son's toy theater, she reached an accountant who told her of the business's troubles. "I believe there are hundreds of thousands in the warehouse, madam, but there's no one who could look them out for you," the accountant told her, per the Independent. "Of course, you could, I suppose, buy the whole lot if you wanted them."
A writer and champion of popular arts, Fawdry opted to buy all of Keen's stock and set up a store in London's Covent Garden. She also established a museum to complement the shop, stocking it with donations from friends and knick knacks that she had picked up during her travels. Toy theaters created by Green, the museum's unwitting forefather, are a unique strength of the collection.
"The museum was a huge success and drew a community of supporters, patrons and customers," Pollock's explains on its website. "... For 10 years, the museum grew and grew from one small attic room in Monmouth Street all the way down to street level."
Pollock's moved to the Fitzrovia location in 1969, where it sat on a street corner until it closed. Per the Art Newspaper, Baker and Fawdry-Tatham say that the closure is "heartbreaking"—but they are hoping that "this will be a scene change and not the final act."