Police Spray Dakota Access Pipeline Protesters With Water and Tear Gas in Freezing Temperatures
Latest clash comes over access to a barricaded bridge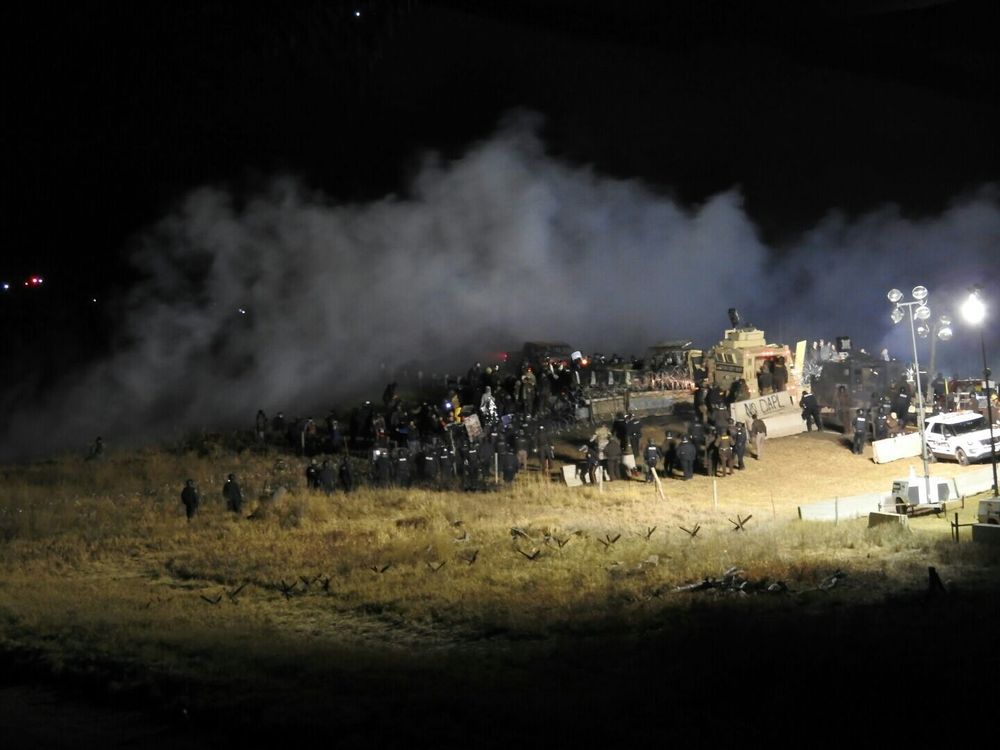 The ongoing protests against the Dakota Access Pipeline under construction near Bismarck, North Dakota, came to another head last night. During this latest clash between police and protesters, law enforcement used tear gas and water cannons in freezing temperatures to disperse a crowd of roughly 400 people trying to cross a blockaded bridge, Chris Michaud reports for Reuters.
Since April, thousands of protesters have gathered at the Standing Rock Sioux reservation in continued demonstrations against the nearby construction of a $3.8 billion oil pipeline. While the pipeline is almost complete, many members of the Standing Rock Sioux and their supporters remain staunchly against the development, arguing that a section of the pipe planned to cross beneath the Missouri River was designed without the tribe's input and could pollute their water supply as well as damage sacred sites.
Over the last few weeks, Highway 1806's Backwater Bridge has emerged as a flashpoint for conflict between the protesters and local law enforcement. After clashes in October, police barricaded the bridge with abandoned cars as well as cement and barbed wire to prevent protestors from establishing a second camp closer to the construction site. But protestors argue that this blockade prevents the passage of emergency services as well as obstructs their most direct route to the construction site, reports Derek Hawkins for The Washington Post. The latest conflicts over the bridge came last night, when protestors attempted to remove the barricades.
"Folks have a right to be on a public road," protest organizer Dallas Goldtooth tells tells Hawkins. "It's absurd that people who've been trying to take down the barricade now have their lives at risk."
According to the Bismarck Sheriff's department, the incident began around 6 p.m. and lasted into the night, with one arrest made around 8:30 p.m., reports Caroline Grueskin at the Bismarck Times. Protestors at the scene reported being blasted with water cannons, rubber bullets, tear gas and pepper spray as law enforcement authorities tried to get them to disperse.
Though crowds topped 400 at the peak of the conflict, it is unclear how many were affected during police efforts to disperse what they refer to as "an ongoing riot." Tara Houska, a protest organizer, tells Grueskin that over 200 people were pepper sprayed, tear gassed or soaked with water.
"Last night was a really critical life or death situation," volunteer medic Linda Black Elk tells NBC News. "There were hundreds of people out on the frontlines. People were first soaked down with tear gas and then sprayed with a bunch of water."
Rob Keller, a spokesman for the Bismarck Sheriff's Department, contested the protesters' reports. In a statement to NBC News, Keller said what appeared to be water cannons were actually streams of water used by a fire truck to put out fires set by protesters. Representatives for the protesters, however, say that the fires were lit to try and keep people were soaked by water sprays warm in the face of temperatures as low as 23 degrees Fahrenheit.
Throughout the months-long demonstrations, Energy Transfer Partners, the Dallas-based company behind the pipeline, has said no sacred sites have been disturbed and that the pipeline has been safeguarded to prevent water contamination. Grueskin reports that last Friday, Kelcy Warren, the company's chief executive, said the company will not consider rerouting the pipeline.