Before Pokémon Go, These Scavenger Hunts Were All The Rage
"X" marks the spot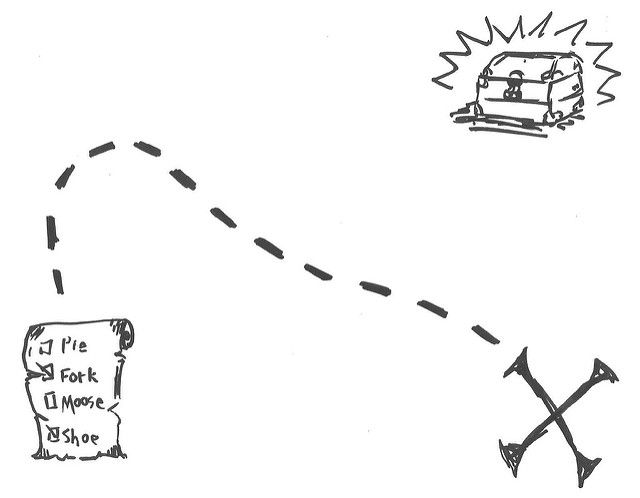 Since the release of the mobile game Pokémon Go last week, people around the world have once again caught Pokémon Fever. But while the popular new game may use smartphones and GPS tracking to direct its players to real-life locations and hiding spots to capture the digital monsters, at its core, the game is essentially a scavenger hunt that uses icons on a map instead of confusing clues. And, like many games, the scavenger hunt has a rich and fascinating history all of its own.
The activity dates back to traditional folk games, a scholar on the subject, Markus Montola writes in the book Pervasive Games: Theory and Design. During the 19th century, iterations of the game like letterboxing and orienteering gained attention. But when it comes to popularizing the scavenger hunt, the credit has to go to the Jazz Age gossip columnist Elsa Maxwell and her raucous parties, Patricia Marx writes for the New Yorker.
"Items included music-hall star Mistinguett's shoe, a black swan from the Bois de Boulogne, the red pom pom on a French seaman's hat," Vanity Fair's Patrick Monahan writes of Maxwell's first scavenger hunt, held at one of her fancy fêtes in 1920s Paris. "Before it was over, Mistinguett had to entertain barefoot at the Casino de Paris, a ferocious swan sent two people to the hospital, and [a guest] was accused of theft by the French Navy."
Since 1987, the annual University of Chicago Scavenger Hunt has been one of the longest-running and most idiosyncratic scavenger hunts in history. Every May, teams representing each of the University's dorms scatter across the city (and occasionally beyond) in an attempt to gather as many items as they can on each year's list, Marx reports. The list—which first has to be found in order for players to even begin the hunt—has asked teams to perform all sorts of tasks, like getting a live lion, tiger, and bear in one place on campus, having a player agree to get circumcised, or arranging an in-person meeting with the mayor of Chicago. In 1999, one team even built a working nuclear reactor in their dorm room, securing 500 points for its squad.
"One kid on our team has been growing his beard for weeks in case there was a beard-related item," Erin Simpson, a player on the team representing the MacPierce dorm, told Marx at the time.
While "Scav" is all in good fun, a recent hunt kicked off by millionaire and amateur archaeologist Forrest Fenn has driven people to extremes in their attempts to solve his puzzles. During the 1980s, Fenn was battling cancer when he thought up an unusual way to preserve his legacy: fill a chest with treasure and hide it in the deserts of the American Southwest. Though he survived and is still alive today, the now-85-year-old Fenn finally buried the treasure in an undisclosed location in 2010 in order to inspire strangers to get off their couches and seek adventure, John Burnett reports for NPR.
"No one knows where that treasure chest is but me," Fenn tells Burnett. "If I die tomorrow, the knowledge of that location goes in the coffin with me."
To this day, Fenn's treasure remains undiscovered, though not for lack of trying. Though Fenn published a poem made up of clues to its whereabouts, none of the tens of thousands of people to take a stab at the hunt over the last six years have managed to find it. One man even went missing and is presumed dead after taking a trip to find the treasure earlier this year. But for most others, the search has led them to places they never would have gone before.
"I have actually seen some of the most spectacular scenery because of this that I ever would've seen," Cynthia Meachum, a retiree who has spent years looking for Fenn's treasure, tells Burnett.
At the end of the day, these hunts are meant to shake up the world a little bit. Whether it's a search for buried treasure or collectible monsters, scavenger hunts can help players appreciate the world around them by forcing them to consider their surroundings in a new light.