The Sharp Rise and Steep Descent of AOL Instant Messenger
The free instant messaging service introduced millions to the joys of online communication, but it fell behind in the social media age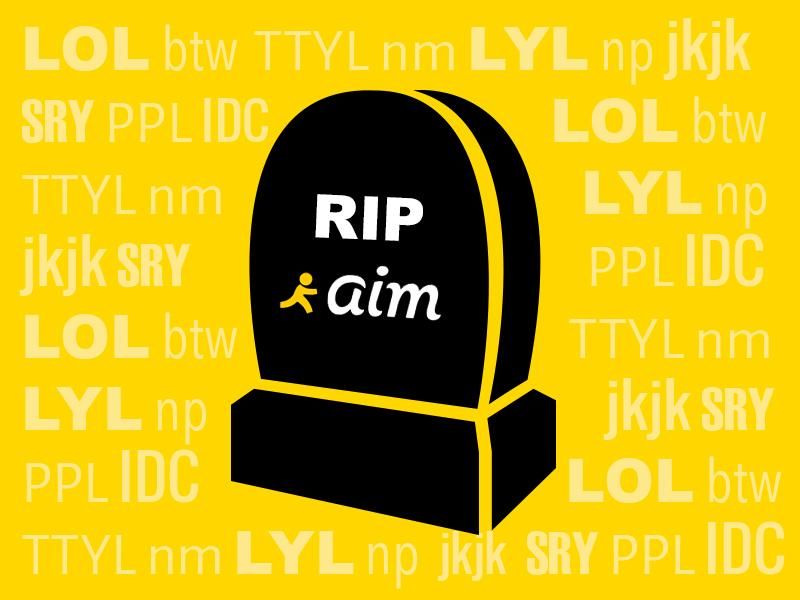 In the crowded space of iMessage, Facebook Messenger, WhatsApp, one of the ancient forebearers of the messaging technology is set to fade away.
On December 15, AOL Instant Messenger will be no more, Michael Albers, vice president of communications product at Oath (Verizon's corporate merger of AOL and Yahoo), announced in a new blog post.
AIM, as it was often abbreviated, launched quietly in May 1997 as a product created by developers Barry Appelman, Eric Bosco and Jerry Harris and several other of the company's engineers without the permission of their bosses or the company at large, Jason Abbruzzese wrote in a history of the platform for Mashable in 2014. As the dominant internet provider of the decade, America Online had built a business around charging fees for all of its services, and the free cost of AIM baffled the company.
After the messaging service ballooned in popularity, however, the free product was, reluctantly, allowed to continue on. Its quick ascent wasn't so surprising—AIM filled a niche for easy, instant and casual communication, something the rise of the Internet age seemed to promise. Soon, the service attracted millions of regular users, and by the mid-2000s, AIM users alone comprised 52 percent of the online instant messaging market.
David Pierce of Wired details some of AIM's forward-thinking abilities, like allowing for custom icons, personalized profiles, and chatbots—not to mention aiding and abetting the rise of "internet speak." "AIM taught me how to LOL, and the subtle difference between ROFL and ROFLMAO. I was always brb-ing, and always jk'ing," he writes. 
But the rise of AIM didn't last long. By the mid- to late- aughts, customers had started flocking to a new wave of more advanced free services.
According to Abbruzzese, AIM's resistance to collaborate with outside developers or make AIM open source resulted in a failure of innovation, which ultimately killed interest in the messaging service. The continual lay offs didn't help things, either; five years ago, the product was left with a barebones crew of people to keep the servers running. By 2011, AIM held less than one percent of the instant messaging market share.
In an ode to AIM's 20 year history, Josh Constine at TechCrunch sums up the good and the bad of the service. "Its iconic Away Messages were the ancestor to the modern tweet and status update. It battled for supremacy with competitors like ICQ, and messengers from Yahoo and Microsoft MSN. But eventually text messaging, Google's GChat and Facebook took over, while AIM never fully figured out the shift to mobile." 
In May of this year, Motherboard's Jason Koebler decided to investigate the now antiquated platform, and came away wanting. "So, AIM: Is it still good? I mean, not really," he concluded.
Or, as Albers puts it in his blog post, which also invites users to contribute memories of the communications service on Tumblr: "AIM tapped into new digital technologies and ignited a cultural shift, but the way in which we communicate with each other has profoundly changed."
If you can still remember your AIM password, Oath has released information on how to download your old chat logs for posterity. And for those too embarrassed to acknowledge their existence, they will be deleted forever.