'Femme à la Montre' Becomes Second Most Expensive Picasso Ever Sold
The 1932 painting of the artist's mistress, Marie-Thérèse Walter, fetched $139 at auction
A Pablo Picasso painting has sold for $139.4 million at Sotheby's in New York, making it the most valuable artwork auctioned this year—and the Spanish artist's second most expensive piece ever. Titled Femme à la montre (or Woman with a Watch), the 1932 painting was part of a $400 million sale from the late philanthropist Emily Fisher Landau's collection. 
The 51- by 38-inch painting depicts Picasso's mistress, Marie-Thérèse Walter. Picasso was married to Russian-Ukrainian ballerina Olga Khokhlova when he met Walter, who was only 17 at the time. The young woman, known as Picasso's "golden muse," would feature in a number of his works, such as Femme nue couchée, which sold for $67.5 million in 2022.
In Femme à la montre, Walter sits on a chair in front of a striking blue backdrop and wears a watch given to her by the artist. "Picasso's infatuation took on near-mythic proportions, the likeness of Marie-Thérèse spilling out onto canvas after canvas, in sculpture and on paper," says Sotheby's in a statement.
Watches also serve as an important motif throughout Picasso's work. The accessory appears, for instance, in a piece depicting Picasso's wife painted in 1917.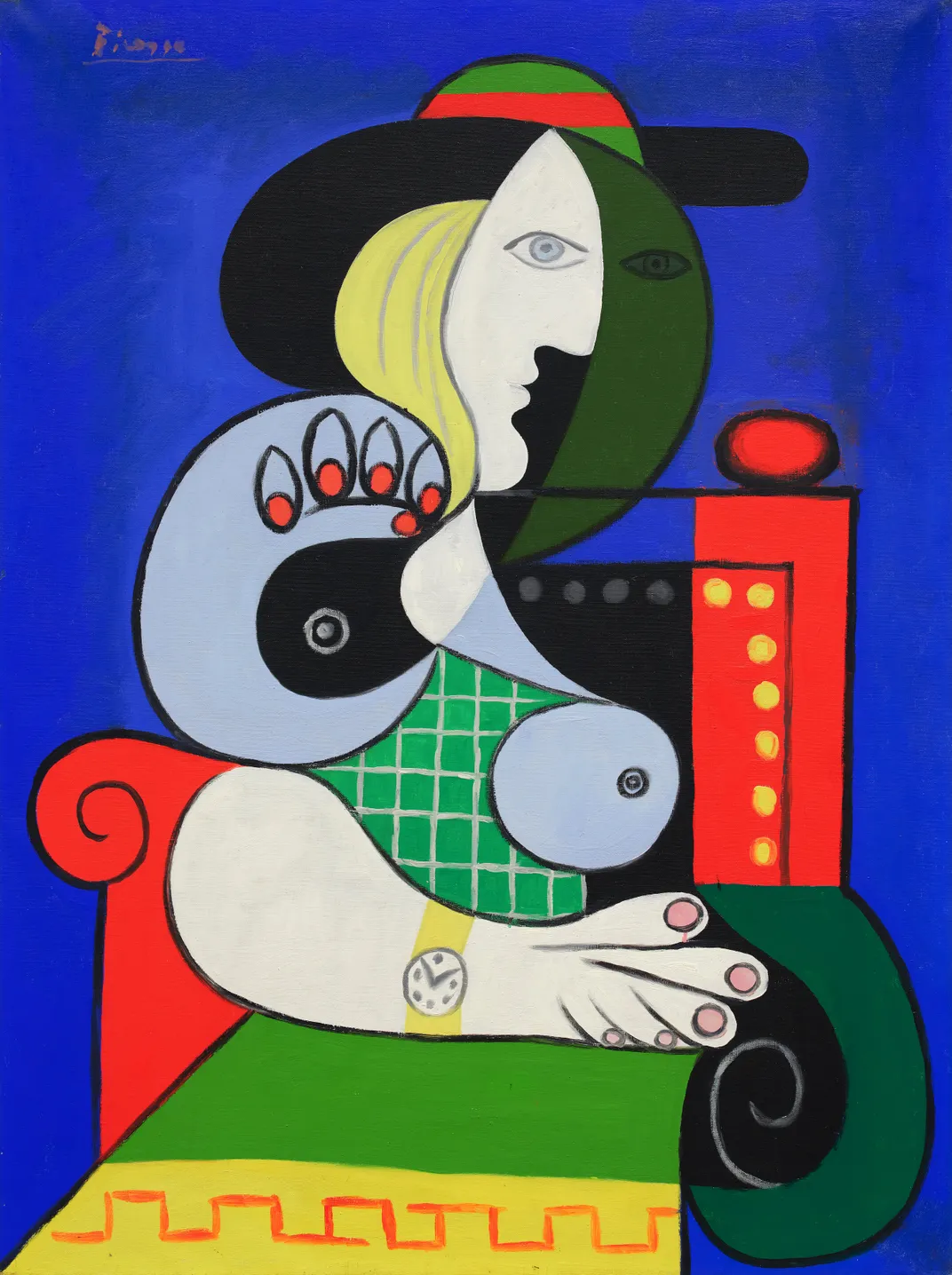 Picasso, who was then 50, created the piece during a critical period in his career. Henri Matisse was becoming increasingly popular, and critics wondered if Picasso's new works could still find relevance. The Cubist painter was able to silence naysayers with a successful large-scale retrospective in Paris, kicking off a new acclaimed period known as the "year of wonders."
Last week's sale comes on the heels of the 50th anniversary of the artist's death. The occasion sparked a reappraisal of Picasso's legacy, particularly concerning his treatment of women.
These concerns, however, don't appear to have harmed the value of Picasso's art on the market. Ahead of the Femme à la montre sale, Sotheby's estimated it would go for $120 million. Still, Brooke Lampley, Sotheby's chairman and head of global fine art, who organized the sale, wondered if that number was too conservative.
"My only question is, should the estimate have been higher?" said Lampley to the New York Times' Zachary Small. "No one has challenged me to say that the estimate is too high."
The most expensive Picasso painting ever sold at auction is Les femmes d'Alger (Version 'O') (1955), which generated a record $179.4 million at Christie's in 2015.