A Painting Georgia O'Keeffe Wanted Destroyed Is on Display for the First Time in Nearly 60 Years
O'Keeffe's watercolor returns to the town where she painted it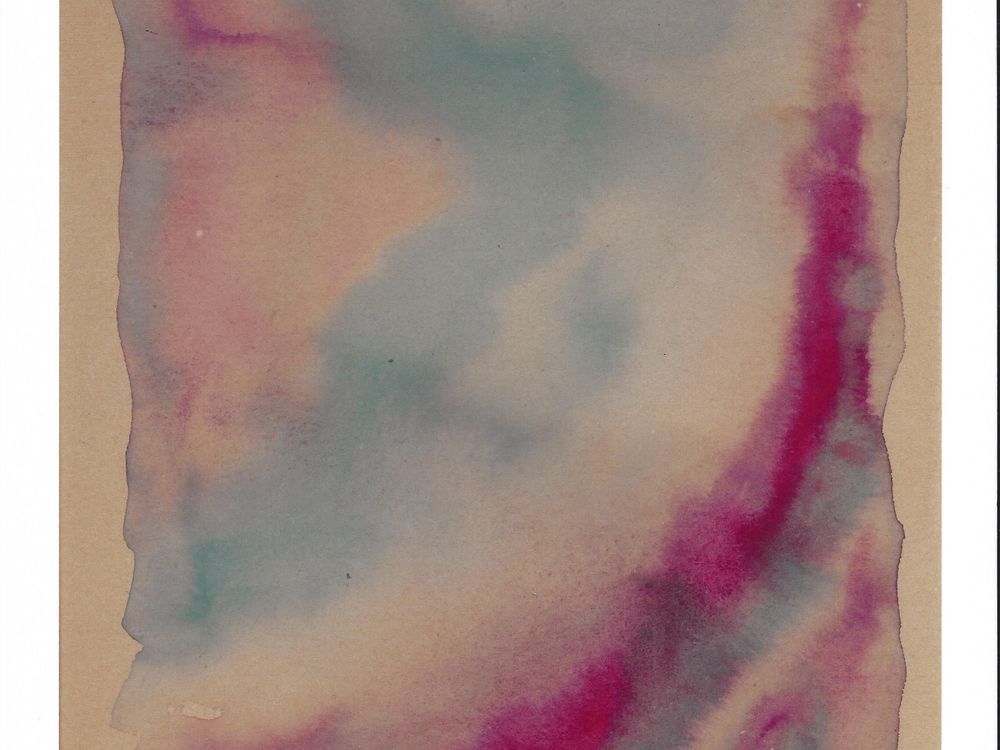 Looking at an artist's early work can tell aficionados a lot about how they grew and developed their skill and techniques. But for many artists, it's not uncommon for them to look at their earliest art with a feeling that spans the gap between embarrassment and horror. Luckily for fans of Georgia O'Keeffe, her orders to destroy one of her first watercolors weren't followed. Now, the painting has returned to the west Texas town where she painted it, and is now on public display for the first time in almost 60 years.
O'Keeffe painted Red and Green II in 1916, when she was working as an art teacher at West Texas State Normal College (now West Texas A&M University) in Canyon, Texas. Red and Green II was created at a pivotal point in O'Keeffe's career, when she first decided to dedicate herself to becoming a professional artist—a move that was considered out of the ordinary for a woman at the time, Sarah Cascone reports for artnet News.
"Avenues for women artists were not that wide other than teaching or commercial art," Michael Grauer, the curator of art and Western heritage at West Texas A&M's Panhandle-Plains Historical Museum, tells Cascone.
Red and Green II was displayed just once, for only a month, in a 1958 show in New York's Downtown Gallery. Since then, most O'Keeffe experts thought that the painting was lost after she ordered it to be destroyed. But recently, the painting resurfaced when it went up for sale at Christie's New York American Art auction last November. Grauer stumbled upon the painting at a private show when looking for artwork to include in an upcoming retrospective of O'Keeffe artworks made during her time in Canyon, the visual arts online magazine Glasstire reports. Now members of the public have the chance to see the painting for the first time in decades.
"People kind of make pilgrimages to Canyon, Texas [because] she lived here," Grauer tells Cascone. "They're always looking for O'Keeffes when they come in the door."
This painting is much more abstract than the flowers, skyscrapers, and desert landscapes she became famous for, but it does demonstrate a sense of color and dreamlike quality that appears in her later work. Still, it hints at a valuable step on her path to becoming the internationally renowned artist that she is known as today.
"Artists are frequently dismayed by their earlier work, and they'll often try to expunge those things," Grauer tells Cascone. "It's about protecting one's legacy."
Though it is understandable that O'Keeffe might have wanted the painting destroyed out of self-consciousness, it's more surprising that it somehow escaped the chopping block. The painting was listed in her personal notebooks as destroyed, and according to Grauer, the years O'Keeffe spent living in Canyon are well-researched and studied by art historians and scholars, Cascone writes. Luckily, the watercolor survived to go on display once again.
Red and Green II is currently on display at the Panhandle-Plains Historical Museum, and will be featured in the upcoming exhibition, "When Georgia Was Here," which opens on August 29.