Owl Escapes From Zoo, Becomes a New York Celebrity
A Eurasian eagle-owl named Flaco has been on the loose for a week after his enclosure at the Central Park Zoo was vandalized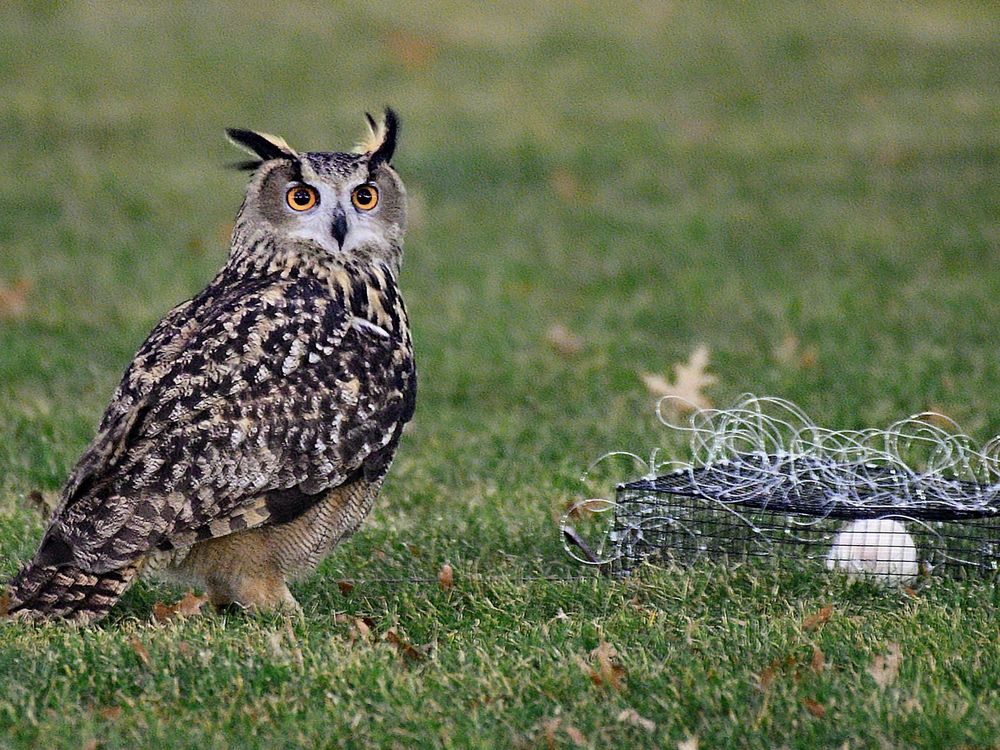 A Eurasian eagle-owl named Flaco has been on the loose for a week in New York City after a vandal cut through his mesh enclosure at the Central Park Zoo. Despite efforts to trap him and almost around-the-clock monitoring by zoo staff, the owl has so far evaded capture. 
"We are stressed and frustrated and tired," one employee, who requested anonymity because zoo workers were ordered not to speak to the press, tells Gothamist's Jake Offenhartz. "People have been up all day and night."
Zoo staff first noticed Flaco was missing from his exhibit at 8:30 p.m. on February 2, per a statement. That night, he was spotted near Bergdorf Goodman on Fifth Avenue before he headed back to Central Park. The bird has mostly stuck close to the zoo, perching in trees in the park and even visiting the zoo's crane exhibit.
A short clip of Flaco, the @centralparkzoo's escaped Eurasian eagle owl, window shopping outside @Bergdorfs last night. Flaco flew early this morning into Central Park, where he is being monitored by zoo staff and rangers.#birds #birdwatching #wildlife #nature #birdcpp pic.twitter.com/G8zvMugXK8

— David Lei (@davidlei) February 3, 2023
His presence has drawn crowds of bird enthusiasts, who spent hours snapping pictures and peering at the majestic creature through binoculars over the weekend. 
"I've been here for six hours today," birder Anke Frohlich told Patch's Peter Senzamici on February 5. "I've taken so many pictures of him … getting harassed by hawks, fluffing up, his orange eyes, sneezing."
With a wingspan of five to six feet, Eurasian eagle-owls are one of the world's largest owl species, according to the nonprofit The Peregrine Fund. They have a striking appearance—bright orange eyes, ear tufts and mottled feathers—and are native to Europe, Asia and parts of northern Africa. In the wild, the birds will gobble up anything from small mammals to woodpeckers to fish and amphibians using their excellent eyesight and sharp hearing to silently swoop down on their prey. 
But Flaco has lived in the zoo's care for more than a decade, having arrived in 2010 at less than a year old, and bird experts are concerned he will not be able to feed himself, writes the New York Times' Karen Zraick and Lauren McCarthy. It's possible the owl has snagged a meal during the night.
Flaco, the escaped Eurasian eagle-owl, spent a lot of time inside the grounds of @centralparkzoo last night. Zoo staff tried to retrieve him but he was uncooperative. Pictured here looking cheeky in the crane exhibit. (Long exposure taken from outside the zoo).#birds #birdcpp pic.twitter.com/djYWx4eJ3s

— David Lei (@davidlei) February 8, 2023
In addition to the threat of starvation, Flaco must survive a multitude of dangers in the city. New York's last owl celebrity, Barry the Barred Owl, met her demise after colliding with a Central Park Conservancy maintenance vehicle in 2021. A necropsy later revealed she had ingested a lethal amount of rat poison before being struck. Gladys, a Eurasian eagle-owl that escaped from the Minnesota Zoo last year, was found injured next to a roadway and later died from her wounds.  
"[Flaco's] likelihood of survival would not be too great in a city, especially with rodenticides," Suzanne Shoemaker, the director of the Owl Moon Raptor Center in Maryland, tells Gothamist. "There's a lot of hazards out there."
While Gladys flew away from her handler during a routine training exercise, Flaco's escape was likely intentionally orchestrated. The zoo's statement did not offer any details on possible suspects or motives. 
"Our focus and effort at this time is on the safe recovery of the owl," the statement reads. "We will issue updates as needed."
The Central Park Zoo is the latest target in a string of zoo vandalisms across the United States. Last month, a clouded leopard escaped from the Dallas Zoo after a hole was cut in its enclosure. Shortly afterward, an endangered vulture mysteriously died, and two monkeys were stolen from the zoo. Both the leopard and monkeys were safely returned to their habitats, and police charged a suspect in the two incidents.
In Louisiana, a suspect was arrested and charged in the theft of 12 spider monkeys from their exhibit. As of Wednesday, the animals had not yet been found. Also this week, the Houston Zoo discovered mesh around its brown pelican enclosure had been deliberately cut, though the birds were unharmed. 
Flaco has so far avoided nets and traps set for his recapture, though the police and park rangers have also been assisting the zoo in recovery efforts. 
"It's amazing, but also tragic," Frohlich tells Patch. "We want the owl to be safe first. The person who did this did not think this through … this is not in the owl's best interest."