Animals at the Dallas Zoo Keep Mysteriously Disappearing
In just a few weeks, the zoo has had enclosures tampered with, a clouded leopard escape, two stolen monkeys and a suspicious vulture death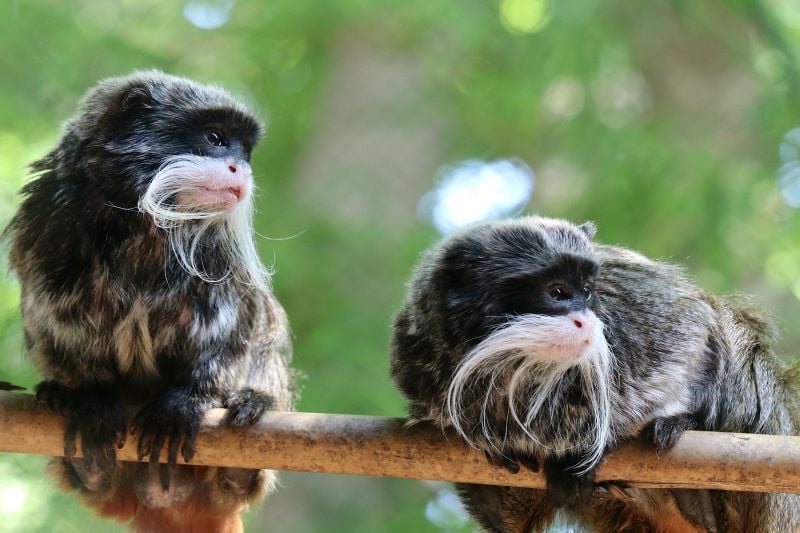 First, a clouded leopard escaped from her habitat. Next, a gash appeared in the langur monkey enclosure. A week later, an endangered vulture mysteriously died. Then, two emperor tamarin monkeys were stolen. 
Over the span of just a few weeks, the Dallas Zoo has experienced a string of suspicious events that culminated in the arrest of a suspect Friday morning in connection to the missing monkeys. Police are still investigating whether the man was involved in the other events. Twenty-four-year-old Davion Irvin was charged with six counts of animal cruelty, with more charges possible, per the Dallas Police Department. 
"It's been one gut punch after another," Harrison Edell, the zoo's executive vice president for animal care and conservation, tells the New York Times' J. David Goodman. 
The series of problems began on January 13, when a clouded leopard named Nova escaped through a man-made hole in her enclosure. Officials closed the zoo and issued a "code blue" alert—meaning a non-dangerous animal was on the loose. After some 6.5 hours of searching, they found her only about 100 yards from her habitat on zoo grounds. The next day, staff discovered a cut similar to the one in Nova's enclosure in the langur monkey habitat, but all monkeys were accounted for. 
One week later, a rare and endangered lappet-faced vulture—one of about 6,500 left on the planet, per the zoo—died from a suspicious wound. The 35-year-old bird named Pin was one of four lappet-faced vultures at the zoo and one of just 27 in captivity in the United States. 
"The animal care team is heartbroken over this tremendous loss," the zoo tweeted on January 22. "The circumstances of the death are unusual, and the death does not appear to be from natural causes." 
Following these incidents, the zoo ramped up its security, increasing overnight staff and adding extra cameras. But despite its efforts, two emperor tamarin monkeys—named Finn and Bella—were taken from their habitat on January 30. They were found a couple days later in the closet of an abandoned home in Lancaster, Texas, and returned safely to the zoo. After an examination, veterinarians determined that the animals showed no sign of injury, though they had lost some weight.
"We will continue to monitor them closely, but for now, we're so glad they are safe and back with us," the zoo wrote on Facebook. "They will not return to the habitat in the Lacerte Family Children's Zoo for a little while still—because they were taken off-grounds, they will need to clear a quarantine period before they are reintroduced to their Zoo habitat."
The events are a reminder "that we all have to be vigilant in protecting animals in zoos, in national parks, in nature," Dan Ashe, president and CEO of the Association of Zoos and Aquariums, tells NPR's Jaclyn Diaz. 
He adds in a statement that the association stands behind the zoo, calling it and its animals "victims of acts, presumably intended to take animals for personal reasons, or worse, to be trafficked." 
Wildlife trafficking is an industry estimated to value between $7.8 billion and $10 billion per year. Poaching and trafficking are major causes for declines in populations of endangered species such as pangolins, tigers and elephants. 
Animal theft from zoos is not unheard of. In 2015, 25 members of the European Association of Zoos and Aquaria reported animal thefts, wrote the Guardian's Katharine Gammon four years ago. In 2017, poachers broke into a French zoo and shot, killed and hacked the horn off one of its rhinos. In 2018, a ring-tailed lemur was stolen from the Santa Ana Zoo, and two years later, another was taken from the San Francisco Zoo. Both lemurs were returned safely. 
Currently, police are investigating the theft of 12 squirrel monkeys from a zoo in Louisiana. The monkeys were taken on January 28, just two days before Finn and Bella were stolen. As of now, there's no known connection between the two cases. 
"The coincidence is a little concerning," Ed Hansen, CEO of the American Association of Zoo Keepers tells Intelligencer's Matt Stieb. "When someone takes an animal from a zoo, they quickly find that, no pun intended, they bit off more than they can chew… These are endangered species with a specialized diet—they're not a regular house cat. Usually, people realize they can't handle them and turn them loose."