Newly Discovered 235-Year-Old Watercolor Shows Off General Washington's Wartime Tent
The painting offers a unique glimpse into the Revolutionary War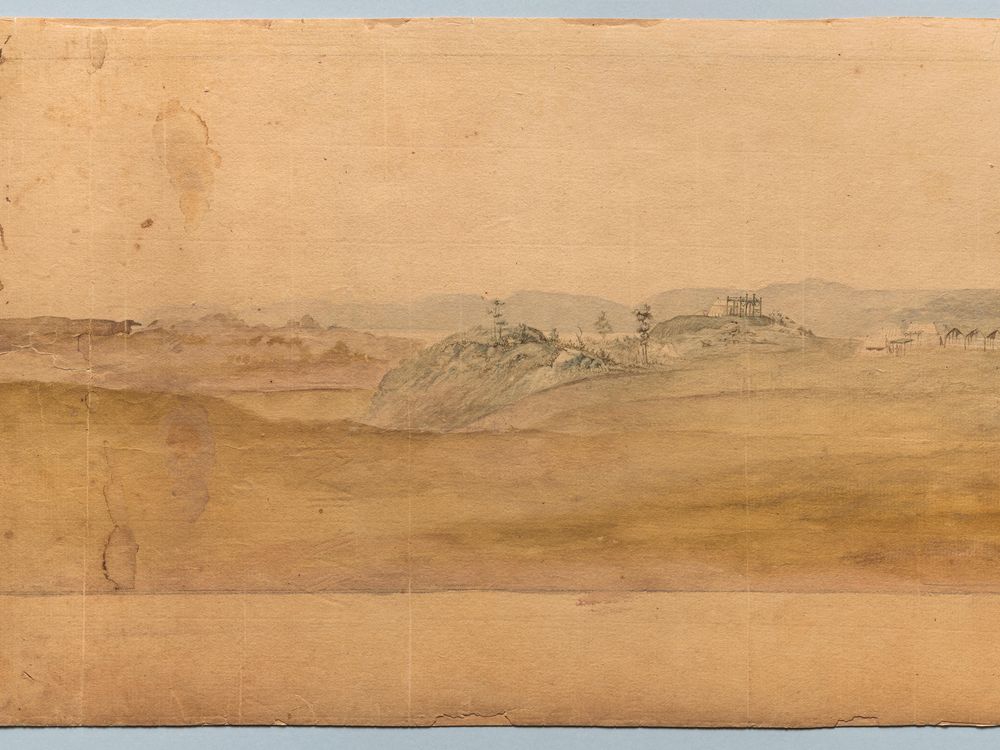 The only known eyewitness depiction of General George Washington's command center during the Revolutionary War has been found on a 235-year-old watercolor panoramic, according to a press release from the Museum of the American Revolution.
The previously unidentified painting showed up at an auction several months ago. Without knowing who the artist was or what exactly it depicts, it caught the attention of the museum's curators, who snatched it up for $13,750, Jennifer Schuessler reports for The New York Times.
"My heart leapt into my throat when I realized what this painting was," R. Scott Stephenson, the museum's vice president of collections, exhibitions and programming, says in the release, which publicly announced the museum's discovery on November 15. 
The approximately seven-foot painting, which was completed in 1782, will now anchor a new exhibit at the museum from January 13 through February 19.

The panorama measures 84.25 inches by 8.75 inches and is composed of six sheets of paper. It features hundreds of military tents across the lower Hudson Valley; Washington's tent is situated on a hilltop in the scene. This painting illustrates the extent of Washington's leadership and devotion to his army, showing how he remained in the field with his army throughout the war, Stephenson says.
The discovery comes just months after the acquisition of Washington's original tent by the museum. The tent was where Washington slept, planned military campaigns, met with allies, and wrote letters, the museum says.
The museum's staff concluded that the artist behind the painting is almost certainly Pierre Charles L'Enfant, the French-born American military engineer who served in the Revolutionary War and also developed the basic urban plan for the nation's capital.
In their research to find the painter, the museum's staff tells the Times' Schuessler that they looked at a similar panorama painted by L'Enfant and owned by the Library of Congress, which showed the Continental Army encamped near West Point the same year. They also noticed the inscription on the back of the newly found painting matched L'Enfant's handwriting.
"To have such a detailed depiction of the scene painted by an eyewitness–an engineer, nonetheless–from an age before photography is like having a Google Street View look at a Revolutionary War encampment," Philip Mead, chief historian and director of curatorial affairs at the museum, says in the release.
The upcoming exhibit, "Among His Troops: Washington's War Tent in a Newly Discovered Watercolor," will incorporate other works of art, weapons and artifacts to compliment the painting and provide a new glimpse into life at the front during the revolution.