One of California's Iconic "Tunnel Trees" Has Fallen
The Pioneer Cabin Tree was likely hundreds of years old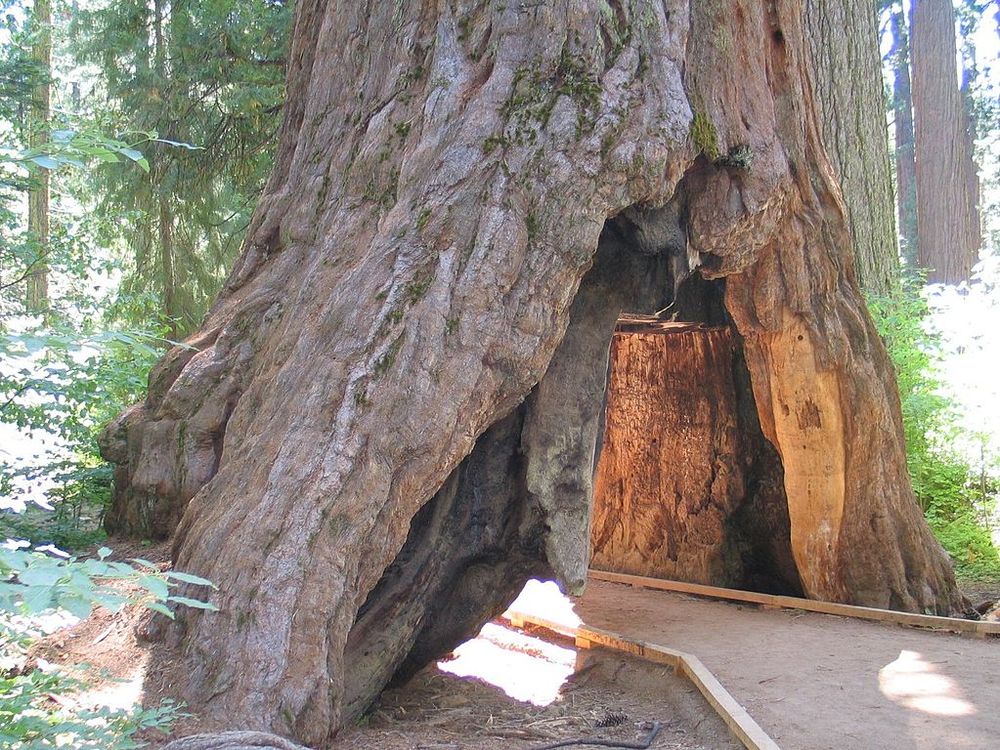 For more than a century, tourists traveling through California have stopped to pose in tunnels carved out of giant sequoia trees. But a severe winter storm proved fatal for one of these iconic ancient sequoias in Calaveras Big Trees State Park over the weekend. Officials report that the Pioneer Cabin Tree, as it was fondly known, has finally collapsed.
Tunnel trees date back to the late 19th century, when officials in charge of state and national parks were trying to come up with ways to draw tourists—and they soon became a big draw. After all, walking (or later, driving) through a hole carved into a still-living tree holds a certain fascination, according to a National Park Service history. The most famous of the bunch might be Yosemite National Park's Wawona Tree, which had its tunnel cut in 1881 and stood until it fell in the late 1960s, but the Pioneer Cabin Tree was right up there with it.
"The pioneer cabin tree was chosen because of its extremely wide base and large fire scar," Calaveras Big Trees State Park interpretive specialist Wendy Harrison wrote in 1990. "A few branches bearing green foliage tell us that this tree is still managing to survive."
While having a big tunnel drilled through its base didn't help, the Pioneer Cabin Tree still managed to cling to life until this past weekend, when a severe winter storm blasting parts of northern California and Nevada brought it down, Camila Domonoske reports for NPR. Between its age, its shallow root system, and weakened structure, the storm appears to have been the last straw for the venerable sequoia.
"When I went out there (Sunday afternoon), the trail was literally a river, the trail is washed out," park volunteer Jim Allday tells Peter Hockaday for SF Gate. "I could see the tree on the ground, it looked like it was laying in a pond or lake with a river running through it."
According to Allday, the Pioneer Cabin Tree didn't last much longer. At about 2 PM, the tree gave way, fell over and shattered upon impact. Luckily, the bad weather had driver most visitors away – as Allday tells Hockaday, people had been walking through the tunnel tree earlier that morning.
"It was barely alive, there was one branch alive at the top," Allday's wife and fellow volunteer, Joan, tells Hockaday. "But it was very brittle and starting to lift."
Since the tree's death was announced on the Calaveras Big Trees Association's Facebook page early this morning, nature lovers have turned it into a memorial of sorts, posting memories and photos of their past visits to the tree. While the Pioneer Cabin Tree may have fallen, it managed to miss a nearby plaque, meaning some of its history may survive at the site, Hudson Hongo reports for Gizmodo.
Considering the damage that carving tunnels does to living trees, it's highly unlikely that another living sequoia will ever become a tourist attraction like this. Still, considering that tunnel trees became an iconic part of the park system early on, its fall heralds an end of an era.