Here Comes Hurricane Arthur—the First Storm of the Season
Hurricane Arthur won't be particularly strong, but a storm on Independence Day isn't great news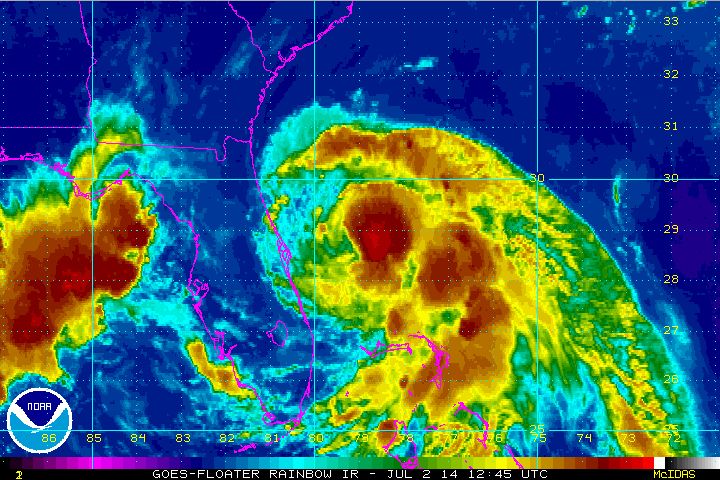 The first tropical storm of the Atlantic hurricane season is set to hit North Carolina later this week. After spinning up off the eastern coast of Florida earlier this week Arthur is now on the move, strengthening and marching north, says meteorologist Eric Holthaus. The National Hurricane Center says Arthur should hit hurricane strength right before it runs into North Carolina's Outer Banks region around 2 a.m. Friday.
The storm isn't expected to be particularly strong, but the timing couldn't be worse. At Slate, Holthaus writes that the tourist season is in full swing in North Carolina, and "the population of the chain of barrier islands has swelled from its normal 35,000 to likely more than 250,000."
The storm surge associated with tropical storm Arthur could bring mild coastal flooding to the region, says AccuWeather. With few roads and ferries the Outer Banks isn't really set up to handle mass evacuations, says Holthaus. In previous years, hurricanes following similar paths caused damage to the region: 
As it approaches the Outer Banks the night of July 3, Arthur will be moving parallel to the coast, as did 2011's Hurricane Irene, which washed out several parts of the coastal highway with an 8 to 10 foot surge. The same thing happened the next year with Hurricane Sandy. The difference between Arthur and those two storms is that they both happened in the fall when the tourist flow is waning.
Arthur is going to be 2014's first Atlantic hurricane; according to the National Oceanic and Atmospheric Administration, the East coast should be getting a "near-normal" or "below-normal" hurricane season this year, with only one to two major storms, and three to six hurricanes.