Monument to Harriet Tubman Unveiled in New Jersey
The 25-foot-tall memorial celebrates Newark's connection to the Underground Railroad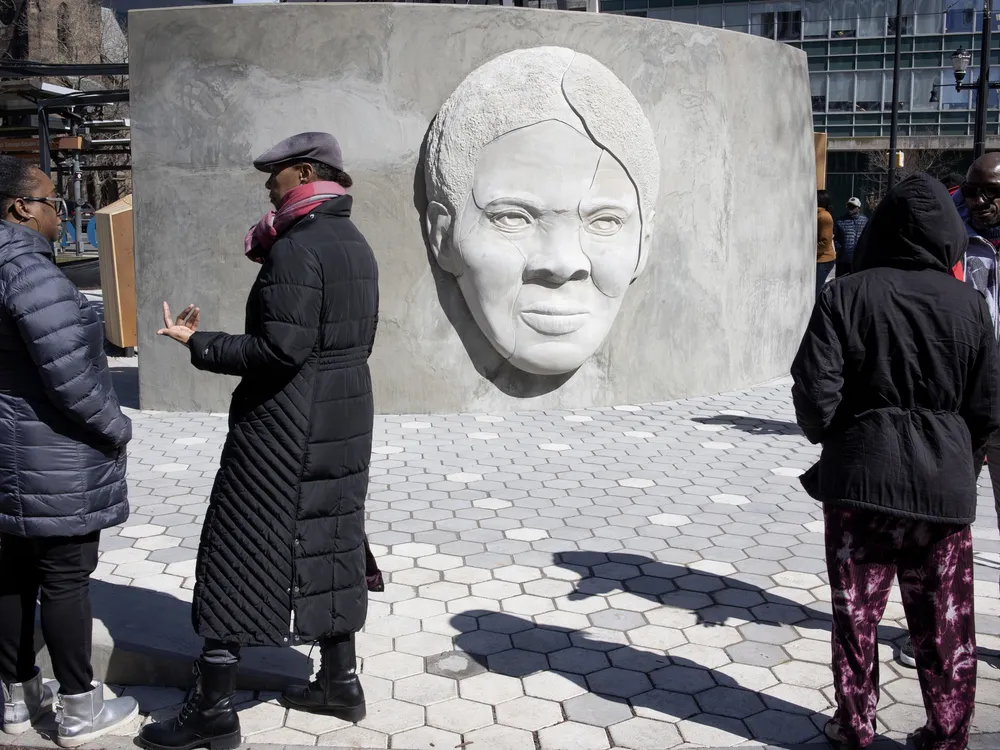 A new monument to the abolitionist Harriet Tubman was unveiled last week at a ceremony in Newark, New Jersey. 
Titled Shadow of a Face—after a line from "Runagate Runagate," a 1962 poem by Robert Hayden—the memorial has been in the works for two years. It's replacing a statue of Christopher Columbus that was removed in 2020. 
"In a time when so many cities are choosing to topple statues that limit the scope of their people's story, we have chosen to erect a monument that spurs us into our future story of exemplary strength and solidity," said Newark Mayor Ras Baraka at the unveiling, per Hyperallergic's Rhea Nayyar. "In a country where the overwhelming majority of monuments are testaments to white males, Newark has chosen to erect a monument to a Black woman who was barely five feet tall, but had the visage and power of a giant."
The 25-foot-tall monument is made up of several elements: a portrait wall, a mosaic of tiles created by Newark residents, and an audio installation narrated by hip-hop legend Queen Latifah, who was born in Newark. It also features a "circular learning wall" where visitors can learn about "Tubman's life and the city's history of Black liberation," according to a statement from the city of Newark.
"What Harriet Tubman did was about freedom, was about compassion for those who did not have it," Latifah tells CBS News' Elaine Quijano, adding that she hopes people draw strength and inspiration from the new public art piece.
Monument designer and architect Nina Cooke John says she included the mosaics because she wanted the Newark community to be a part of the space.
"One way I wanted to bring about their connection is really to meet the community with the prompt, 'What is your story of liberation? What is your story—big or small—of really overcoming multiple obstacles that we all have to overcome?'" says Cooke John in an interview with the Harriet Tubman Monument Project.
"Not only are their stories physically a part of the monument," she adds, "but they can also come to the monument and feel that ownership because they were really a part of creating it."
During the protests following George Floyd's murder in 2020, Baraka ordered the city to remove a statue of Columbus that had stood in the spot, then called Washington Park. The plaza was renamed Harriet Tubman Square as a nod to the Underground Railroad station in a Newark church.
Harriet Tubman was born into slavery in Maryland in 1822. She escaped in 1849, and in the years that followed she completed some 13 missions along the Underground Railroad, helping free about 70 enslaved individuals. 
"What I'm hoping for is for people to really connect with Harriet Tubman on a personal level and see her more as an everyday person who did heroic things," Cooke John told PBS NewsHour's Michael Hill last year, when the piece was still under construction. She added, "They can walk around the monument, they can touch her face—it can be something that they can be more connected to."