Artifacts Unearthed Near Harriet Tubman's Birthplace
Archaeologists identified a West African spirit cache, a collection of items used to protect a home's occupants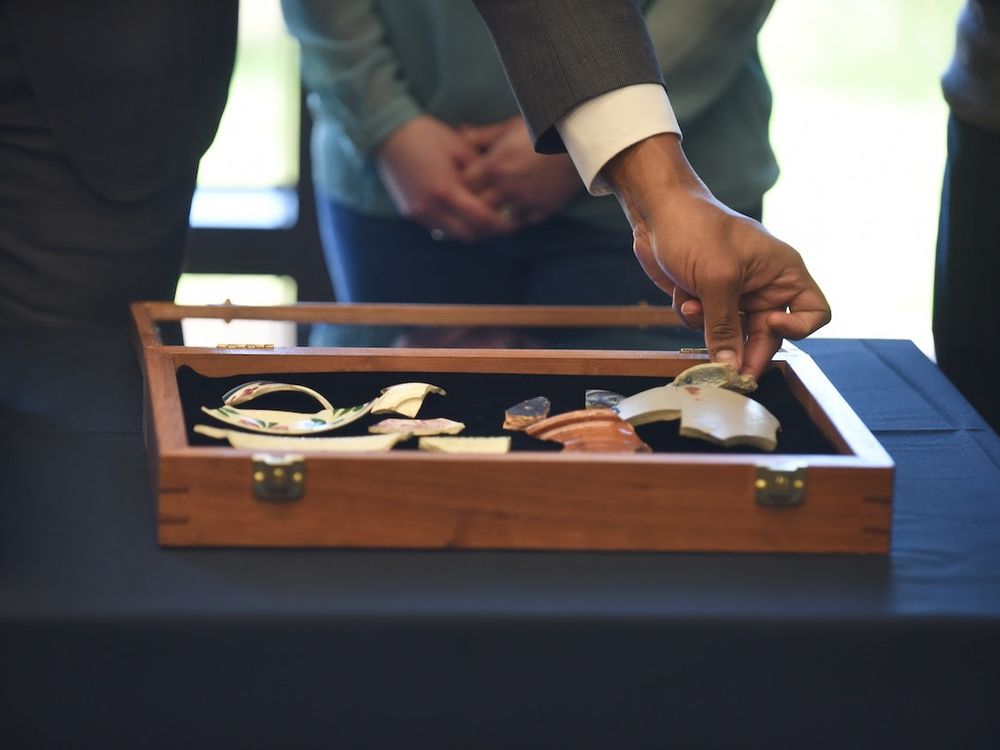 "We found Africa on Maryland's Eastern Shore," announced Julie Schablitsky, chief archaeologist at the Maryland Department of Transportation, on Tuesday, per the Washington Post's Ovetta Wiggins.
For more than two years, Schablitsky has been leading excavations at Thompson Farm, where abolitionist Harriet Tubman was born. This week, officials announced the discovery of a West African spirit cache, a collection of items traditionally used to protect a home's occupants. The items include a glass heart-shaped perfume stopper, a copper alloy button, a white ceramic dish and metal nails.
"Harriet Tubman's birthplace is sacred ground, and this discovery is part of our ongoing commitment to preserve the legacy of those who lived here," says Wes Moore, Maryland's governor, in a statement. "The find reveals untold stories of the past that help us both understand the history we share and inspire us to make a better future."
This morning I joined leaders in Dorchester County, @MDOTNews, and members of Harriet Tubman's family to announce the discovery of a home where enslaved people lived at Thompson's farm, the birthplace of Harriet Tubman. pic.twitter.com/KFa5eFJFiL

— Governor Wes Moore (@GovWesMoore) February 14, 2023
Born into slavery, Tubman was able to spend her teenage years in a cabin owned by her father, Ben Ross, who was freed from slavery five years after his enslaver's death in 1836. In his will, his enslaver also said that Ross was to receive a ten-acre tract of land close to the Blackwater River. His wife and several of their children, including Tubman, were still enslaved, though they were allowed to live with him, according to the Washington Post's Michael E. Ruane.
Archaeologists only found the location of Ross' home in Maryland in 2021, following decades of searching. The discovery of a coin minted in 1808, the year Tubman's parents were married, as well as nearby ceramic fragments dating to between the 1820s and 1840s, helped Schablitsky and her team identify the site. 
Ross introduced his daughter to the Underground Railroad, the network of clandestine routes and safe houses enslaved people used to escape to freedom, as he was an agent of the railroad himself. After escaping in 1849, Tubman made about 13 trips back to Maryland along the railroad between 1850 and 1860, leading some 70 enslaved people to safety.
Since their 2021 discovery, Schablitsky and her team have been excavating the land nearby. Among their findings is evidence of a home where they think enslaved overseer Jerry Manokey resided. The site of Manokey's home is now on private property, while the remains of Tubman's father's home are on the Blackwater National Wildlife Refuge.
The discovery of the West African spirit cache "adds another chapter to the incredible story of Harriet Tubman, a Marylander who led a life in pursuit of freedom for herself and others," says Paul J. Wiedefeld, acting secretary for the Maryland Department of Transportation, in the statement from the governor's office. 
Moore, who is Maryland's first Black governor, attended the official announcement on Tuesday. He called the find "truly incredible," saying that Tubman is "one of the state's true matriarchs," per CBS News.
Experts think that enslaved people placed the cache in front of their home's fireplace to protect themselves from negative spirits.
Two of Tubman's relatives were present at the ceremony, including Tina Wyatt, Harriet Tubman's great-great-great-grandniece and Ben Ross' great-great-great-great-granddaughter, who says in the statement that each artifact represents "a piece of a puzzle."
"When gathered together, studied and analyzed," she continues, "we are then able to provide an important tangible experience, allowing a real-life connection between ancestors and descendants."