New York's Newest Urban Farm Floats
A barge bursting with vegetables takes to the water this summer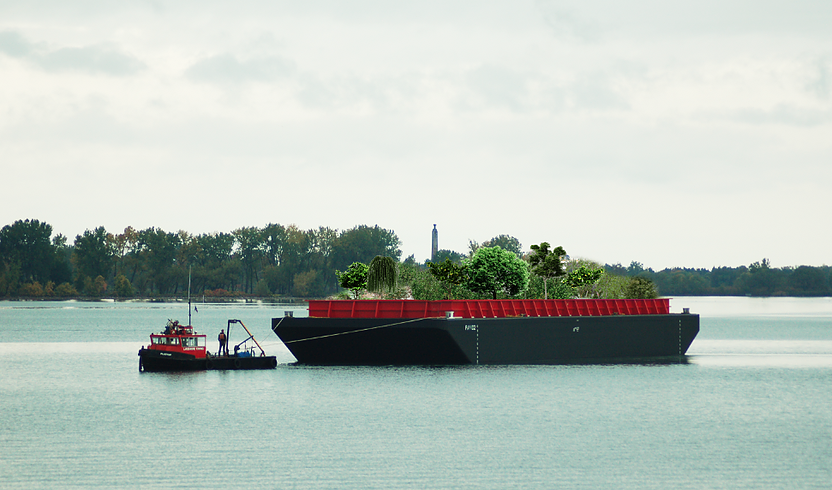 It used to be that people who fancied the idea of eating local were out of luck, unless they were cool with eating random weeds and nasty trash mushrooms. Slowly but surely, though, urban farms have taken root, popping up between and atop buildings, even along traffic mediums. Now, writes Michelle Young for Untapped Cities, a new project ups the ante on urban-grown food—a floating farm on a barge that will travel throughout New York's harbors.
It's called Swale, and it's as much an art installation as it is a legit farm. The barge is a collaboration between 18 farming, arts and urban revitalization organizations and a whole slew of artists and educators dedicated to turning New York's often-overlooked water resources into something that literally and figuratively feeds the community. Everyone from high school students to the U.S. Coast Guard are involved in the project.
The barge will float through various New York locations all summer and invite visitors to come aboard its 80-foot-by-30-foot platform. Atop the boat is an entire forest of food. Decorative plants will mingle with everything from beets to asparagus to kale and chard. Young writes that visitors will be able to pick their own free food aboard the barge, which is irrigated with water straight from the harbor.
The word "swale" describes a low or marshy piece of land, and the floating farm's name is a clue to how it will produce food. Brooklyn Based's Nikita Richardson writes that the houseboat-like structure features "a foundation of wetland greenery capable of sucking up river water, filtering it, and then paying it forward to the edible plants at the surface."
But foot is just the tip of the boat, so to speak. Swale will also serve as a floating home for installations, performances and workshops via Eco Hack 2016, which will build its own pavilion atop the barge. Brokelyn's Sam Corbin reports that the event will even feature projections that visualize environmental data taken straight from the plants themselves.
Want to catch a glimpse (and a taste) of Swale this summer? Keep your eyes on the Hudson River: The boat will float from Brooklyn Bridge Park to Governor's Island and the Bronx starting in June.