New York Might Never Top the 1949 Rockefeller Center Tree
Although this years tree will have far more lights (45,000 in total) it won't be quite the silver, spinning whirlwind of 1949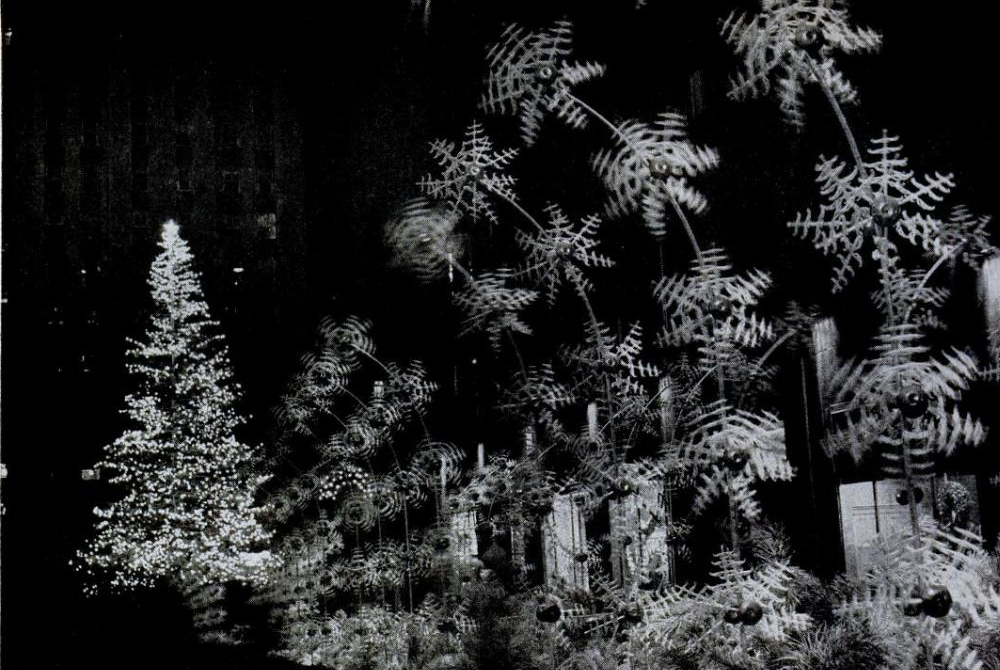 Every year, the giant tree in Rockefeller Center is unveiled to some fanfare. But no tree is likely to top the tree that the city had in 1949. After years in which war-time trees stood stoically without lights, New Yorkers got a tree to remember. The Bowery Boys describe the spectacle:
Perhaps knowing the mild temperatures that awaited that season -- it would only snow two inches between November 1949 and January 1950 -- the Rockefeller Center holiday designers decided to spray paint the gigantic 75-foot tree in hundreds of gallons of whimsical silver paint.  It was then engulfed in 7,500 electric lights in pastel colors -- pink, blue, yellow, green and orange, described as "plucked from a sky in fairyland."
Not only was the tree covered in silver paint and lights, the walkway leading up to it was lined with 576 snowflakes that whirled dizzily. In fact, the display was so bright and wild that it caused one of the worst traffic jams the New York Times had seen in years. Cars were reportedly trapped between 72nd Street and 41st Street for hours.
Although this years tree has far more lights (45,000 in total) and induce plenty of traffic, it won't be quite the silver, spinning whirlwind of 1949.
More from Smithsonian.com:
"Holidays on Display" at American History Museum
Dreaming of a Green Christmas