New Tech Identifies that Special 'Je Ne Sais Quoi' That Makes Paris Paris
Science provides an answer on what details in an urban street scene clue people in on what city it is from.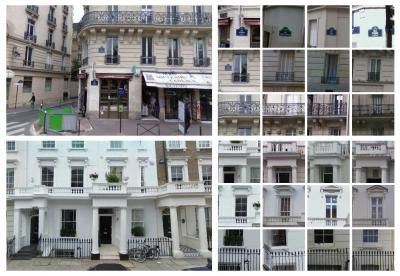 Software developed by researchers at Carnegie Mellon University automatically identifies key elements of any city, in this case honing in on Paris' emblematic street signs, balustrade window and balcony supports and street lamps. When the same program is run on data from London, it singles out the ubiquitous neoclassical entryways, Victorian windows and cast iron railings that make London 'London.'
The researchers point out that any resident or visitor to the City of Light, for example, would likely agree that certain elements contribute to the city feeling remarkably, well, Parisian. These may include promenades along the Seine; the ever-present Tabac signs; the towering plane trees lining the classy boulevards and reflecting the changing seasons. Indeed, most major metropolises have a certain individualized 'feel' about them. But even if these features are all around, it may be difficult for a human observer to list exactly which ones create that unique aesthetic
The researchers used a machine learning program to chew through more than 250 million visual elements gleaned from 40,000 Google Street View images of Paris, London, New York, Barcelona and other major cities. After crunching the data, the program presented at a set of geo-informative visual elements unique to each city, including New York's fire escapes and San Francisco's bay windows.
They admit that this analysis requires a significant amount of computing time, keeping 150 processors working overnight. But this may be preferable that running around a city taking snapshots for a week straight, as Pixar's art directors did in Paris for "Ratatouille."
And the authors' ambitions don't stop with movies. In a statement, they declared, "In the long run, we wish to automatically build a digital visual atlas of not only architectural but also natural geo-informative features for the entire planet."
Here, they explain a bit more about how their software works:
More from Smithsonian.com: