New Portrait of Lord Nelson Found, Scars and All
One of many Nelson portraits by Leonardo Guzzardi, the painting has been restored to include his war wounds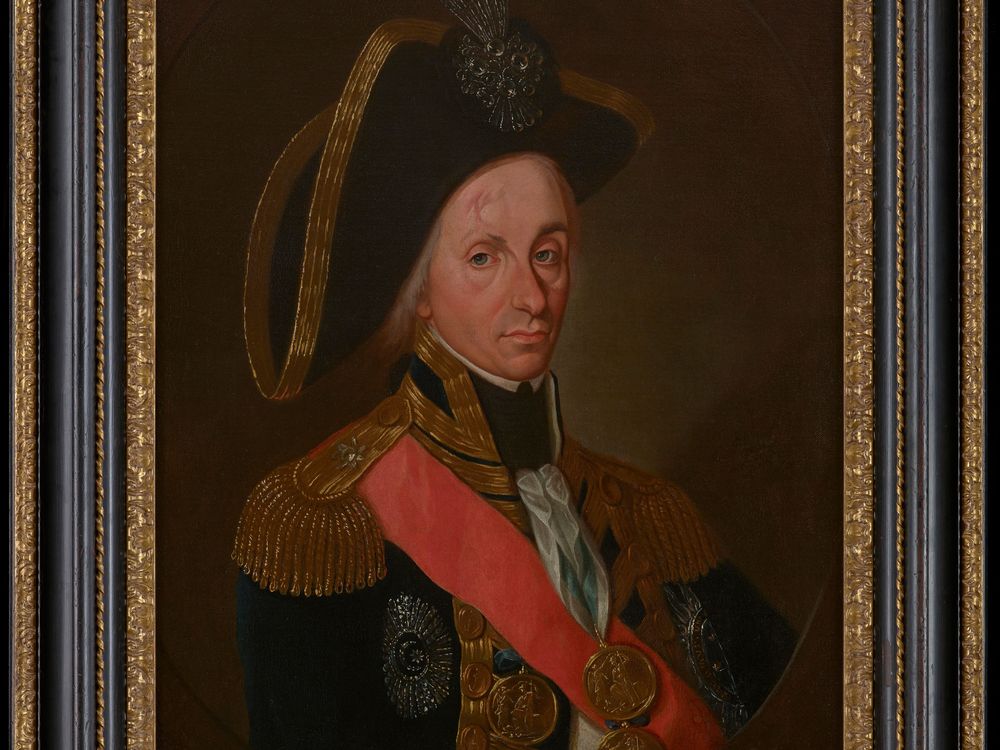 The average American may only be vaguely familiar with Vice-Admiral Horatio Nelson, the British Navy admiral and hero of the Napoleonic Wars. But to the United Kingdom, he is like George Washington, Ulysses S. Grant and George Patton rolled into one. In general, portraits of the genial general and naval genius show him in a flattering light. Some depict him as almost divine. But Camilla Turner at The Telegraph reports that a recent re-discovery of a long lost painting aims for realism, showing his battle scars and war-weary face in a way other artists avoided.
Turner reports that the image is a painting completed by Italian artist Leonardo Guzzardi in 1799. It is one of a series of portraits painted by Guzzardi depicting the naval hero. In his paintings, Guzzardi did not shirk from showing the wounds on Nelson's face or his missing arm (after losing it in battle, he apparently returned to giving orders just half an hour after the amputation, according to personal accounts). But over the years, institutions that own those portraits, some of which just show Nelson's face and some of which depict his entire figure, painted over or lightened the facial disfigurement.
In fact, Turner reports that the same had been done to the rediscovered painting, which was found in an American collection by art dealer Philip Mould. During a restoration effort, the paint was removed, revealing the original reddish wound and missing eyebrow.
"Nelson is emaciated and battle worn, with a scarred head, a missing arm (undetectable in the rendering), a blood-shot eye, and largely missing eyebrow," Mould writes in a description for the portrait, now on display (and for sale for an undisclosed price) from Philip Mould & Company. "The portrait is uncompromising, so much so that one past owner, no doubt discomforted by the broken eyebrow, had it painted in to match that on the right."
Mould tells Turner the experience was like "reversing plastic surgery." "Seeing the scar emerge was a remarkable moment—Nelson the human replaced the more heroic projection," he says.
Guzzardi (and other artists) made multiple versions of this Nelson portrait. According to research by Mould and scholar Martyn Downer, the newly unearthed painting is one of Nelson's earlier iterations (the number of medals and orders Nelson wears indicates whether the painting was made before or after August 1799).
Before it surfaced, art historians already were aware this version of the portrait existed. In the early 1880s, a London art dealer found it rolled up and gathering dust in Italy. He eventually sold it to English collector and Nelson aficionado Alfred Morrison, and the portrait's known whereabouts were last reported in 1897, when it was in Morrison's collection. After his death, the work was sold by Morrison's wife, eventually ending up in New York, where it was acquired by a George M Juergens; after his death in 1987, the portrait's new owner became an unidentified friend of Juergens.
While it's natural to lionize Nelson by covering up his injuries, his wounds are a big part of his legend. Unlike other commanders, he put himself on the line of fire. In July 1797, Nelson led an assault on Tenerife in the Canary Islands, taking a musket ball to the arm as soon as he stepped ashore. The limb was amputated, but according to legend (and personal accounts) Nelson was issuing orders again half an hour later. He sustained the injury to his eye during the Battle of the Nile in 1798, a key victory for the British during the Napoleonic Wars. He was shot in the face by a French sniper, exposing an inch-long section of his skull. That left a large scar and removed most of his eyebrow. 
Nelson's string of luck ran out in 1805 at the Battle of Trafalgar off the coast of Spain. France and Spain were preparing an invasion of the British Isles and only the British Navy stood in their way. Nelson devised an innovative close-combat strategy for his fleet. It was a little too close. Another French sniper hit him in the shoulder aboard his command ship, with the fatal musket ball traveling into his back. The intense melee took four and half hours, but Nelson lasted long enough to hear that his forces had won. Trafalgar Square in the center of London, where Nelson looks down from his Column, are a memorial to that decisive battle.