This Incredible Street Art Is Also An Evolution Lesson
In Rome, a giant mural illustrates how life began and evolved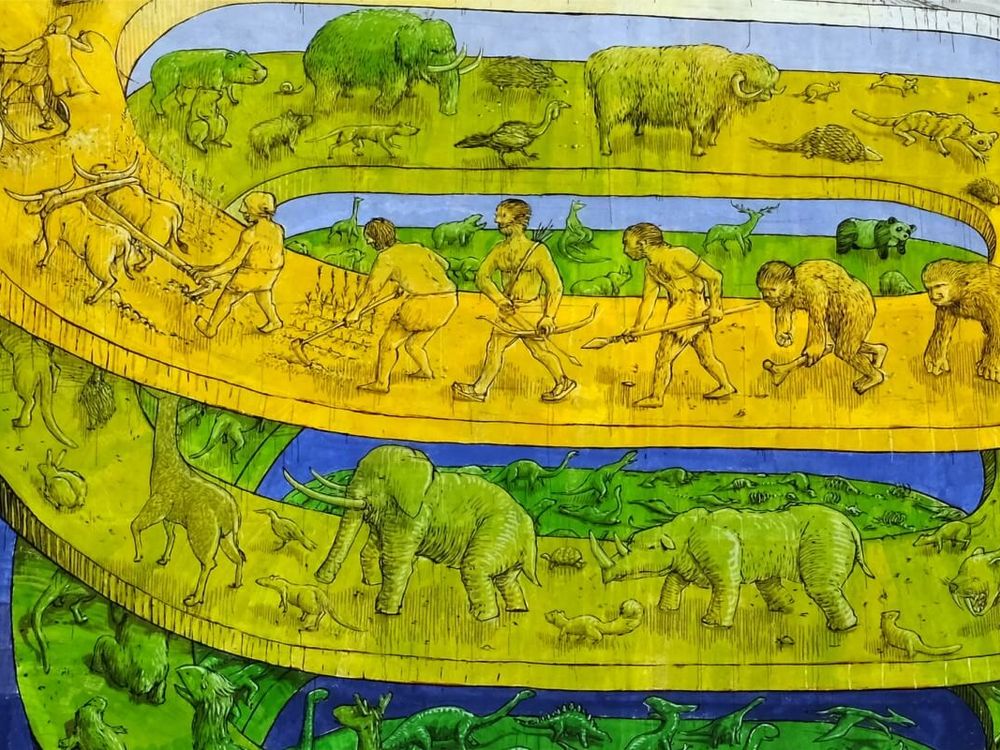 The Italian street artist known as "Blu" has made a name for himself with giant, colorful murals and surreal animations. Now, StreetArtNews reports, Blu has taken on the anthropocene with his latest piece, a mural that illustrates evolution from humanity's humble beginnings.
Painted on the side of a building in Rome, the new mural depicts evolution in a brilliant, rainbow-colored spiral, beginning with early first microbes. As the mural rises up the buildings, microbes evolve into fish, fish make way for dinosaurs, dinosaurs are replaced by mammals and then, humans emerge. The mural's bright colors vanish on the last twist of the spiral, however, as Blu's timeline reaches the industrial age. At the peak, it all crumbles away under the weight of industry.
Blu's work often plays with themes of evolution, as well as the struggle between nature and technological advancement. Earlier this year, the artist finished a mural depicting a crumbled apartment building being swallowed by plants and vines, Christopher Jobson reports for Colossal. The project was a collaboration a local neighborhood group, which works to reclaim green space in Rome. Blu has also tackled similar themes of evolution and destruction in two of his most famous pieces, "Big Bang Big Boom" and "Muto," which feature surreal creatures shifting, evolving and mutating through animated graffiti as they travel across walls and construction sites.
For more images of Blu's latest mural, check out the slideshow below.