New mRNA Vaccine Shows Promise Against Skin Cancer
Research suggests the personalized vaccine, paired with an immunotherapy drug, can reduce melanoma recurrence in high-risk patients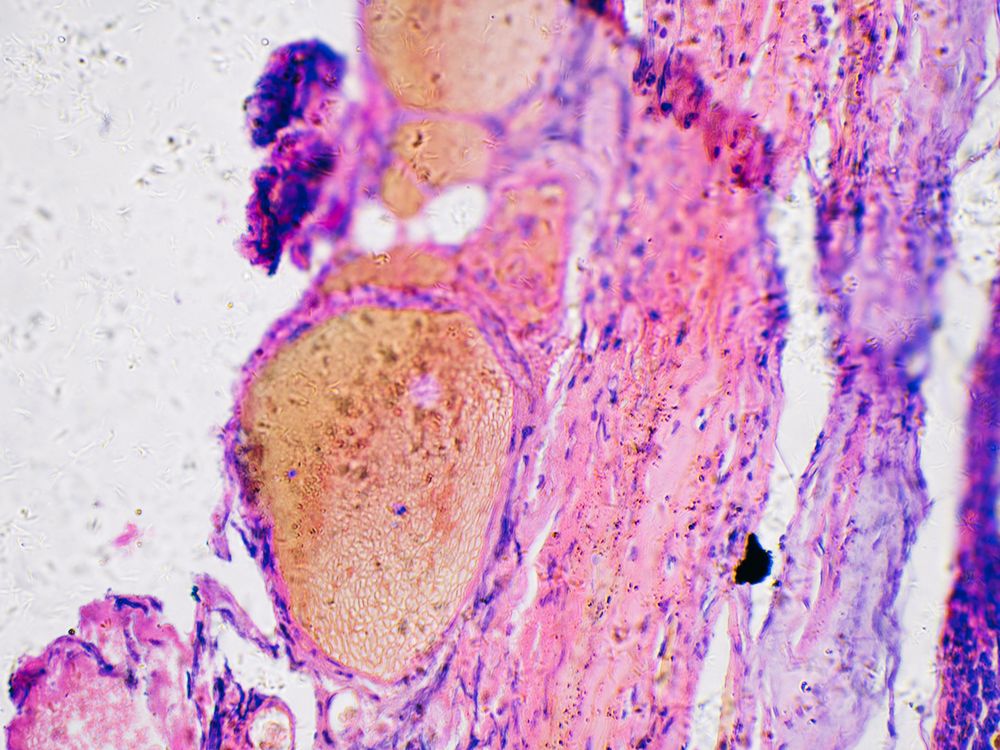 A personalized mRNA vaccine that combats a deadly form of skin cancer can reduce patients' risk of recurrence or death when combined with an immunotherapy drug, new research suggests.
The results from a phase 2 trial of the melanoma vaccine were presented at a meeting of the American Association for Cancer Research on Sunday, though they have not been peer reviewed. 
"It's probably the first real data that suggests that this personalized approach to vaccination may be worth exploring further," Ryan Sullivan, an oncologist at Mass General Cancer Center who worked on the study, tells Karen Weintraub of USA Today. 
To test the new treatment, which was created by Moderna and pharmaceutical company Merck, researchers gave 107 melanoma patients the vaccine in combination with the immune response-boosting drug Keytruda. Fifty additional participants were treated with Keytruda alone, which is the standard of care, write Linda Carroll and Reynolds Lewis for NBC News. All patients had their cancerous tumors removed in surgery but were at a high risk of recurrence.
Within two years, the researchers found that cancer had returned in 40 percent of patients (20 people) who had received only Keytruda. But of those who were given both treatments, just 22 percent had recurrences (24 people). Use of the vaccine decreased patients' risk of recurrence or death by 44 percent compared to treatment with Keytruda alone.
"This is a potential major breakthrough," Sullivan says in a statement. "The relevance of this study is the impact it could have not just for melanoma patients but for other cancers as well."
mRNA vaccine technology, which was used to immunize millions of people around the world against Covid-19, was already in development for cancer prior to the beginning of the pandemic. These vaccines work by sending messenger RNA into cells in the body to instruct them to build proteins that trigger an immune response. The immune response creates antibodies, which help fight off future disease. 
To combat melanoma, researchers personalized a vaccine for each individual using tumor cells removed from the patient during surgery. The injection teaches the body to recognize and respond to up to 34 distinct proteins called neoantigens, found in the person's cancer cells but not in healthy ones. Because the treatment needs tumor cells to function, it isn't intended to prevent disease, rather, it is meant to limit the chance of recurrence once the cancer has already been diagnosed.
Researchers don't know which specific neoantigens are most beneficial to target, but previous experimental vaccines have taken aim only one of these at a time—it is "astonishing" that Moderna's technology can include up to 34, Eliav Barr, Merck's head of global clinical development and chief medical officer, tells Reuters' Julie Steenhuysen and Michael Erman.
Melanoma is the most dangerous type of skin cancer, per the Cleveland Clinic. It only accounts for about 1 percent of all skin cancers, yet it's responsible for the majority of deaths from this disease. About 7,990 people—5,420 men and 2,570 women—are expected to die of melanoma in the United States in 2023, the American Cancer Society estimates. 
Researchers expect to begin a phase 3 trial for the vaccine later this year. If it shows similar results, the treatment could be approved for patients within three years. 
The study is "important, because it's the first randomized study of a cancer vaccine with a clinically meaningful endpoint: stopping tumors from coming back," Margaret Callahan, research director of the Memorial Sloan Kettering Immunotherapeutics Program, tells NBC News. "This is an exciting advance in the field of cancer vaccines, an area notoriously tough to make progress in."