National Geographic Sells a Painting of Pirates for More than One Million Dollars
For the first time in its 125 year history, National Geographic has opened up its collection to bidders at Christie's an art auction house based in NYC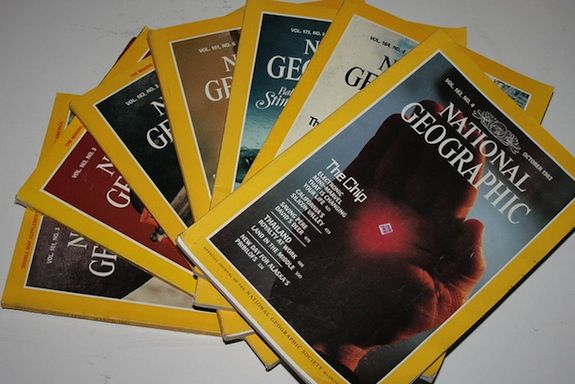 For the first time in its 125 year history, National Geographic has opened up its collection to bidders at Christie's, the art auction house based in New York City. There were 232 lots for sale, but the most expensive item was not a photograph or a cover or a camera. It turned out to be a painting of pirates. The painting, "Duel on the Beach," sold for over $1 million and had hung in the magazine's Washington, D.C., offices since the 1960s.
About half of the traffic to the sale came online—a huge percentage for Christie's. Only one other auction has brought so much online attention, and that was Andy Warhol's collection. It took about eight minutes for the "Duel on the Beach" sale to happen. Forbes writes:
The buyer was not present at the sale, but on the phone with Christie's Associate Vice President of Private and Iconic Collections, Kate Brambilla. Ms. Brambilla, when recalling the transaction, sounded giddy, "he didn't hesitate. He knew what he wanted." And he got it, at the end of a rapid-fire eight-minute sale.
National Geographic explains the background of the painting on their website:
This painting, "The Duel on the Beach," does not illustrate a scene from Treasure Island. Its subject matter is purely imaginative. Carl Fisher, an American entrepreneur who made his fortune in the automobile and real-estate industries, commissioned Wyeth to paint a pirate-themed work of art in the early 1920s, and "The Duel on the Beach" is the result.

At least two of Wyeth and Fisher's friends appear in the painting, between the dueling pirates. The man in the yellow hat is James Allison, Fisher's fellow automobile entrepreneur and a co-founder of the Indianapolis Motor Speedway. The grinning man next to Allison is John Oliver La Gorce, an explorer and editor at the National Geographic Society.
Other sales include the iconic Afghan Girl photograph, which went for $178,000, and a self-portrait taken by Robert Peary when he reached the North Pole, which went for $15,000.
For Christie's, this sale was a bit unusual, as it dealt with journalism and not simply art. But Forbes says that the lines are blurry:
The success of the sale, said Brambilla, "reaffirmed the idea that art and journalism go hand-in-hand."
More from Smithsonian.com:
Art Auction for Haiti Recovery Project
Auctioning a Beloved Thomas Hart Benton Collection