NASA Astronaut Sets Record for Longest Trip to Space by an American
When Frank Rubio returns from the International Space Station on September 27, he will have spent 371 consecutive days in space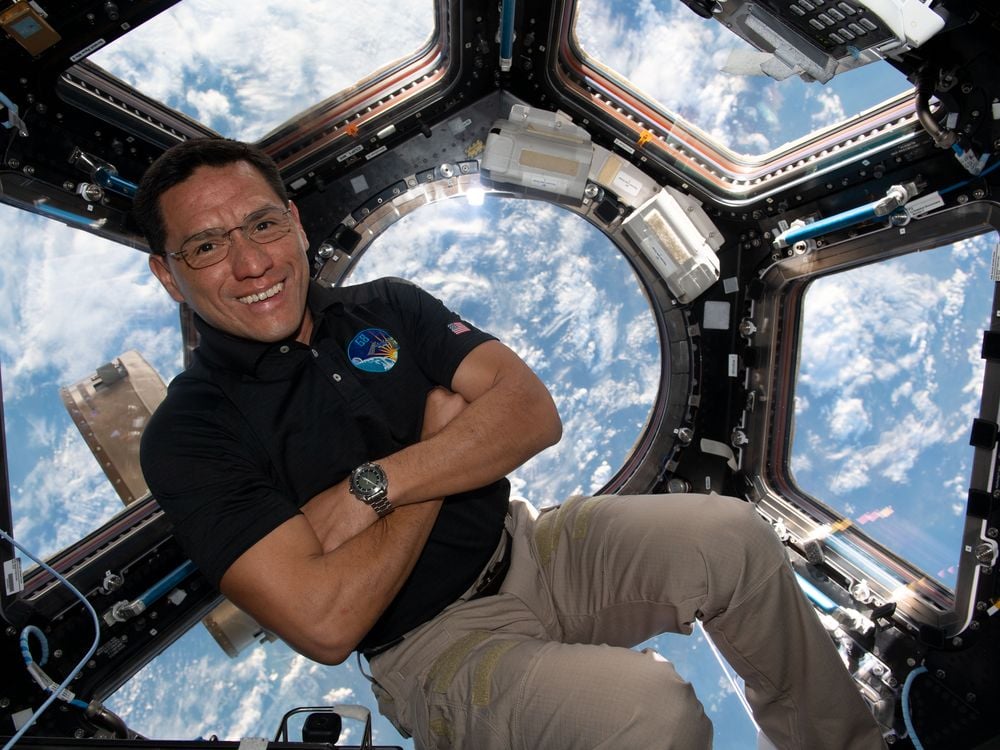 NASA astronaut Frank Rubio broke the record for the longest journey in space by an American, at 355 consecutive days as of Monday.
Since September 2022, Rubio has been living on the International Space Station (ISS). By the time he returns to Earth at the end of the month, he will have spent more than a year in space, according to NASA.
A physician who has previously worked as a helicopter pilot and flight surgeon, Rubio became a NASA astronaut in 2017. He departed for the International Space Station on September 21, 2022, launching away from Earth on the Russian Soyuz MS-22 spacecraft, accompanied by Russian cosmonauts Sergey Prokopyev and Dmitri Petelin.
The crew was originally scheduled to stay on the ISS for six months. But in December, while their capsule was docked at the ISS, it developed a coolant leak, per the Associated Press (AP). In January, NASA announced that the compromised spacecraft would not be used for a normal crew return and would only carry people from the space station in the case of an emergency. It returned to Earth with no passengers on March 28.
Another spacecraft, the Soyuz MS-23, was originally intended to bring a subsequent crew to and from the ISS in March. Instead, it launched as a replacement ship for Rubio, Prokopyev and Petelin on February 23. Because Russia needed time to prepare an additional Soyuz spacecraft to transport a replacement crew, the original crew's stay was extended until September, per CNN's Jackie Wattles.
"I think this [record] is really significant in the sense that it teaches us that the human body can endure, it can adapt and—as we prepare to push back to the moon and then from then, onward onto hopefully Mars and further on in the solar system—I think it's really important that we learn just how the human body learns to adapt, and how we can optimize that process so that we can improve our performance as we explore further and further out from Earth," Rubio said in an August interview with Good Morning America.
Rubio officially surpassed the previous American record for longest space mission at 1:39 p.m. Eastern time on Monday, according to Space.com's Robert Z. Pearlman. The previous record was held by NASA astronaut Mark Vande Hei, whose 355-day mission on the ISS lasted from April 9, 2021, to March 30, 2022. Vande Hei's stay was also longer than originally intended—when Russia sent two people to the ISS to film a movie, the additional space station traffic delayed Vande Hei's departure, writes CNN.
When Rubio returns to Earth with his crewmates on September 27, the length of his journey will have stretched to 371 days, per the AP. That's still well short of the world record for a stint in space, set by Russian cosmonaut Valeri Polyakov. He spent 437.7 days on the Russian space station Mir between 1994 and 1995, orbiting our planet 7,075 times during his stay, according to the New Mexico Museum of Space History.
Spending extended periods of time in a microgravity environment like the ISS comes with health risks. Long stays in space can cause a loss of bone density, a reduction in muscle mass and vision problems. It can also cause the brain to expand, according to a study published in June.
Astronauts can also experience issues with their equilibrium when they first return to Earth, Rubio said during the Good Morning America interview, per ABC News' Mary Kekatos.
"I'm not sure how it will be for me," he said to Good Morning America. "I'm preparing for the fact that it might be a challenge, that it might take a couple of days before I'm somewhat normal, but the reality is it's going to take anywhere from two to six months of really intense rehab to get back to my normal, and that's just part of the process."