Montana Youths Win Key Climate Lawsuit on Their Right to a 'Clean and Healthful Environment'
The ruling could set a groundbreaking precedent in answering the question: Does the government need to protect its citizens from climate change?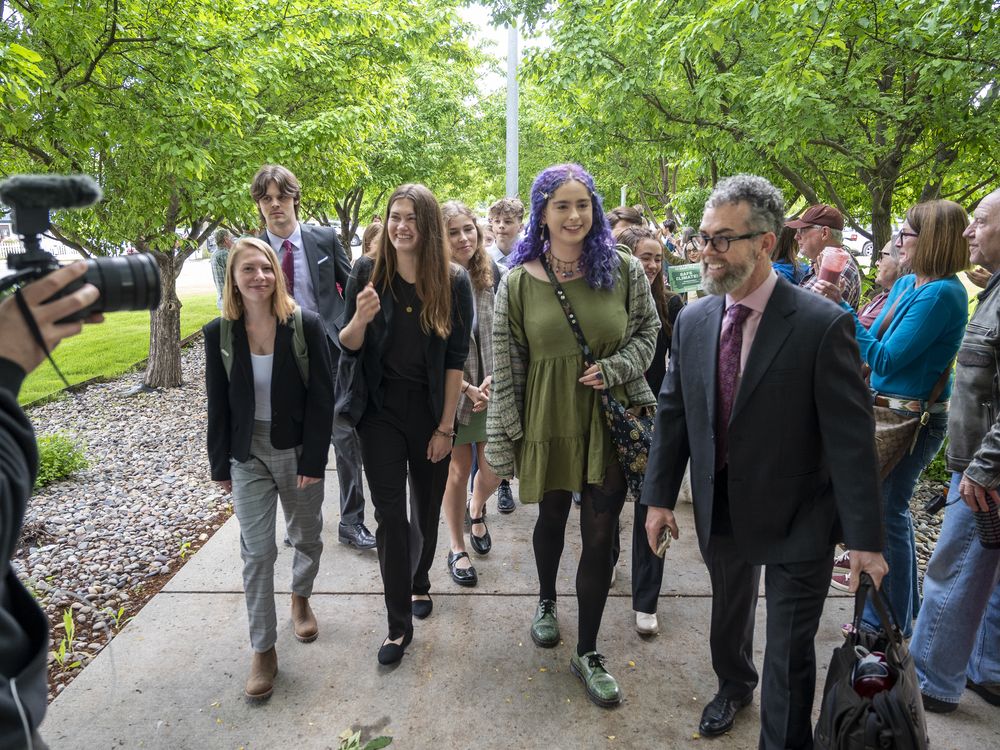 A judge has ruled that the state of Montana is violating its citizens' constitutional right to a "clean and healthful environment" by allowing continued fossil fuel development without considering its effect on the climate.
Lawyers for Montana said they would appeal the judge's decision, which was handed down on Monday. But if it stands, the ruling could set a groundbreaking legal precedent that the government is obligated to protect its citizens from human-caused climate change.
Montana is one of a handful of states with a clause that guarantees citizens a clean and healthy environment included in its constitution. With that in mind, the plaintiffs argued that an amendment to the Montana Environmental Policy Act, passed in 2011 and updated in May this year, is unconstitutional. The amendment prohibits state agencies from considering potential climate impacts and greenhouse gas emissions when granting permits for new oil and gas projects.
District Court Judge Kathy Seeley agreed with the youths, writing in her ruling that Montanans "have a fundamental constitutional right to a clean and healthful environment, which includes climate as part of the environmental life-support system."
Her ruling reverses the amendment, but it doesn't go farther than that—for instance, it doesn't prohibit fossil fuels from being extracted or burned within the state, as CNN's Ella Nilsen reports.
Still, legal analysts called the ruling a big victory for climate litigation, which has become an increasingly popular route for attempting to halt the advance of global warming. Several similar cases are underway in other parts of the country, including Hawaii and Utah, and the Montana decision sends a "signal to judges in other states that maybe these cases aren't so far out after all," as Daniel Farber, an environmental law expert at the University of California, Berkeley, tells CNN.
"People are very attuned to what's happening in other jurisdictions," he says to the publication.
Other law experts agreed, adding that it may even inspire more plaintiffs to file suits in states with similar environmental guarantees in their constitutions. Michael Gerrard, who directs the Sabin Center for Climate Change Law at Columbia Law School, describes the Montana judge's ruling as "the strongest decision on climate change ever issued by any court," as he tells Reuters' Clark Mindock.
The group suing the state of Montana is made up of 16 plaintiffs who ranged in age from 2 to 18 when they filed the suit in 2020. They're represented by lawyers from Our Children's Trust, a nonprofit law firm that has filed similar youth-led climate lawsuits around the country; the organization is also representing a group of young people who are suing the federal government for its support of an economy based on fossil fuels.
The plaintiffs were thrilled with the judge's decision, pronouncing it a "huge win for Montana, for youth, for democracy and for our climate," as Julia Olson, Our Children's Trust executive director and chief legal counsel, says in a statement.
Badge Busse, a 15-year-old plaintiff in the case, called the judge's decision "monumental" and "a completely beautiful thing," report David Gelles and Mike Baker for the New York Times. "Hopefully this will continue this upward trend of positivity."
Lawyers for Montana, meanwhile, described the ruling as "absurd," as Emily Flower, a spokeswoman for Montana's attorney general, Austin Knudsen, said in a statement to media.
"[It's] not surprising from a judge who let the plaintiffs' attorneys put on a weeklong taxpayer-funded publicity stunt that was supposed to be a trial," she added. "Their same legal theory has been thrown out of federal court and courts in more than a dozen states."