Mexico's Navy is Battling Seaweed Along the Caribbean Coast
Mountains of seaweed are blanketing beaches around the Caribbean Sea and the government is calling everyone to arms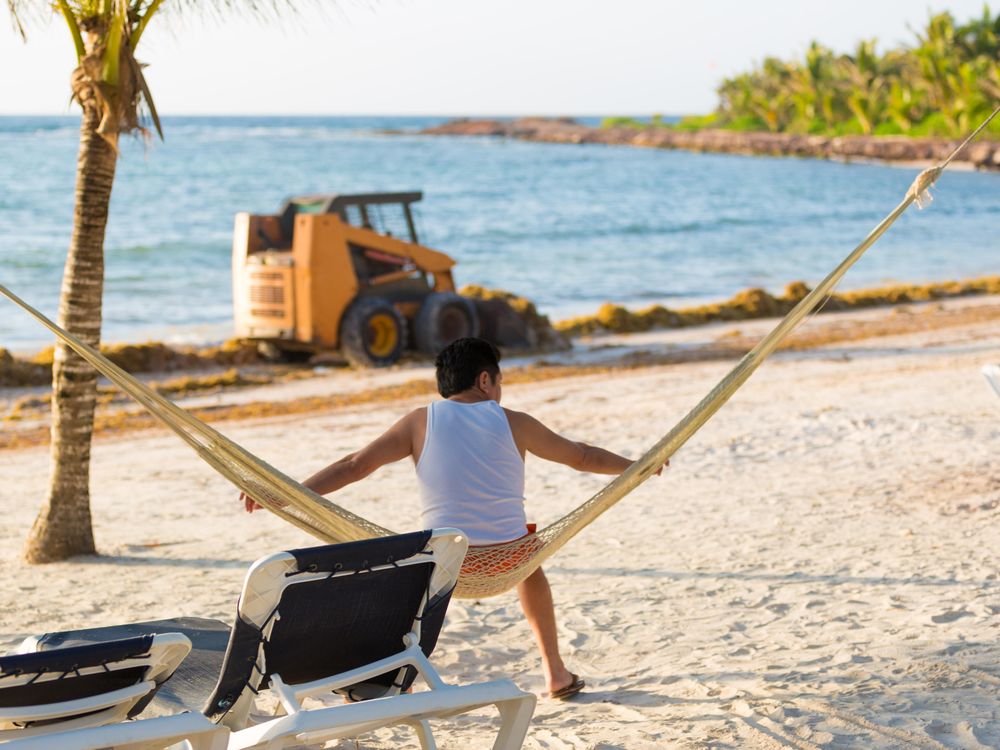 Cancun's beaches are famous around the world for their pearly-white sand. But for months, those same beaches and many more around the Caribbean have been blanketed in tons of brown, stinky seaweed. Now, Mexico is calling in its navy to mobilize experts to figure out how to clean the beaches.
The seaweed, called "sargassum," is a type of algae normally found in the Caribbean Sea. The namesake for the Sargasso Sea, the long brown algae is usually seen as a good thing, providing food and shelter for seals, fish, sea turtles and birds alike. But this year, the sargassum is blooming more than ever before, Joshua Partlow and Gabriela Martinez report for The Washington Post.
"It's in the entire tropical Atlantic," University of Florida oceanographer Chuanmin Hu tells Partlow and Martinez. "It's amazing."
According to Hu, back in July the Caribbean had about 12,300 square miles of sargassum floating around—enough to blanket Maryland. Just four years ago, Hu recorded only 2,300 square miles of seaweed across the entire Caribbean basin. There are several theories for what caused this year's enormous bloom, including warming oceans, shifting currents and fertilizer runoff from Amazonian farms, but scientists are still stumped by the sheer quantity of sargassum, Partlow and Martinez report.
Since the seaweed first hit Mexico's coastline in July, the government has hired thousands of workers to rake and bulldoze the beaches clean. Cancun even recruited cleaners from local drunk tanks, offering a shorter stay in exchange for helping cart off some of the thousands of cubic feet of seaweed piling up in front of the city's luxury hotels, Ben Ellman writes for New York Magazine.
After all, the country's Caribbean beaches bring in more than $8 billion a year from tourism; if that beautiful white sand is marred by mountains of rotting seaweed, that money might go somewhere else very quickly. "Beaches are what we sell to the whole world and what we depend on, directly or indirectly, for all our income," José Eduardo Mariscal de la Selva, the chief of Cancun's maritime department, tells Partlow and Martinez.
So far, the Mexican government has allocated $9.2 million to help clean the Caribbean beaches and local hotels are expected to chip in millions more before the end of the year, EFE reports. The Mexican navy is also helping to track the seaweed as it drifts around the Caribbean in an attempt to keep it at bay until barriers or underwater pumps can be set up to keep the sargassum from coming ashore.
Mexico isn't the only country fearing the seaweed's impact on tourism: Islands like Tobago and the Lesser Antilles are also struggling to rid their beaches of sargassum.
Even worse, fancy beaches aren't the seaweed's only victims. While seaweed is usually great for oceanic ecosystems by providing shelter and nutrients to sea life, such vast quantities of sargassum can hurt coral reefs and prevent sea turtles from nesting. The thick mats of seaweed floating on the water's surface also makes it harder for Caribbean fishermen to make a living, Melissa Gaskill reported for Newsweek in July.
"For [Caribbean] communities, such an overwhelming influx is difficult to deal with," Jim Franks, a researcher at the University of Southern Mississippi's Gulf Coast Research Laboratory told Gaskill. "It radically impacted tourism on some islands, creating economic and environmental hardship. I can't overemphasize how important this is to the region...We need a well-thought-out strategy of response."
But for all the beachside shoveling and seaweed tracking being done, there is little more these countries can do as this year's tourist season picks up. In the meantime, all they can do is hope that the seaweed won't scare too many tourists away.