Meet the First Woman to Referee an NFL Game
Shannon Eastin, the first woman to ever referee an NFL game, got her stripes last night.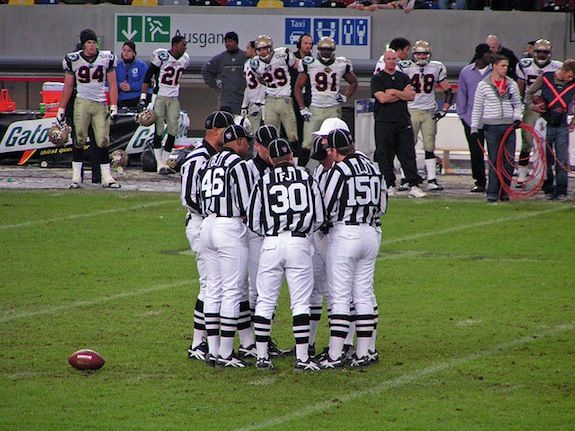 Shannon Eastin has been been refereeing football for 16 years, mostly in the Mid-Eastern Athletic Conference — the second highest level in college football. But the 42-year old just moved up in the ranks big time, and last night became the first woman to ever referee an NFL game.
It's not an ideal situation for Eastin. It's not that she doesn't want to ref, or that she's not qualified. Rather, she's being brought in as a replacement for the officials that the NFL has locked out due to heated contract negotiations. Which means those guys consider her a scab. A lady scab.
But Eastin says she's ready. Last night millions of eyes watched her referee the nationally televised Chargers vs Packers game. On the field, it was hard to tell who was who anyway, but Eastin performed well. The LA Times recapped some of her calls:
Eastin, 42, made a significant fourth-quarter call that replays justified, flagging San Diego cornerback Greg Gatson for pass interference because he ran into Green Bay receiver Dale Moss, giving the Packers a first down at San Diego's 25-yard line.

…

In the third quarter, Eastin threw a penalty flag on a punt return, then was required to quickly intervene to calm a post-play confrontation between Gatson and three Packers. As the hostility ended, she signaled an illegal-formation penalty against the Chargers, the fourth of five flags she threw.
But it's not like the players really care that she's a woman. Packers defensive back Charles Woodson told Minnesota Public Radio:
It's probably about time. I'm sure women have probably tried at some point along the way leading up to this point, so I would assume it's somebody qualified out there that we won't have to jump over for making bad calls. We look forward to it. That's just the way things are and the way I think it should be. So hats off to her and whoever decided to make it happen.
And Eastin knows the pressure is on, and doesn't seem to care. "The pressure?" she asked MPR. "I think knowing I am a female in a man's world, I always put more pressure on myself. I know what I signed up for, and that what I do is magnified."
Eastin isn't the first woman to referee a top-tier male sport. In 1997, Violet Palmer became the first woman to to do that when she refereed an NBA game between the Indiana Pacers and the New Jersey Nets. By now, Palmer has officiated hundreds of NBA games. Palmer says that at first, everyone was very aware that she was a woman. But now, she's just a ref. She told USA Today:
At first it was one of those arm's-distance kind of things. (They seemed to be thinking) 'She has this strength, she reminds me of my mother, but I'm not sure how to deal with her.' As time went on, it became, 'Wow, she's just cool. She's just as cool as the guys.'
For Eastin, she's only got a few more games before the lockout could end and the regular officials are back. But for now, she's on the field and ready to roll.
More at Smithsonian.com:
The Game that Put the NFL's Reputation on the Line
The American Football League's Foolish Club