Meet Grazer, the Winner of Fat Bear Week 2023
A fiercely aggressive mother and a skilled angler, the massive brown bear has been crowned this year's champion in the annual online popularity contest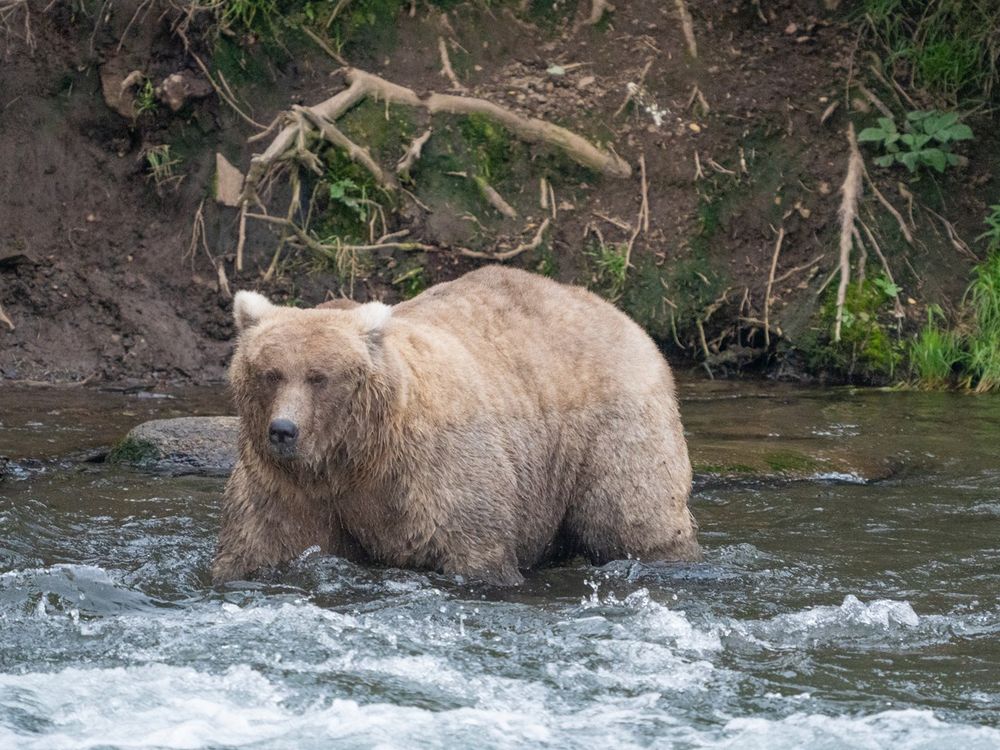 After a summer-long effort of gorging herself on salmon, a brown bear named "Grazer" has been crowned the champion of this year's Fat Bear Week. Grazer, now an empty nester, has earned a reputation as a fiercely aggressive mother and a skilled angler. 
"She has been putting in the work," Katmai National Park ranger Felicia Jimenez said in a video when the 2023 bracket was unveiled. "She was quite dainty in early summer, but now she is huge."
Fat Bear Week is a yearly online competition hosted by Alaska's Katmai National Park and Preserve. Every summer, viewers tune into the park's bear cams, hosted by Explore.org, to watch their favorite brown bears compete for the best fishing spots, hunt sockeye salmon in the Brooks River and put on hundreds of pounds in preparation for winter hibernation.
Then, in the fall, park rangers unveil a bracket pitting the chunkiest bears against each other, and the public votes in single-elimination face-offs for the most rotund of them all—though participants can base their choices on a variety of factors. 
Congrats to 128 Grazer, our 2023 #FatBearWeek champion! Though unaware of her title in this imaginary contest, her success is real! For bears, fat = success, & she's set up well for winter.

We had a record-shattering 1,382,783 votes! There's so much love for our bears! pic.twitter.com/jpJY8c78uc

— Katmai National Park (@KatmaiNPS) October 11, 2023
The competition began as a single-day event in 2014, when then-park ranger Mike Fitz noticed the bears' live streams were generating a lot of chatter online. 
"I suddenly realized that people are connecting with these animals just as strongly as they would in person," Fitz told the New York Times' Remy Tumin last year. "People learn more about brown bears and the salmon this way, and hopefully that translated to a greater sense of care for this remarkable place, as well as for bears and salmon around the world."
The first-ever fat bear vote was done through polls on Facebook, which attracted 1,700 voters. In 2015, the competition expanded across a full week. And in this year's final round of the contest, the gigantic Grazer beat out her competitor, an "enigmatic" male named Chunk, by earning 108,321 votes to his 23,134. A record-breaking 1.4 million votes were cast during this year's bracket-style competition—up from about 800,000 two years ago. In 2021, the park introduced Fat Bear Junior, a tournament for cubs, in which the winner advances to the main bracket. 
For brown bears, gaining as much weight as possible during the summer months is a crucial survival strategy. During their up-to-seven-month-long hibernation, the mammals generally do not eat, drink, defecate or urinate. Their breathing slows, and their heart rate drops, from about 40 or 50 beats per minute during the summer to just 8 to 19 beats per minute in the winter, per the National Park Service. Still, the bears burn calories—sometimes more than 4,000 per day. By the time they emerge from their dens, they may have lost up to 33 percent of their body weight. Not all bears hibernate, but in Alaska, where winter temperatures are cold and food may be scarce, most do.
Heavy is the rump that wears the crown. Introducing your Fat Bear Week 2023 champion, 128 GRAZER!! pic.twitter.com/vVTovj4aRj

— explore.org (@exploreorg) October 11, 2023
Now, Grazer joins the esteemed ranks of nine previous Fat Bear Week champs, though she's only the third female to earn the title. The blonde-eared Grazer became a favorite among webcam viewers in recent years, when she fiercely and preemptively combatted much larger bears to protect her cubs. 
"In summer 2023, many other bears remembered her reputation, and Grazer maintained a high level of dominance even though she was single," per the National Park Service. "Grazer's combination of skill and toughness makes her one of Brooks River's most formidable, successful and adaptable bears."
For park officials, while the yearly competition is a way to entertain the public, it's also a chance to raise awareness of the bears and the ecosystem in which they live. Katmai National Park hosts more than 700 plant species, at least 42 species of mammals and a wide variety of birds and fish. Rangers say Fat Bear Week is a way to connect people to these animals, even from a distance.
"Some people feel an emotional reaction when their bear wins or when their bear happens to lose, because they care about the bear as an individual," Fitz tells Natalie B. Compton of the Washington Post. "My ultimate goal is to hope that they can…put those feelings into action to further protect Bristol Bay and the brown bears and the salmon who call the area home."