Before Fat Bear Week, Don't Forget the Corpulent Cubs Competing in Fat Bear Junior
The offspring of Katmai National Park's famous brown bears will face off in a bracket all their own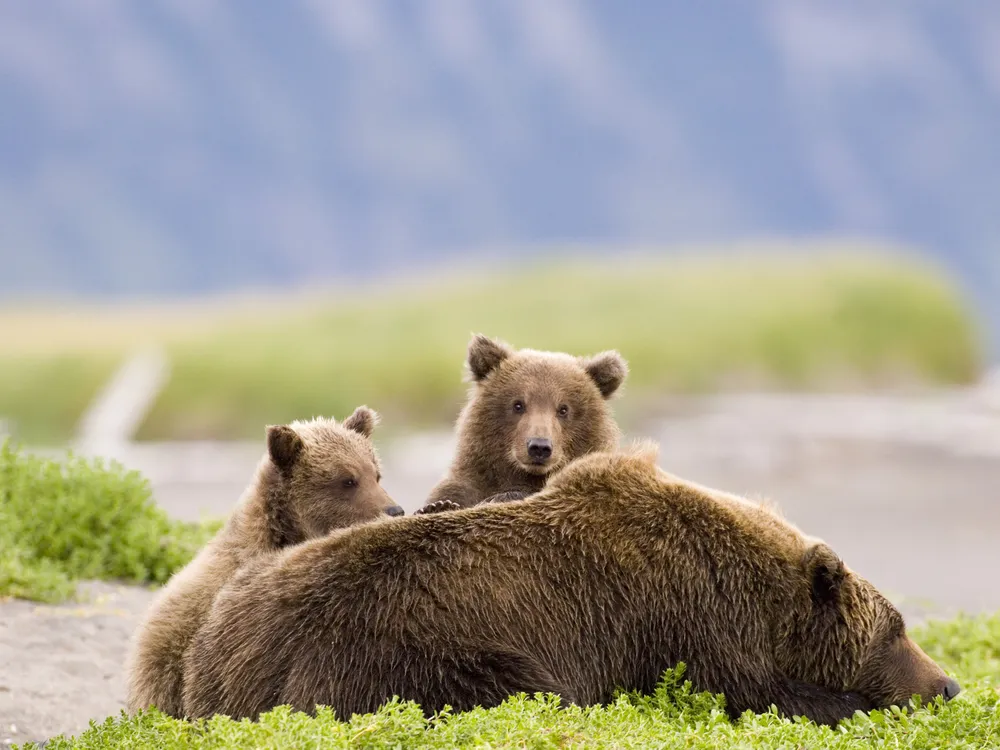 With winter drawing near, it's time for the bodacious brown bears of Alaska's Katmai National Park, which have been gaining fat reserves in advance of hibernation, to take a hulking step into the limelight.
That's right: It's almost Fat Bear Week, the annual, bracket-style internet competition of ursine immensity that—at least to some wildlife enthusiasts—is the March Madness of the animal kingdom. Though it started as a one-day endeavor in 2014, this year's contest will include six days of voting for bears between October 4 and 10, with the most beloved bear earning the crown on the final date.
But before the full-grown adults face off, a selection of colossal cubs will vie for the title of Fat Bear Junior on Thursday and Friday this week. It will be the third annual iteration of this smaller-scale contest, which highlights the incredible survival efforts of young bears and the work of their mothers to keep them alive.
*Shakes you* Babe.. wake up! #FatBearWeek is back!

First, vote for chunky cubs in #FatBearJunior 9/28-29!

Then, the main event: vote for the burly behemoths as they battle it out on 10/4-10 at https://t.co/NvXCYNigTJ.

Which chubby champ will you cheer for?

NPS/F. Jimenez pic.twitter.com/My6ehqIFv9

— Katmai National Park (@KatmaiNPS) September 21, 2023
Proportionally, cubs and teenage bears can balloon in size much more dramatically than adults do. But having the mature and young animals challenge each other side by side during the contest didn't sit well with some people.
"Many of the voters thought it was really unfair that the cubs had to compete against the bigger bears," Naomi Boak, a former media ranger at Katmai, said in a live broadcast Tuesday evening. "In 2021, we decided that it was time to give the cubs their due and reward their enormous efforts to get both fatter and bigger."
Making it this far in the year is truly an accomplishment—survival is tough for a cub. Bears are born during the winter denning period—blind, bald and weighing less than one pound. They spend the next months nursing and gaining weight. When they emerge in spring, the four- to eight-pound cubs are stronger, but they face threats of illness, drowning and attacks from other bears. And when the barren winter arrives, a cub will not live if it hasn't piled on enough fat to last through hibernation. Against these odds, only about one-third of Katmai's cubs survive their first year.
The four cubs competing in Fat Bear Junior this week are especially resilient—all of them were born to young mothers.
"Young moms have a lot to learn, and that makes it a real challenge for all of these cubs to get bigger," Boak said on the broadcast. "So, their accomplishments are legion, I think… and each has a different kind of success story."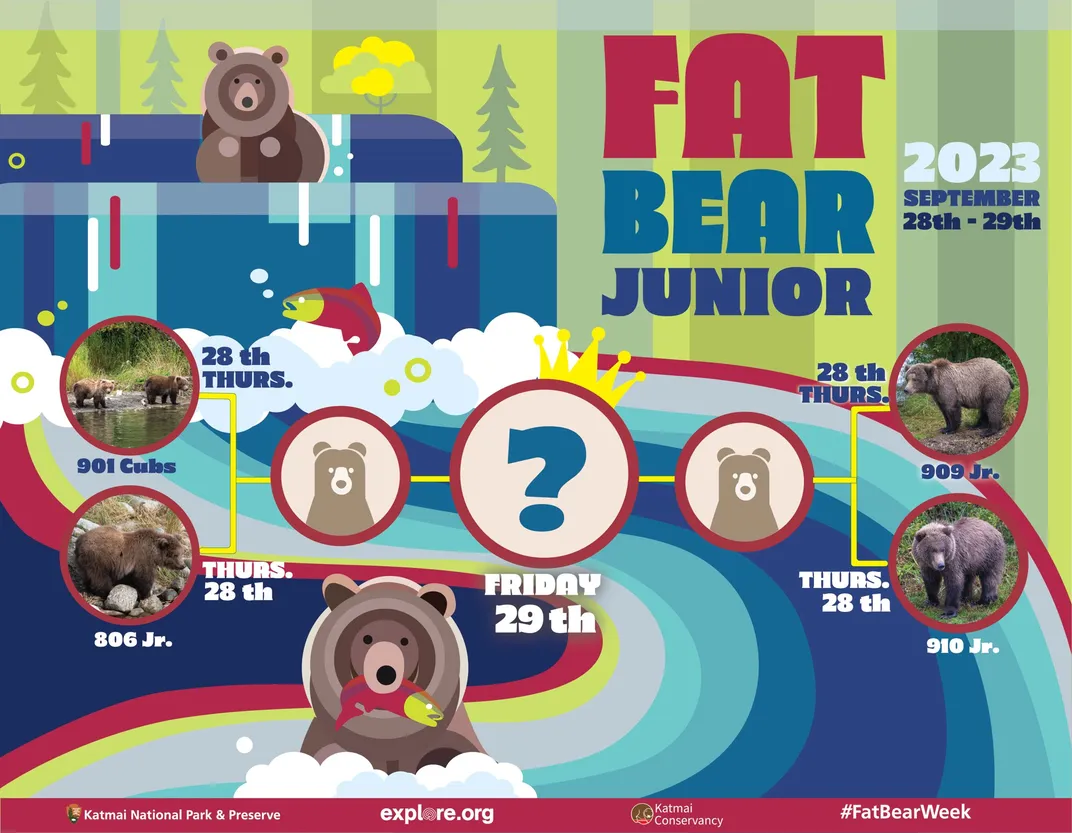 One match-up is a family feud—the contest organizers have pitted two cousins against each other. One of them, called 910 Jr., is the yearling cub of adult bear 910. "She's a very large bear," Felicia Jimenez, a media ranger with Katmai, said on the broadcast. But "she was a little bit at a disadvantage," having to compete with other bears for fish this year. The second contender, 909 Jr., is a two-and-a-half-year-old cub that separated from her mother earlier this year but was adopted by 910, her aunt.
"We don't really know specifically what maybe motivates a mother bear to adopt a cub," Mike Fitz, the resident naturalist with Explore.org, which runs the competition, said on the broadcast. "But no matter the reason for the adoption, 909 Jr. benefited from another summer with a mother. She's really large for her age." 909 Jr. is also the defending champion, having won the Fat Bear Junior contest last year.
And in the other bracket are first-year cubs entering their initial hibernation. Bear 806 Jr. overcame adversity this summer, when his mother had to chase off an adult male that tried to attack him. Still, he has grown. "Simply put, this spring cub has become a tank," Boak said on the broadcast. 806 Jr. has two competitors—a pair of cubs from Bear 901, which are the survivors of a trio born this year.
Voters will "have to weigh the advantages of being a single cub versus having siblings when you don't get as big," Jimenez said on the broadcast.
By the time hibernation rolls around, healthy cubs have really packed on the pounds. In a bear's first year, it might weigh 70 pounds by winter; in its second year, it could reach 200 pounds, NPR's Bill Chappell reports. (Adult males, meanwhile, could hit 1,400 pounds.)
On Thursday, the cubs' chunkiness will be put to a vote. But as the public elects the most corpulent contender, some will take more than just bulk into consideration. Voters can weigh any criteria they wish, such as an animal's backstory or age—anything goes, as it's a "subjective competition," per Explore.org.
The winners of each initial cub pairing will compete for the Fat Bear Junior title in a second vote on Friday. Then, the prevailing youngster will advance to face off against the adults in the main contest.
The whole affair is a way to raise awareness about the stunning feats of the wildlife in Katmai and nearby Bristol Bay. The region is rich with biodiversity, and it hosts more brown bears than people. It's also home to the healthiest sockeye salmon runs left on the planet, which help bears bulk up with their high fat content.
"In a time where most stories of conservation might be doom and gloom, Fat Bear Week truly allows us to celebrate our bears and the Katmai ecosystem overall," Lian Law, a visual information specialist at Katmai, tells the Washington Post's Natalie B. Compton.