Massive Roman Villa Found in British Backyard
One of the largest and best-preserved Roman homes ever found in Britain was discovered after a family decided they wanted to play ping-pong in their barn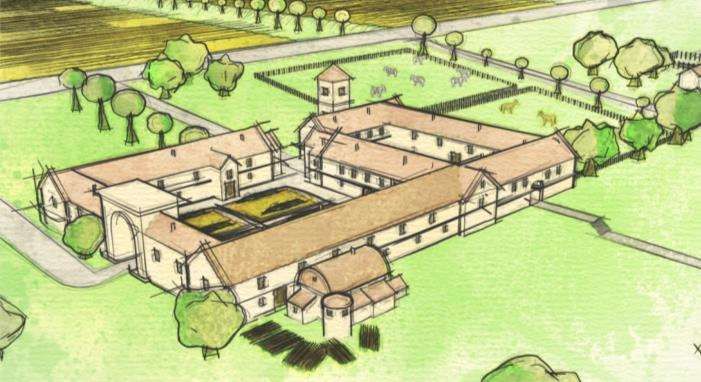 Rug designer Luke Irwin and his family wanted to convert a barn on their newly purchased property in Wiltshire, England, into a ping-pong room. So they hired electricians to run an underground cable to the barn to put in lights. When the workman began drilling into the ground, however, they hit a layer of intricate red, white and blue mosaic tile. As it turns out, the Irwin residence was built on one of the largest and best-preserved Roman villas ever found in Great Britain. 
"We knew the significance of that straight away," Irwin tells Robin McKie at the Guardian. "No one since the Romans has laid mosaics as house floors in Britain. Fortunately we were able to stop the workmen just before they began to wield pickaxes to break up the mosaic layer."
Irwin called in archaeologists who dug test pits during an eight-day excavation in the field behind his home. They found that the mosaic, dated from A.D. 175 and 220 and remodeled several times since, was built in the center of one of the villa's courtyards.
"The rest of the site has not been touched since the house collapsed more than 1,400 years ago, and it is unquestionably of enormous importance," David Roberts, an archaeologist with Historic England tells McKie. In Historic England's press release, England calls the discovery "unparalleled in recent years," offering archaeologists greater insight into Roman and post-Roman England.
According to Steven Erlanger at the New York Times, researchers from Historic England and the Salisbury Museum believe the villa was a three-story building with anywhere from 20 to 25 rooms. The archaeologists uncovered coins, pottery, jewelry, a well, evidence of under-floor heating pipes and even a child's coffin. There were also the remains of hundreds of shellfish that were likely farmed on the coast 45 miles away and transported to the palatial villa. Its large size and prominent position overlooking the surrounding valley indicates that it was likely owned by a wealthy and politically important family.
But there's more to the site than the villa—Historic England says researchers also found the remains of timber buildings that were constructed in the ruins of the villa after the Roman era. These materials may shed some light on the little-known period between the time the Romans abandoned Britain and the Saxons took over the island in the sixth century. 
For now, the test pits have been refilled while archaeologists figure out an excavation plan. Luke Irwin tells Erlanger that he's profoundly moved by finding the mosaic on his new property, especially since as a high-end rugmaker he makes floorcoverings for "the Roman aristocrats of today."