Malcolm X Opera Opens in New York
The Afrofuturist production examines the civil rights leader's legacy and lasting influence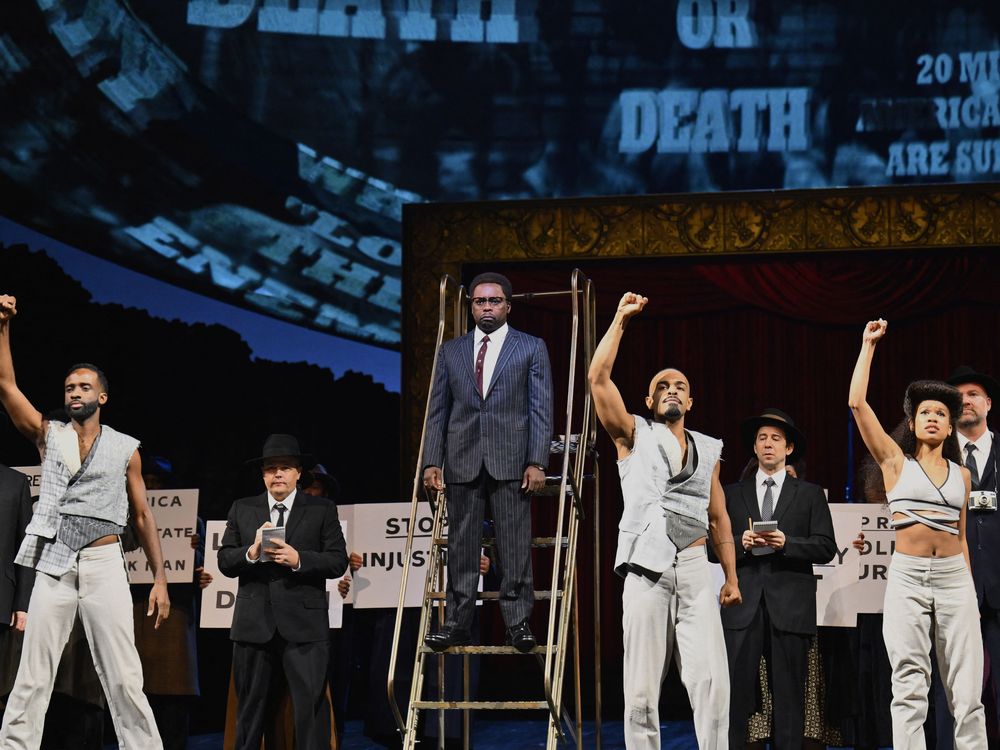 The opera X: The Life and Times of Malcolm X, premiered in 1986, just 21 years after the civil rights activist was assassinated at age 39. This month, an Afrofuturist restaging of the show made its Metropolitan Opera debut, with baritone Will Liverman in the lead role.
With a score from Anthony Davis, a story from his brother Christopher Davis and a libretto by their cousin Thulani Davis, the opera traces Malcolm X's evolution. It begins with his childhood in Lansing, Michigan, and follows him as he joins and later leaves the Nation of Islam, changing his approach to civil rights activism throughout his life.
Starting from the beginning of his life is important, Robert O'Hara, the opera's director, tells NPR's Anastasia Tsioulcas.
"I always say there's no reason why Malcolm X became a leader. He had a sixth-grade education," says O'Hara. "His mother was institutionalized. His father was killed. He was a thief. He was a crook. He was a drug dealer. He was a convict, he ran around and he was a pimp. There's nothing that says, 'And he's going to be a great civil rights leader,' but he did!"
O'Hara portrays Malcolm as an everyman, highlighting how his message continues to resonate, writes Playbill's Nicholas Rinehart.
"There's a Malcolm X Boulevard in almost every city," says O'Hara to Playbill. "And so there are people who look like us, who walk down those streets, who look up at the sign and think about how that name got there and how they fit into the story of that man."
This staging of the show isn't a straight biography. Instead, it aims to honor Malcolm X's legacy through a unique Afrofuturist retelling.
The opera's premise is that "a spaceship has crashed into the Met, and a future race of people are telling the story of this icon," O'Hara tells NPR. Using this narrative, the opera also considers how current human rights struggles fit into Malcolm X's continuing story. During one scene, the names of recent victims of police brutality are projected onto the stage "as if conjuring voices from the future, conveying the long history of anti-Black violence in this country and the continued urgency of Malcolm's teachings," writes Playbill.
Liverman says that the music reflects how the famous figure continued to evolve, changing his mind in significant ways throughout his life. "It's just the energy—it never settles at any point; it's always kind of in the forefront," he tells NPR. "And it really represents Malcolm's story—lots of turmoil and transformations."
To demonstrate that evolution, the music draws on a number of influences, including jazz, Indonesian gamelan music and the operas of Richard Wagner, according to NPR. Additionally, the new staging brings back the aria sung by Malcolm's wife, Betty, that was written for the original production. When the show premiered in 1986, Thulani Davis cut the original aria, in which Betty worries about someone coming to kill her husband, because she thought it might upset the real Betty, who attended the opera, per Sophie Haigney of the Paris Review.
Audiences should expect to be confronted with powerful and challenging emotions, O'Hara tells NPR. "It costs us something to basically every performance kill a Black man, which is what happens at the end," he says. "It needs to cost the audience something to see something that it shouldn't. You shouldn't be able to come to a building with an X on it and see the story of Malcolm X and expect comfort. Malcolm X didn't provide comfort. He provided truth."
Crafting the story in this way is crucial in order to help audiences understand Malcolm X's message, adds the director.
"Malcolm X would want us to investigate and interrogate what it means for us to put his story on the Met stage," says O'Hara in a statement. "Every part of this presentation is meant to offer an experience that challenges and disrupts the status quo, so we can see each other in our shared future, united by our humanity."