MAD Magazine's Iconic Alfred E. Neuman Turns 60 This Year
The impish mascot has had a long, colorful life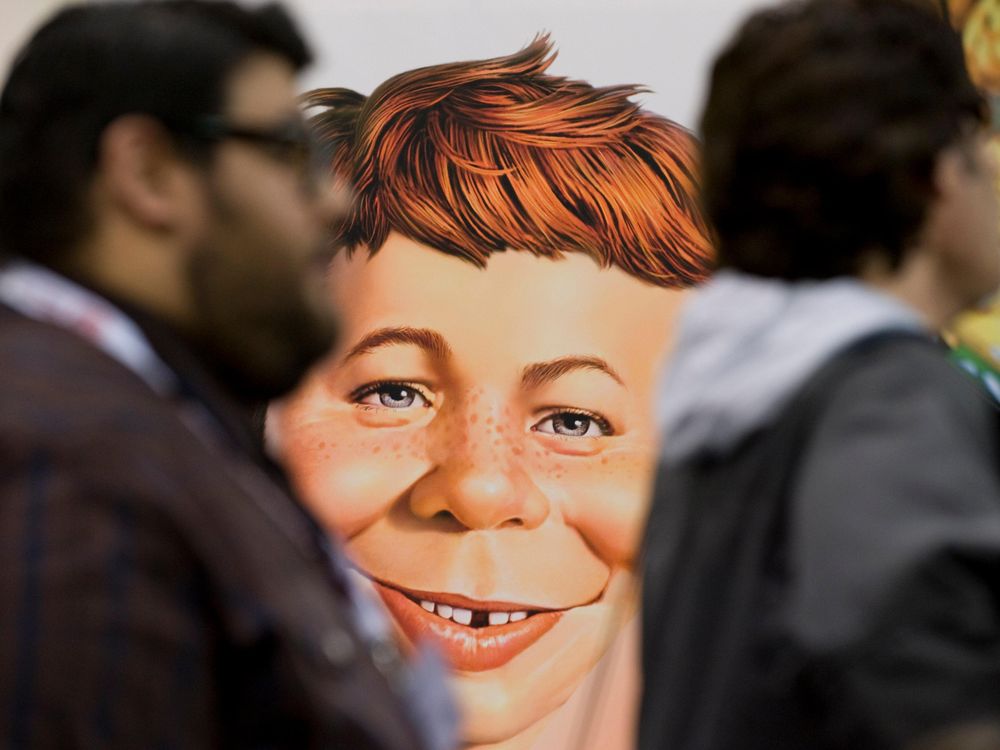 There is no image more evocative of MAD magazine than the grinning, gap-toothed, freckled face of its mascot, Alfred E. Neuman. Ever since the big-eared redhead first graced the satirical magazine's cover in December 1956, Neuman has become synonymous with MAD, appearing on almost every cover since. But while MAD might have made the fictional character an icon, his origins remained murky for many years.
As the story goes, Neuman's appearance was inspired by an illustrated postcard spotted by MAD's founder Harvey Kurtzman in the early 1950s. The postcard featured an early version of Neuman's famous mug, captioned "Me Worry?" Soon after, Kurtzman began sprinkling miniature versions of the drawing throughout MAD's margins, usually paired with some iteration of that original caption, Sam Sweet writes for the Paris Review. At that point he didn't have a name: he was just, as Kurtzman later called him, a "bumpkin portrait," "part leering wiseacre, part happy-go-lucky kid."
"It was a kid that didn't have a care in the world, except mischief," Kurtzman said, according to Frank Jacobs, author of Totally Mad: 60 Years of Humor, Satire, Stupidity and Stupidity.
Neuman's most famous incarnation was originally the work of an illustrator named Norman Mingo. A veteran commercial illustrator, Mingo was tasked with painting Neuman for his first cover appearance on MAD, where he was drawn as a write-in presidential candidate, once again sporting his famous tagline. 
The mystery of that first postcard remained, however. The inspiration for Neuman's famous face was clearly out there in the world, but MAD's editors didn't have a clue where the original postcard came from. That changed in 1965, when a Vermont woman named Helen Pratt Stuff filed a lawsuit against MAD, claiming that her husband, Harry Stuff, had invented and copyrighted the character, known as "The Original Optimist" in 1914, Sweet writes.
To fight the lawsuit, the magazine's editors put out a call to their readers to help track down Neuman's origins. Soon enough, submissions started pouring in. As Jacobs writes:
The kid was used in 1915 to advertise a patent medicine; he was a newspaperman named Old Jack; he was taken from a biology textbook as an example of a person who lacked iodine; he was a testimonial on advertisements for painless dentistry; he was originated by comedian Garry Moore; he was a greeting-card alcoholic named Hooey McManus; he was a Siamese boy named Watmi Worri. One reader dug up a 1909 German calendar bearing a version of the inane smiling face.
As it turned out, variations on Neuman's face could be traced back decades before Kurtzman first stumbled on that first postcard. The court ruled in MAD's favor, declaring that Neuman was the latest in a long chain of alterations that Stuff's own ad was a part of.
Then, in 2012, a patent lawyer named Peter Reitan stumbled across an 1894 ad in the Los Angeles Herald for a play called The New Boy, prominently featuring Neuman's iconic image, Sweet writes. As it turns out, Neuman's progenitor was a 30-something character named Archibald Rennick, who tries to pass as a schoolboy in the play. Neuman's grinning mug was most likely originally based on one of the actors who played Rennick, Reitan wrote on his blog.
"The fact that so many of the other, similar images cropped up soon after the play opened, and none of them before, suggest that the image originated with The New Boy," Reitan wrote in 2013.
Needless to say, for such a fresh-faced lad, The New Boy has had an interesting and unexpectedly long life.