In 1983, Swiss artist Meret Oppenheim produced a series of 12 large-scale drawings etched with miniature versions of 211 artworks created over the course of her decades-long career. The sketches represented a plan for an "imaginary" retrospective, with the works carefully arranged in a virtual gallery. It was a deliberate effort by Oppenheim to reclaim the narrative of her career, which she felt had been unfairly dominated by her famous Surrealist works. 
Oppenheim showed a version of this retrospective at Switzerland's Kunsthalle Bern in 1984, stressing that it was "only one example" of many possible exhibitions. Now, reports Susan Delson for the Wall Street Journal, a new show is introducing visitors to the dazzling breadth of Oppenheim's oeuvre, spotlighting 150 artworks that encompass a range of genres, from Pop Art to Arte Povera to postmodern design. "Meret Oppenheim. My Exhibition" debuts this week at the Kunstmuseum Bern in Switzerland and will subsequently travel to the Menil Collection in Houston and the Museum of Modern Art (MoMA) in New York.
Born in Berlin in 1913, Oppenheim grew up in Switzerland surrounded by a liberal, bourgeois family. Her father was a psychoanalyst who encouraged his teenage daughter to record her dreams—a practice she would continue for the rest of her life, and one that informed many of her later artworks. When she was 18, Oppenheim moved to Paris and joined a group of Surrealists centered around French poet André Breton. Most of her circle, according to the Art Newspaper's Chloë Ashby, was composed of male artists—among them Marcel Duchamp, Max Ernst and Pablo Picasso. 
It was reportedly Picasso who inspired Oppenheim's most iconic work. In 1936, she met the Spanish artist at a cafe in Paris, wearing a bracelet that she had covered in fur—a material she enjoyed working with because of its associations with "untamed, female sexuality" and "dream-like monsters," wrote Katie White for Artnet News in 2020. Picasso joked that she could cover anything with fur—even the cafe's cup and saucer. Soon afterward, Oppenheim purchased a teacup, saucer and spoon and wrapped them in the fur of a Chinese gazelle. 
Object, as she titled the piece, became an immediate sensation when it was first exhibited in Paris in 1936. It will only be on display at one of the exhibition's stops (the MoMA, which acquired Object in 1946). But the show contains other examples of Oppenheim's reinterpretations of women's domestic objects, repurposed with her signature sense of humor, unruliness, eroticism and a touch of the macabre.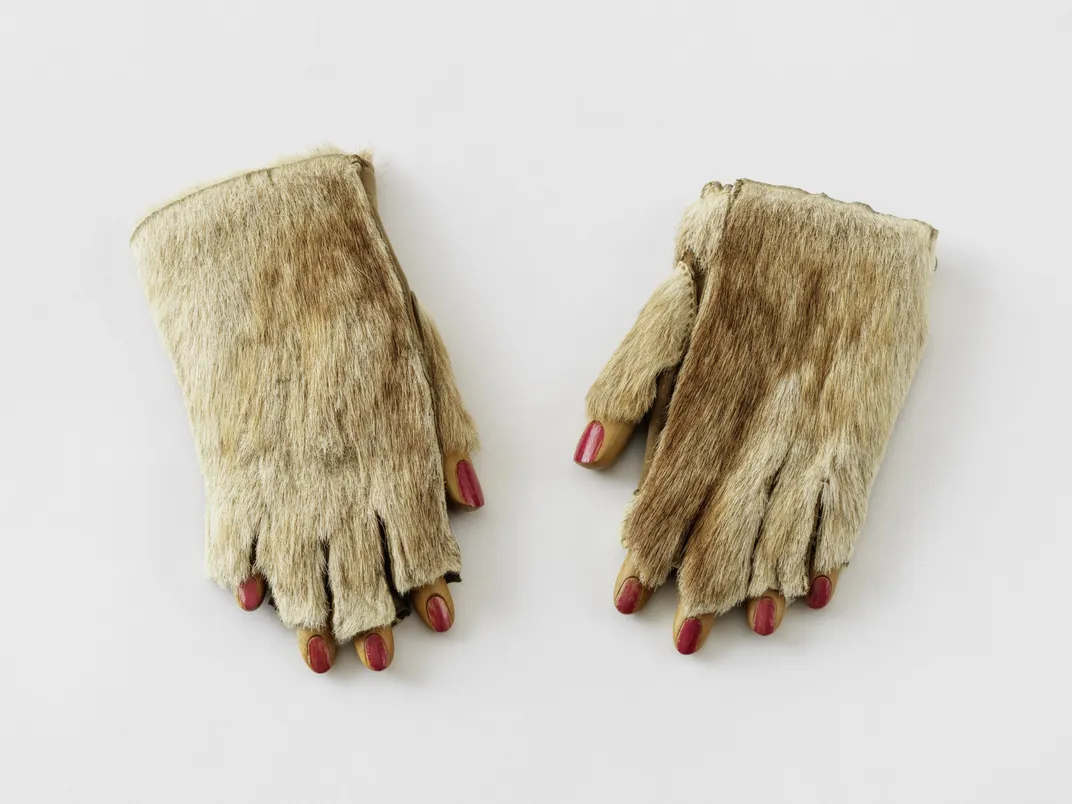 In Fur Gloves With Wooden Fingers, disembodied, manicured fingernails peek out from a pair of luxurious gloves. Ma Gouvernante—My Nurse—Mein Kindermädchen, meanwhile, features a pair of white pumps tied together like a roast chicken, served on a platter with their heels topped off by paper poultry frills. The piece evokes "images of women, images of domesticity, images of bondage and restraint, limits on freedom—all in this object that makes you laugh out loud," MoMA's Anne Umland, a co-curator of the exhibition, tells the Journal.
These are the pieces for which Oppenheim is best known, but she created many other diverse artworks over her lengthy career. In 1937, she returned to her family in Basel but found herself stifled by depression and a lack of confidence in the direction of her art. She sought to distance herself from her famous fur-wrapped works but ended up producing "very little," according to the Art Newspaper. Relocating to Bern, where she rented a studio in 1954 and immersed herself in the art scene surrounding the Kunsthalle Bern, helped alleviate her personal and artistic crisis. She began creating large sculptures like Urzeit-Venus (1962), a representation of the mythological goddess of love; the sculpture is devoid of limbs, featuring instead the curve of a spine and a head made of straw. Clouds feature prominently in Oppenheim's works from the 1960s. She toyed with their ethereal and shifting forms in a variety of mediums, including the bronze sculpture Six Clouds on a Bridge.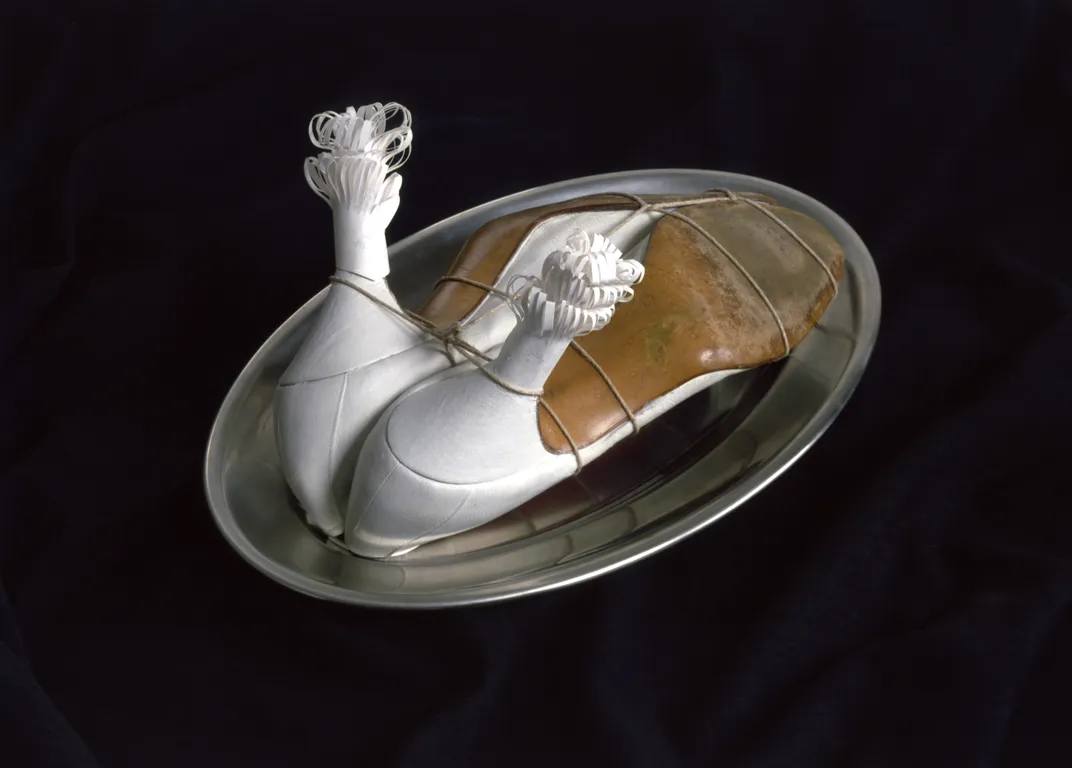 Oppenheim "loved playing with masks and the possibility of simultaneously showing and hiding things, or even capturing them in all their ambiguity," notes the Kunstmuseum Bern. The 1964 work X-Ray of M.O.'s Skull features an X-ray of Oppenheim's head in profile, her large earrings clearly visible in the black-and-white image. "Unlike in a classical portrait," the museum writes, "she has not captured her outward appearance, but what is hidden behind it."
The new exhibition includes the 12 drawings that sketch out Oppenheim's conception for a retrospective of her career. These works testify to "the struggle of a woman artist who was pushed into so many definitive drawers of art history," Nina Zimmer, director of the Kunstmuseum Bern and co-curator of the exhibition, tells the Journal. Indeed, Oppenheim believed that one of her primary tasks as a female artist was to break free of the restrictions that had been placed on women throughout history.
"Freedom is not given," she once opined. "One has to take it." 
"Meret Oppenheim. My Exhibition" is on view at the Kunstmuseum Bern in Switzerland from October 22 to February 13, 2022. The show will travel to the Menil Collection in Houston in March 2022 and the Museum of Modern Art in New York in October 2022.