Kitchen Renovation Reveals 400-Year-Old Paintings in English Apartment
The two nine-foot paintings depict scenes from a 17th-century book of poetry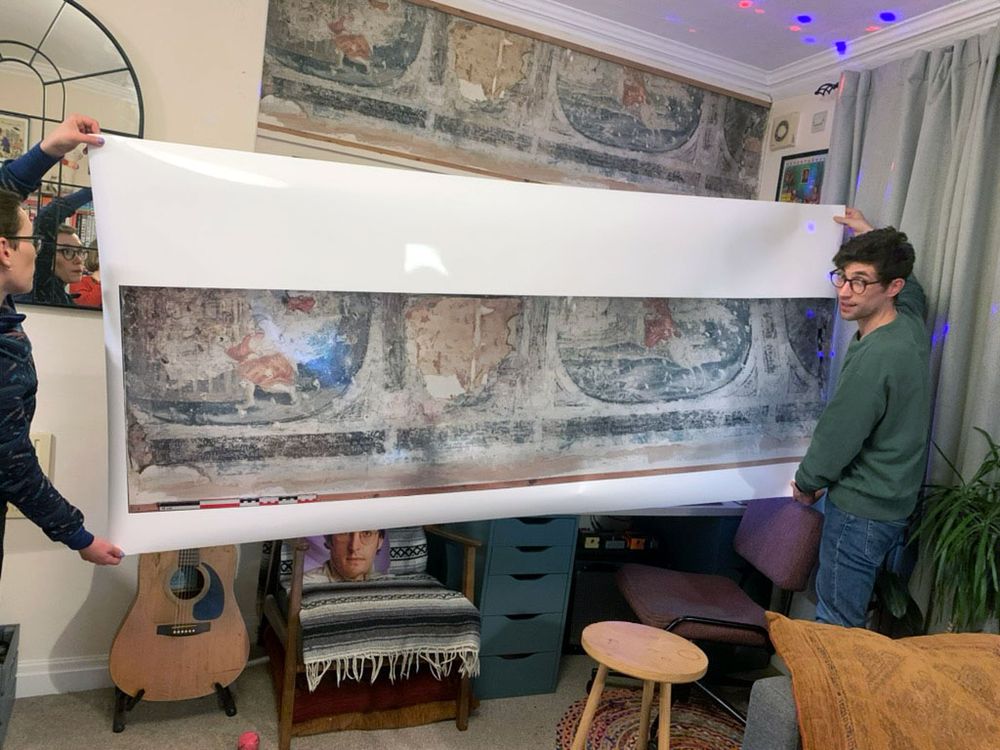 Luke Budworth knew he lived in a historic part of York, but he didn't realize just how historic his one-bedroom apartment was.
In December, Budworth and his partner, Hazel Mooney, had temporarily moved out of their apartment on Micklegate, one of the main streets in York, England, while their kitchen was being renovated. Then, they got a call from the contractors.
"In a very casual way they said, 'Did you know there's a painting behind here?'" says Budworth, a research data analyst at the University of Leeds, to CNN's Lianne Kolirin.
By the time he arrived to check out the painting, the workers had already covered it up behind the new kitchen cabinets. He suspected, however, that a similar painting might lie behind a panel on the other side of the apartment's chimney. "It was painted the same as the rest of the wall and I knew it was hollow," he tells CNN. "I always thought it was probably just covering some pipes."
Budworth decided to investigate, and he quickly found his suspicions were correct.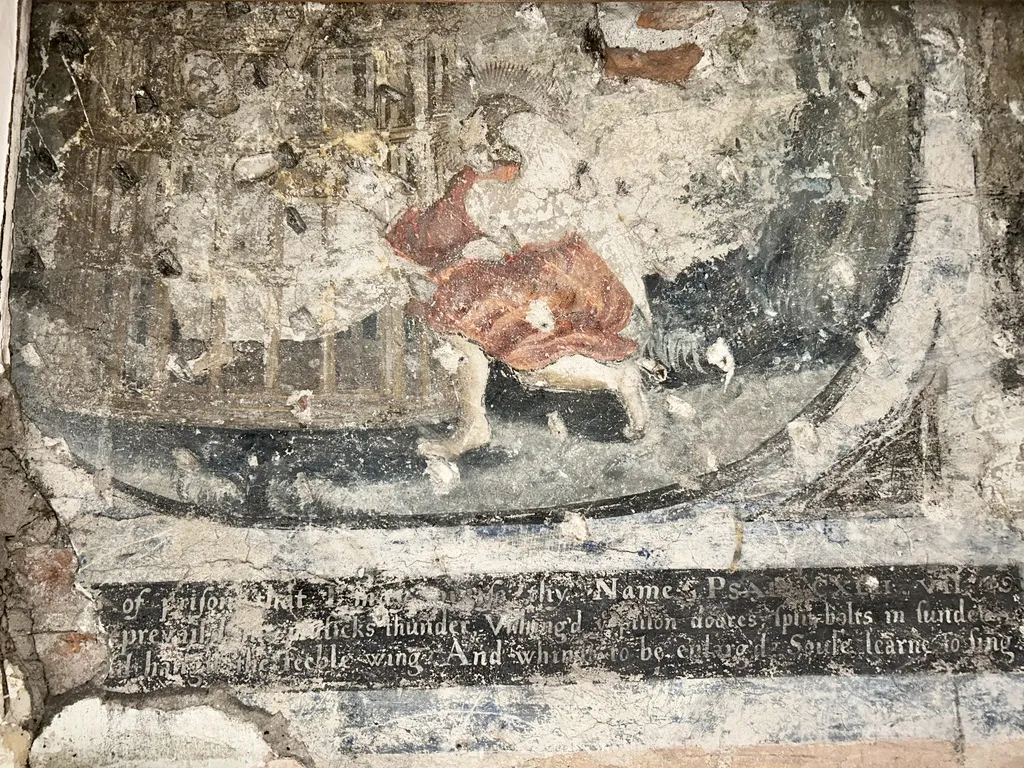 "I got my tools out and started chipping away at the board," he says to Chloe Laversuch of BBC News. "As soon as I lifted the panel off, there it was, beautiful colors, with some still remaining layers of wallpaper from the Victorian era."
What Budworth found was a frieze depicting passages and scenes from poet Francis Quarles' 1635 book Emblems. These include a man in a cage pulled by an angel, as well as another man in a white cart. The artwork itself likely dates back to the 17th century.
The 9- by 4-foot murals, which flank the apartment's chimney, are cut off by the ceiling, indicating that they may have once been even larger. They also predate the building, which was built in the 18th century, meaning that an older building may have originally stood in the same spot.
For Budworth, the historic discovery was a "total and complete surprise."
"I knew we lived in an old building (circa 1747) on an old street (circa Roman era) within the city walls of an ancient city, so it is not totally unprecedented," he says in a statement, "but to have history like that inside the flat was a massive shock."
After making the discovery, Budworth contacted Historic England, a government-run preservation group, which helped him assess the paintings. He learned that they'd originally been found in 1998, but then covered up and mostly forgotten. 
"We think they are of national significance and in the context of York, where domestic wall paintings are quite rare, they are of special interest," Simon Taylor, an architectural investigator at Historic England, tells BBC News.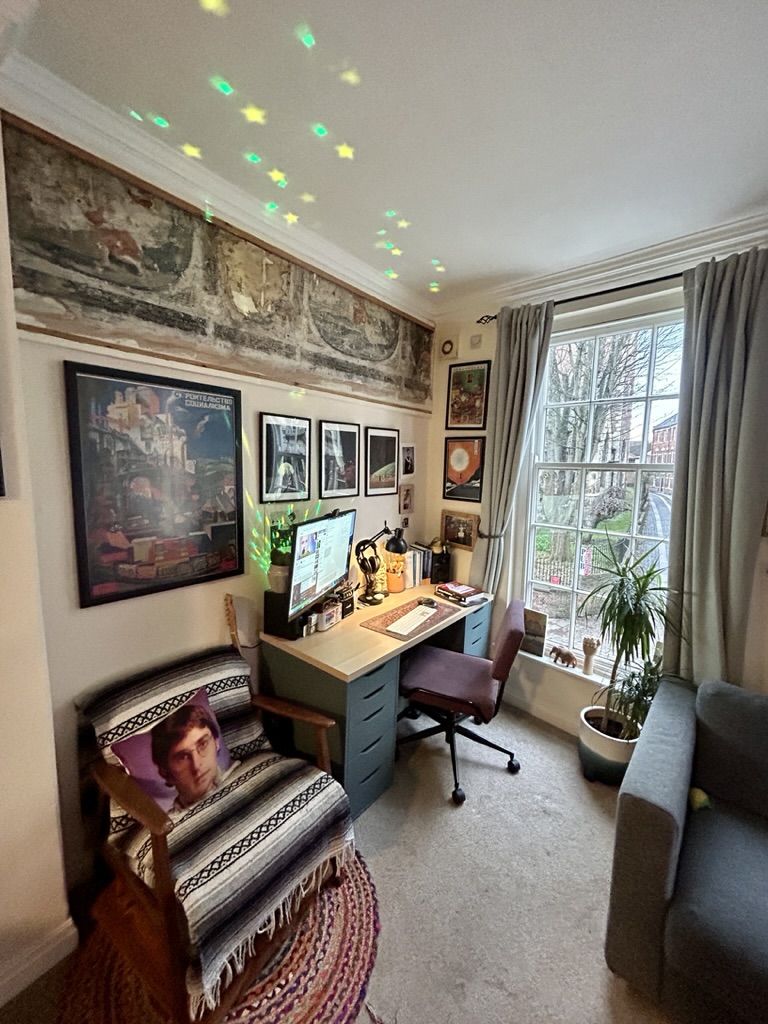 To preserve the paintings, Historic England printed high quality replicas of the friezes, which now cover the originals. Budworth has incorporated the living room mural into the apartment's decor, though the other mural remains hidden.
"Unfortunately, the one in the kitchen area has now been covered back up behind cupboards so we can have a functioning kitchen!" he says in a statement.
Due to the expense, Budworth doesn't expect that he'll be able to get the paintings professionally preserved. If he had the funding, however, he says he'd be willing to take the cupboards off the wall.
Still, he says he is doing his best to keep the works in good condition, and he remains excited about their historical significance.
"Hopefully we can get the word out and see if any societies or PhD students want to do some experimental conservation projects," Budworth tells the SWNS news agency, according to the Guardian's Robyn Vinter. "I also hope that this inspires other people on Micklegate to start looking at their own walls suspiciously."