You Can Now Visit the Site Where Julius Caesar Was Stabbed
Rediscovered in the 1920s, the Roman square is now welcoming visitors for the first time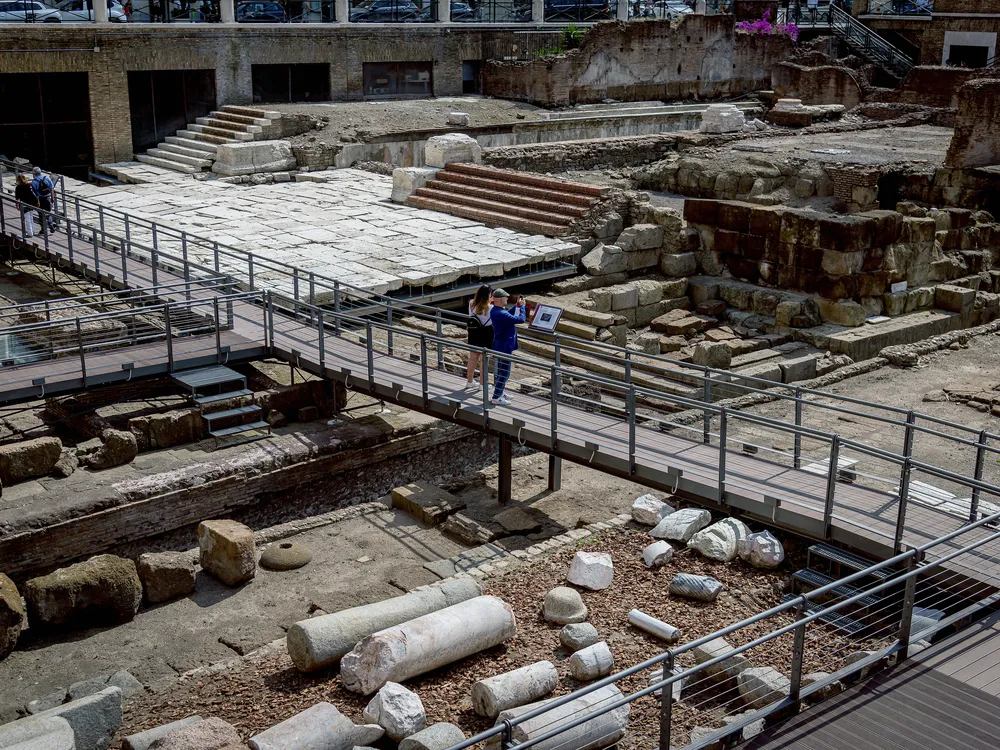 Following Julius Caesar's murder in 44 B.C.E., the Roman emperor Augustus condemned the scene of the crime as a locus sceleratus, a cursed place. Historians would lose track of the area in the centuries that followed, only rediscovering it in the early 20th century. 
The ancient site is known as the Sacred Area of Largo di Torre Argentina. And now, for the first time, it's officially open to visitors. 
Roberto Gualtieri, the mayor of Rome, said at a ceremony earlier this week that the attraction will add "tremendous value to a city that never ceases to amaze with its treasures and wonders," per the New York Times' Elisabetta Povoledo.
In the popular imagination, the story of Caesar's assassination has long been influenced by Shakespeare's Julius Caesar, written around 1599. The playwright's version isn't a historical record, and it takes liberties with certain details, including the location.
Archaeologist Monica Ceci, who oversees the site, acknowledges that visitors "may have a hard time imagining [the true story], because the Shakespearean drama induces you to think that the murder was in the forum," she tells the Times.
In reality, Caesar was stabbed to death in the Curia of Pompey, a structure built by one of Caesar's contemporaries, the Roman statesman Pompey the Great.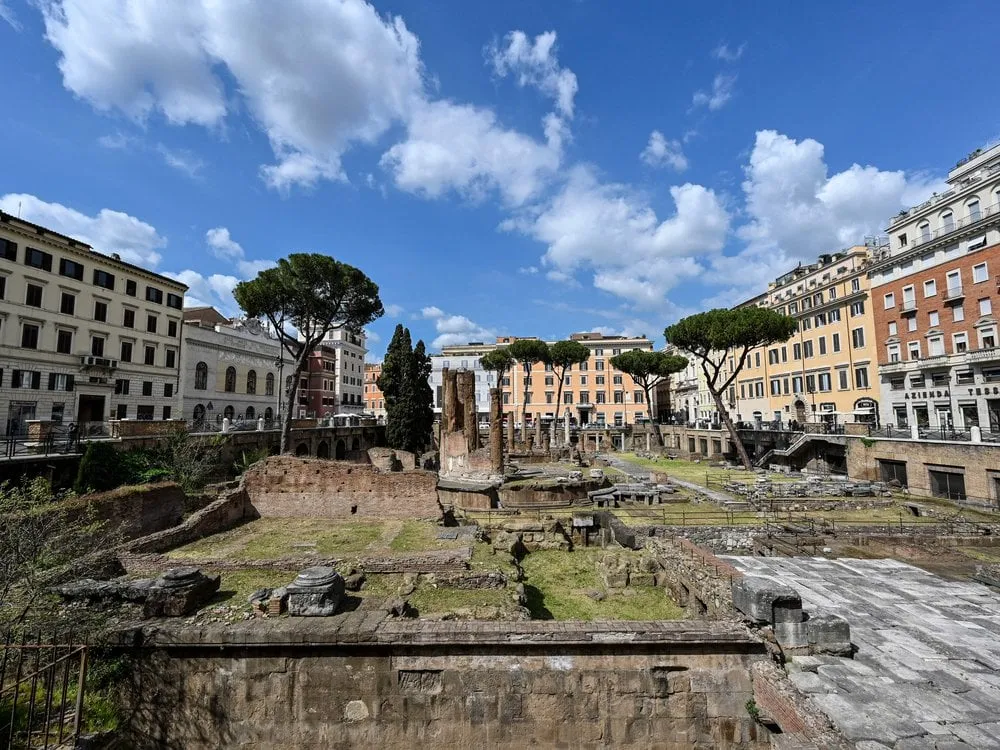 At the time of his death, Caesar was ruling as a dictator, and the group of senators who killed him feared his growing power. The assassination led to years of civil war, and Caesar's great-nephew Octavian, who took the name Augustus, ultimately came to power. Augustus closed the site where Caesar was murdered. 
It was rediscovered during excavations in the square in the 1920s, when Italian dictator Benito Mussolini "razed many sections of modern Rome to unearth the archaeology underneath," hoping to "tangibly tie his dictatorship to the might of the Roman Empire," as Smithsonian magazine's Jason Daley wrote in 2019. These efforts also revealed four ancient temples at the site. But due to a lack of resources, the entire area remained closed.
Plans to open the site began a few years ago, when the Italian fashion house Bulgari donated a little over $1 million for the project, reported Chris Leadbeater of the Telegraph in 2019. The move is just the latest in a series of high-profile partnerships between the city and big brands in recent years; for instance, the fashion house Fendi sponsored a multimillion dollar renovation of Rome's Trevi fountain in 2015. 
In recent years, the site only accommodated feline visitors; hundreds of stray cats have taken refuge there. When the attraction officially opened to humans yesterday, locals and tourists alike expressed their enthusiasm. 
"We always wondered why it was closed," resident Sandro Lubattelli, a retired computer engineer, told the Times from the site. "We're in seventh heaven."
Oliver Vandermeereh, who visited on the final day of a six-day trip, was equally excited. 
"Rome is fascinating. Everywhere is so rich in Roman history and the Roman empire," he told the Guardian's Angela Giuffrida. "But to be so close to where they say Caesar was murdered is really quite special."