Visitor Accidentally Shatters $42,000 Jeff Koons Sculpture at Art Fair
Collectors are now interested in buying the pieces of "Balloon Dog (Blue)"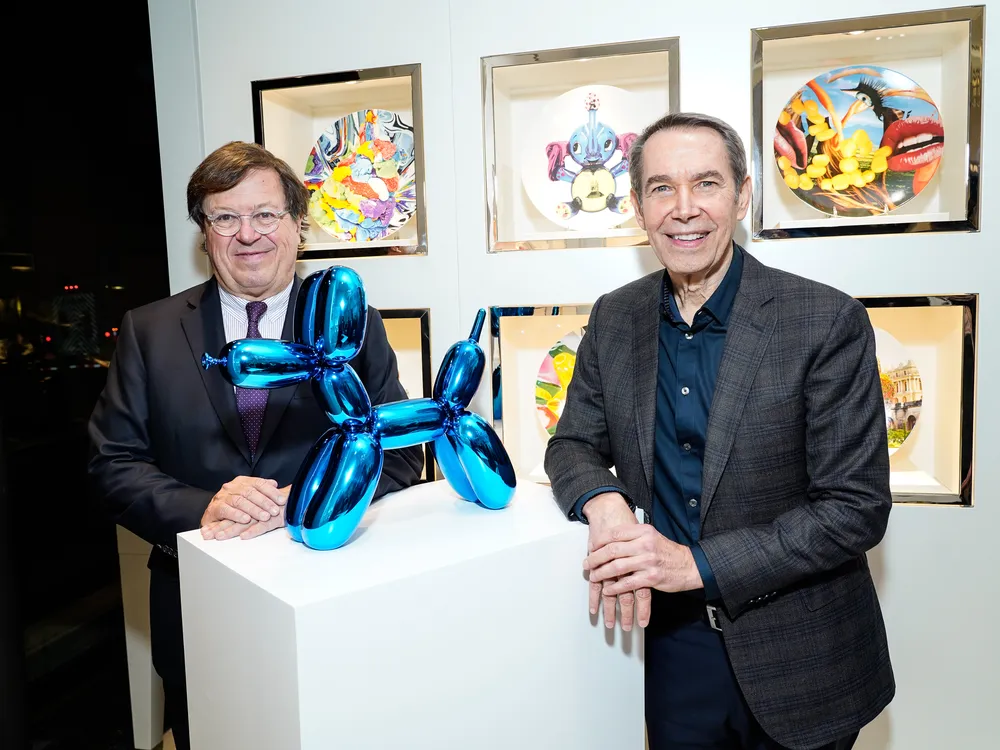 Time stood still for a moment at a Miami art fair on Thursday.
In the wake of a resounding crash, visitors could see more than 100 shards of bright blue ceramic strewn across the floor. One of Jeff Koons' iconic balloon dogs was no more.
"Before I knew it, they were picking up the Jeff Koons pieces in a dustpan with a broom," says Stephen Gamson, an art collector and artist who was in attendance, to the New York Times' Amanda Holpuch.
The sculpture, titled Balloon Dog (Blue), was worth around $42,000. Last week, it was on display at Art Wynwood, a contemporary art fair in Miami, at a booth run by Bel-Air Fine Art.
Unfortunately, the 16-inch-tall sculpture would not make it through the fair's VIP preview night. The balloon dog fell and shattered after an art collector accidentally bumped into its transparent pedestal.
"It was an event!" Bénédicte Caluch, an art advisor with Bel-Air Fine Art, tells the Miami Herald's Amanda Rosa. "Everybody came to see what happened. It was like when Banksy's artwork was shredded."
As a crowd formed by the booth, Gamson and other attendees wondered if the destruction might be a stunt or performance art. But as staff members stepped in, the onlookers quickly realized that was not the case. 
"Of course it is heartbreaking to see such an iconic piece destroyed," says Cédric Boero, Bel-Air Fine Art's district manager, to CNN's Zoe Sottile. The art collector didn't intend to break the piece, but "this kind of thing unfortunately happens," he adds. "That is why the artwork was covered by insurance."
An insurance expert will evaluate the pieces of the sculpture, which have been placed in a box for safekeeping. The visitor won't be charged.
Koons is famous for his balloon animal sculptures, which he's created in a variety of colors and sizes. Luckily, the broken blue balloon dog was one of 799; the other 798 remain. 
Boero tells NPR's Giulia Heyward that the now-broken balloon dog was valued at $24,000 a year ago, but the price went up as other iterations of the sculpture sold out. Another version of Balloon Dog (Blue) sold for more than $70,000 in Germany in 2021, per Artnet's Vivienne Chow.
Other works by Koons have gone for even more: In 2013, a ten-foot-tall orange balloon dog sculpture sold for almost $60 million. In 2019, Koons' Rabbit sold for $91 million at auction, becoming the most expensive work by a living artist.
Gamson and others have offered to buy the now-destroyed piece, and the gallery is continuing to receive offers.
"I find value in it even when it's broken," Gamson says to the Miami Herald. "To me, it's the story. It makes the art even more interesting."