Janet Yellen Is Holding Her First Meeting as Chairwoman of the Federal Reserve
Less than 10 percent of central bank governors around the world are women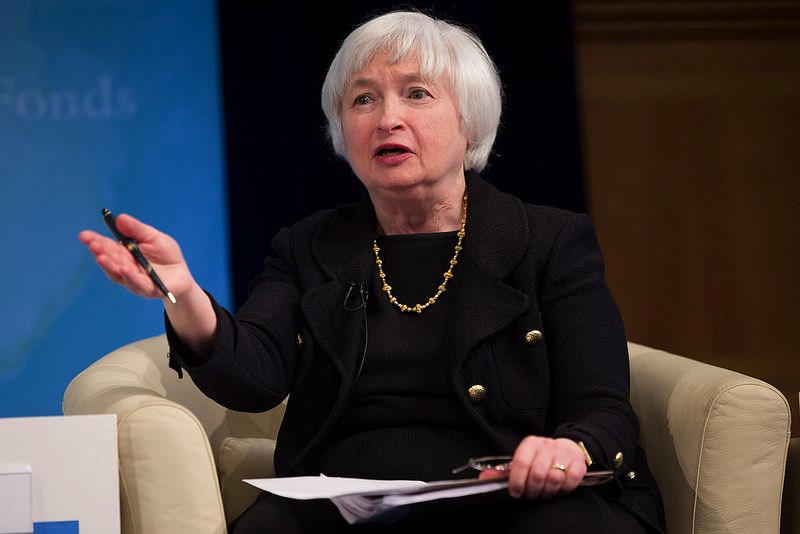 Today, Janet Yellen is leading "her first meeting of the Fed's policy-making committee" as the chairwoman of the Federal Reserve. Tomorrow, she'll hold her first press conference. She steps into the position to replace Ben Bernake, who was the chairman since 2006. 
There is a lot of speculation about how Yellen might move forward in her role as chairwoman. She enters office as unemployment sits at around 6.7 percent, two percentage points above where the Fed had promised to start raising interest rates. It's possible that Yellen will rethink the plan to keep interest rates low until unemployment falls below 6.5 percent. But other economists don't think much will change between her and Bernake. 
Yellen is the first chairwoman of the United States Federal Reserve. In other words, she's the first woman to be in charge of arguably the most powerful central bank in the world. According to Linda Yueh at the BBC, Yellen is also one of the very few powerful women in banking worldwide. "There are no female central bankers in the Bank of England or the European Central Bank at present," Yueh writes. "Around the world, fewer than 10% of the 177 central bank governors are women."
And, like any woman in power, Yellen will face increased and different scrutiny than her male predecessors. Take this piece from November about Yellen wearing the same outfit twice. As Lucia Graves at National Journal points out, Obama, Mark Zuckerberg, Steve Jobs and even Yellen's predecessor, Ben Bernake, have all been praised for exactly the same thing. So while Yellen will be doing the same job as Bernake and perhaps even doing it the same way, she will almost certainly not be treated the same.