Israel and Gaza Are Now at War Both Online and in Reality
On the ground and online, the battle between Israel and Gaza are escalating quickly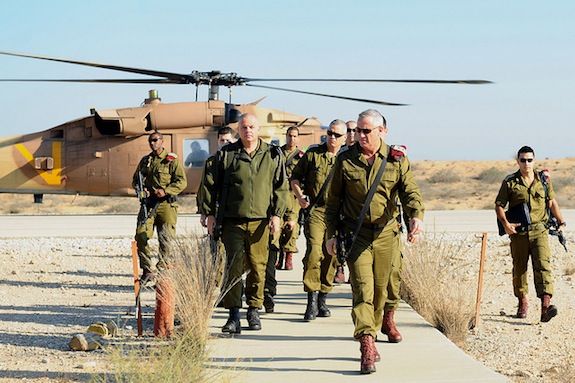 On the ground, the battle between Israel and Gaza is escalating. The New York Times writes:
Palestinian militants fired rockets for the first time at Jerusalem on Friday in a daring new escalation of hostilities with Israel on the third day of their latest lethal conflict over Gaza, triggering air raid sirens and panicking residents who had thought themselves secure from such attacks because of the holy city's multireligious heritage and large Palestinian population.
So far, the casualties have come on both sides, including a BBC reporter's infant son. A photo of Jihad Misharawi mourning made the front page of the Washington Post on Thursday. The Post writes:
"We're all one team in Gaza," Danahar told me, saying that Misharawi is a BBC video and photo editor. After spending a "few hours" with his grieving colleague, he wrote on Twitter, "Questioned asked here is: if Israel can kill a man riding on a moving motorbike (as they did last month) how did Jihad's son get killed."
The Israelis began their raids of Gaza on Thursday. Gaza responded with strikes of their own, and today Israel called up 16,000 army reservists to fight. In Gaza, a man suspected of collaborating with Israel was executed:
The brazen nature of the execution suggested that Hamas, which governs Gaza, intended it as a blunt message to other possible collaborators with Israel, which is believed to have an extensive network of informants here as part of its underlying battle with the group. But the shooting evoked mixed feelings.

"There were kids and children on the street," said the witness, Mr. Mohammed. "They should have executed him in a far place."
Air raid sirens are going off in both Tel Aviv and Jerusalem – and the people on both sides are trying to keep from becoming casualties of the conflict.
Online, the IDF has been keeping the world appraised of their thoughts and tactics via social media in a way no one has ever done before. Motherboard writes:
Lifestyle journos live-blogging an awards ceremony, sure. Politicos pushing a social media campaign to during a debate, yeah. But a major military live-tweeting its war effort? Is that where we are now? Apparently:

"The verified social media accounts of the Israeli Defense Forces are providing live updates on a concerted military effort against Hamas. Using the hashtag #PillarOfDefense, the verified Twitter account @IDFSpokesperson is posting ominous messages, headline-style updates, and YouTube videos of strikes."

ReadWrite calls it "brilliant, in its way." Yes, it's "brilliant" in the way that the most effective war propaganda tends to be—colorful, uber-patriotic, Manichean, assertive—just more powerful, since they're controlling the wartime PR channels and shaping public perception with a series of live updates.
And it was working extraordinarily well. The ten second clip of the IDF taking out Ahmed Jabri has been viewed over 2 million times. Of course, Gaza retaliated online as well. Slate writes:
But then @IDFspokesperson and @AlqassamBrigade began trading insults over Twitter, while deploying missiles at each other. The chest-thumping reminded me of the competitive e-sports. This is real life, though, with real people dying. In fact, as the BBC noted, making threats of violence is actually against Twitter's terms of service, meaning it is within Twitter's right to shut down both accounts if it feels so inclined.

While @IDFspokesperson's Twitter followers may have grown exponentially, it hasn't had the same success in hashtags. Israel's hashtag, #Pillarofdefense, received 808 mentions by Wednesday evening, while #GazaUnderAttack—used by Hamas, Palestinian supporters, and civilians—was tweeted 120,000 times, reported the Washington Post.
Now, the IDF is asking its citizens not to post pictures of places where rockets have hit. Fast Company writes:
Israeli authorities are warning citizens not to post the locations of rocket attacks or air raid sirens on social media. According to a post on the Israeli blog Yid With Lid, Israeli military contacts are telling Internet users not to post attack locations for fear Hamas and other organizations are using social media to triangulate their rocket launches. In press conferences and in media communications, the Israeli Defense Forces (IDF) usually use the euphemisms "open fields" and "populated areas" to describe the locations of rocket attacks.

Geotagging of posts on Twitter, Facebook, and Instagram makes metadata describing the exact location of a user publicly available. GPS technology allows any outsider access to triangulation abilities that would have been a military secret even 10 years ago. For Hamas, the Israeli military, and other players, access to real-time GPS information on the ground via social media is an increasing reality.
And from the looks of things, nothing will settle down in the near future, either online or in the flesh.
More from Smithsonian.com:
Shifting Ground in the Holy Land