ISIS Has Destroyed a Nearly 3,000-Year-Old Assyrian Ziggurat
The ziggurat of Nimrud was the ancient city's central temple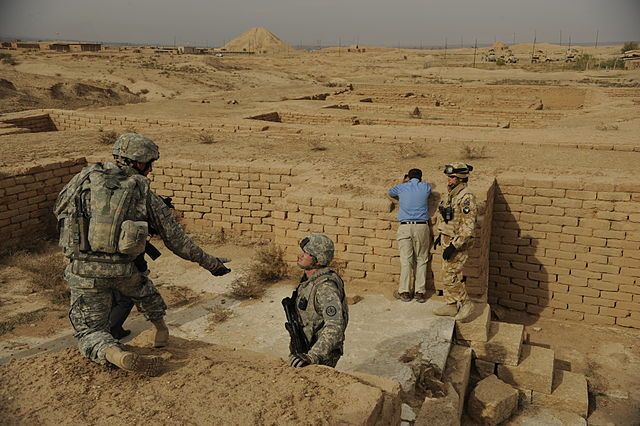 In addition to the many human atrocities committed by ISIS, one of its regular calling cards has been the destruction of irreplaceable archaeological sites. Now, even as Iraqi forces work to drive the insurgent group from its strongholds, satellite images show it has left behind a trail of destroyed heritage sites, including a 2,900-year-old ziggurat in the ancient Assyrian city of Nimrud in northern Iraq.
Predecessors to structures like the Great Pyramids, the ziggurats of Mesopotamia were massive step pyramids built as religious sites. For Nimrud, the capital of the ancient Assyrian civilization, the 140-foot-tall temple was the center of its spiritual life, Caroline Elbaor reports for artnet News. Built about 2,900 years ago by King Ashurnasirpal II, the mud brick structure was dedicated to Ninurta, a god of war and the city's patron deity.
Iraqi forces announced that they had recaptured Nimrud on Sunday, Dominic Evans and Ahmed Rasheed report for Reuters. While experts are still waiting for permission to examine the damage inflicted on the ancient city, recent satellite images indicate that the ziggurat is no more.
ISIS has made a habit out of publically destroying and vandalizing ancient historical sites throughout its reign in the region, nominally as an attack on traditions and culture that do not fit into its religious beliefs. However, as Benjamin Sutton reports for Hyperallergic, experts unsure exactly why the group destroyed the ziggurat.
"The ziggurat mound is the highest point in the nearby landscape, making it an ideal defensive position for encroaching forces. However, the archaeological site is located in a remote area far from strategic points," the American Schools of Oriental Research's Cultural Heritage Initiatives says in a statement. "Alternatively, like the Northwest Palace and the Nabu Temple at Nimrud, the attack could have served a dual purpose: intentional destruction for the composition of future propaganda and retributory violence to demoralize local populations and goad invading military forces. ISIL militants could also have been searching for antiquities in the mound."
If the militants were looking for treasures to loot, they would have been sorely disappointed by the ziggurat of Nimrud. Unlike the Great Pyramids, which contained internal chambers and passageways, ziggurats were solid mounds made from mud brick, with nothing on the inside but more brick, Richard Spencer reports for The Times.
John Curtis, the president of the British Institute for the Study of Iraq, was told about the Nimrud's destruction in September by Iraqi sources, but was asked to keep the information confidential, Martin Bailey reports for The Art Newspaper. The site at Nimrud still needs to be secured and swept for mines and booby traps left behind by ISIS fighters before civilian experts will be able to visit and assess the damage in person. But whatever the insurgent group's reasons for demolishing the ziggurat, the result is the destruction of yet another priceless piece of humanity's cultural heritage.