Is Vodka Gluten Free?
The search for gluten free alcohol can be tricky - and now a debate over spirits labeling might make it even trickier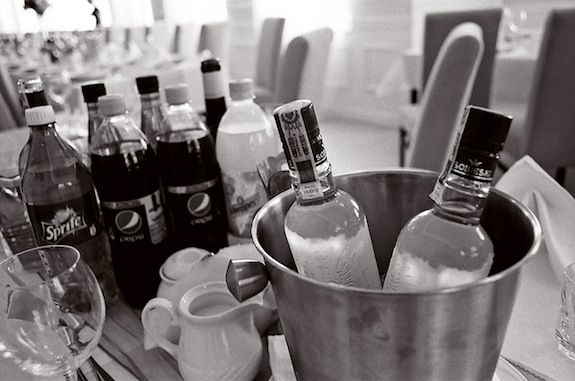 These days, more and more restaurants and businesses are offering things to eat for people who can't eat gluten. But what about things to drink? Beer is out. Anything made from grapes should be safe (although there's a small chance the production process of wine could be a problem). Bourbon is ok; rye whiskey is often not.
As tricky as finding gluten-free alcohol can be, a debate over spirits labeling might make it even trickier. According to the FDA distilled spirits should never have any gluten in them, unless it's added after distillation. So adding a "gluten free" label might be seen as a total marketing ploy. But in 2012, the Tobacoco Tax and Trade Bureau (TTB) ruled that gluten-free vodkas could hit the markets. Fred Minnick at Scientific American explains:
The TTB measure—which is under review after passage of the FDA gluten-free labeling standards in August—allows nonwheat, rye or barley distilled products to be labeled as gluten-free if verified by an R5 Mendez competitive ELISA (enzyme-linked immunosorbent assay), the main testing method for determining gluten in distilled spirits. Other gluten analysis techniques, including the sandwich R5 ELISA, often misconstrue the quantity of protein fragments in hydrolyzed products. According to Spain's National Center for Biotechnology, the competitive ELISA only requires one QQPFP peptide epitope to react with the R5 antibody, and is capable of effectively measuring intact and hydrolyzed gluten in foods, syrups or beers down to three parts per million gluten.
Others say that labeling something like vodka gluten-free is like labeling water fat-free—it just doesn't make sense. "All vodka is gluten-free unless there is some flavored vodka out there where someone adds a gluten-containing ingredient," Taylor told Minnick. "I know that many celiac sufferers are extra-cautious. That is their privilege. But their concerns are usually not science-based."
More from Smithsonian.com:
Maple Vodka: A Sweeter Spirit
Raise a Glass to Cocktail Science