Nobel Peace Prize Goes to Iranian Rights Activist Narges Mohammadi
Mohammadi, who is currently in prison, is at the forefront of the fight against oppression in Iran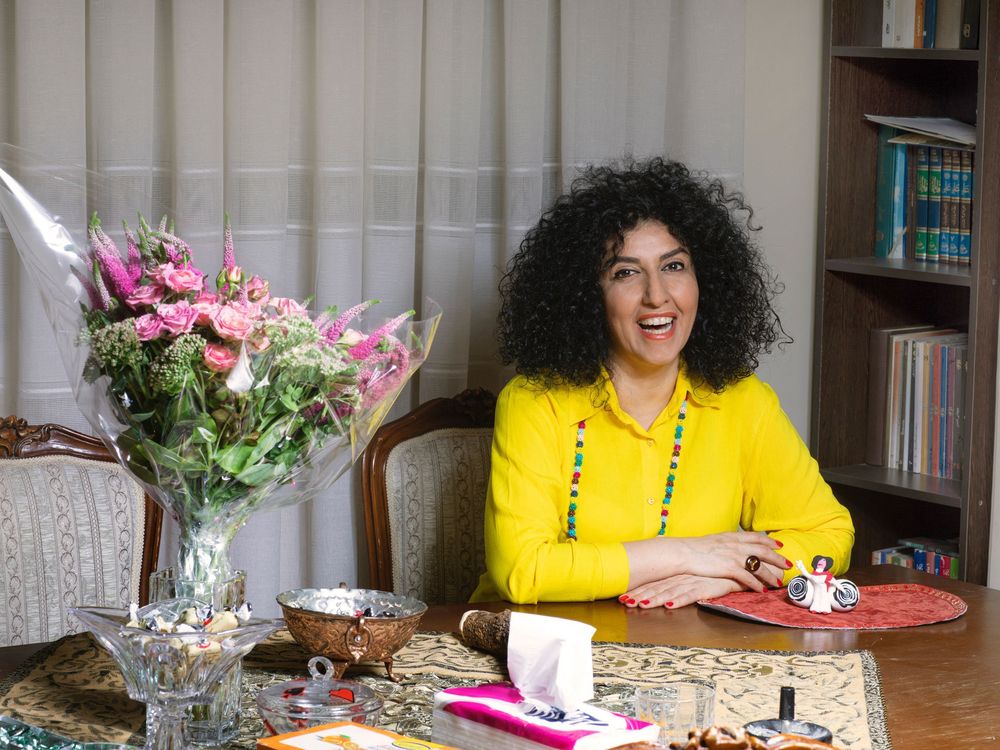 Narges Mohammadi, the imprisoned Iranian human rights activist, has won the 2023 Nobel Peace Prize. The Norwegian Nobel Committee announced the award on Friday, signaling its support for the movement against the oppression of women in Iran.
"We hope to send the message to women all around the world that are living in conditions where they are systematically discriminated: 'Have the courage, keep on going,'" committee head Berit Reiss-Andersen tells Reuters' Gwladys Fouche and Tom Little.
Mohammadi, 51, has been jailed in Iran's Evin Prison since 2021. She's currently serving a roughly ten-year sentence on charges of propaganda activities and actions against national security.
This isn't the first time she's been detained for speaking out against the Iranian government, which for decades has enforced strict rules that discriminate against women. She's been arrested 13 times and convicted 5 times, according to a statement from the committee.
While announcing the prize from Oslo, Reiss-Andersen began her speech with three Farsi words: "Zan, zendegi, azadi." Then, she offered an English translation: "Woman, life, freedom." That is the slogan for the women's rights protests that began last September after the death of a 22-year-old woman named Mahsa Amini.
Amini died in the custody of Iran's morality police, who had detained her for wearing her hijab incorrectly. The government said she died because of a health condition, while her family said she was in good health before the arrest.
Her death sparked widespread protests across the country. The government responded by restricting access to social media platforms and the internet; security forces also used tear gas, clubs and live ammunition to quell the demonstrations, which human rights groups said led to the deaths of more than 500 people.
After Amini's death, many women stopped wearing hijabs in open defiance of the government. And tensions remain high: This week, a 16-year-old girl named Armita Geravand boarded the subway in Iran's capital without a headscarf. Footage shared by Iranian state media shows her being carried out of the car, apparently unconscious, soon after. The government says she fainted, but activist groups suspect she may have been attacked for not covering her hair. Geravand has been in a coma since Sunday.
From prison on Thursday, Mohammadi criticized the Iranian government on Instagram for the lack of transparency around Geravand's mysterious injuries. She also published a book, White Torture, last year, detailing female prisoners' abuse. In an audio recording shared with CNN, she can be heard leading chants of "woman, life, freedom" inside the prison.
She continues to be the "undisputed leader" of the women's rights movement in Iran, said Reiss-Andersen while announcing the award.
In a statement released after the announcement, Mohammadi pledged to continue her work of fighting "against the relentless discrimination, tyranny and gender-based oppression by the oppressive religious government until the liberation of women," per the New York Times' Farnaz Fassihi.
"I will never stop striving for the realization of democracy, freedom and equality," she said. "Surely, the Nobel Peace Prize will make me more resilient, determined, hopeful and enthusiastic on this path, and it will accelerate my pace."
Mohammadi has two children, 16-year-old twins Ali and Kiana, with her husband Taghi Rahmani. They live in exile in France. In a statement, her family describes the award as a "source of solace for our indescribable suffering."
Rahmani, who is also an activist, says in a statement that the prize was not just for his wife, but for "all the people of Iran," per the Times.
After the announcement, human rights groups also applauded Mohammadi for her "indefatigable will to be heard, even from the darkest, coldest and most isolated corners of an Iranian prison," as Suzanne Nossel, CEO of PEN America, a nonprofit dedicated to free expression, says in a statement.
"As a witness to decades of atrocities, she has used her voice as a catalyst to awaken a new generation to understand that their words are one of humanity's greatest tools," adds Nossel.
In a statement from the White House, United States President Joe Biden says that the award "is a recognition that, even as she is currently and unjustly held in Evin prison, the world still hears the clarion voice of Narges Mohammadi calling for freedom and equality."
The committee selected Mohammadi out of more than 350 nominees for the honor. She is the 19th woman to win the Peace Prize, which has been awarded since 1901.
Swedish inventor Alfred Nobel created the Nobel Peace Prize, as well as awards for medicine, physics, chemistry and literature, with a bequest in his will. This year, the monetary award for each prize is 11 million Swedish kronor, or roughly $1 million.
Last year's Nobel Peace Prize was jointly awarded to two human rights organizations and a jailed activist in what was described as an international rebuke of Russian President Vladimir Putin and Belarusian dictator Alexander Lukashenko.