Iranian Protest Anthem That Led to Singer's Arrest Wins a Grammy
First lady Jill Biden presented the inaugural Best Song For Social Change award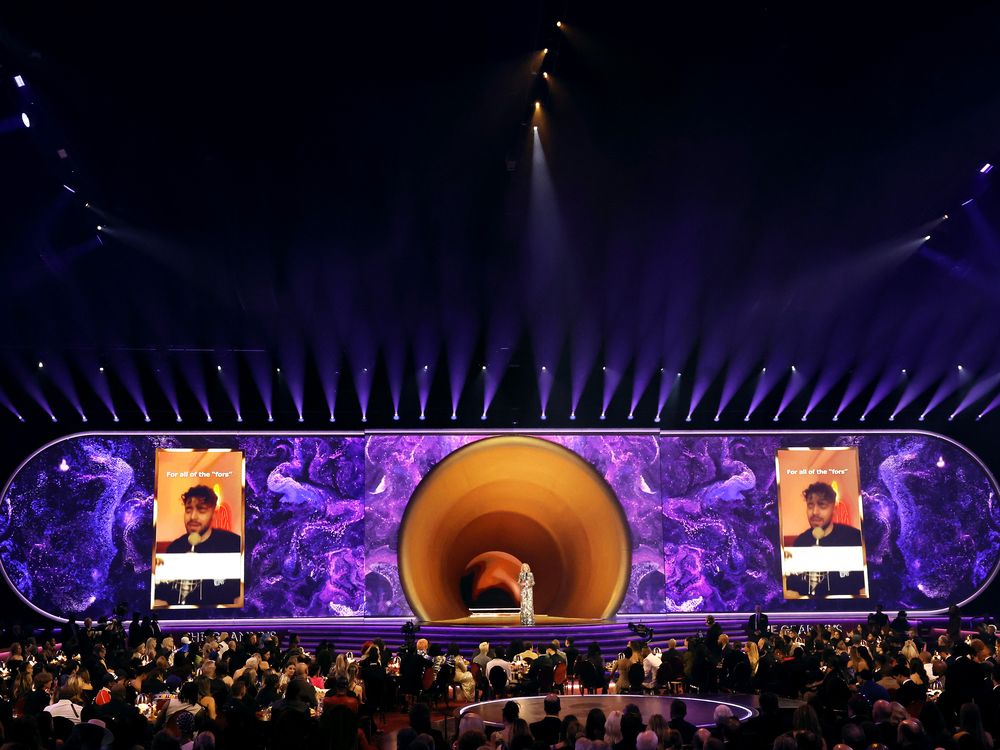 Last fall, Iranian officials arrested singer-songwriter Shervin Hajipour. His song "Baraye," posted on Instagram just days earlier, had become an anthem for the protests that were gaining momentum across the country. 
After his arrest, the song vanished from his Instagram page—and sources close to him believe he was made to remove it, according to Rosie Swash of the Guardian. But "Baraye" was already spreading like wildfire, quickly racking up millions of views. 
As its popularity grew, writes the Guardian, "Baraye" was "sung by schoolgirls in Iran, blared from car windows in Tehran and played at solidarity protests in Washington, Strasbourg and London." It was even covered by Coldplay, who performed it alongside exiled Iranian actor Golshifteh Farahani at the band's Buenos Aires concert in October.
This week, the lyrics to "Baraye" rang out over the crowd at the 65th annual Grammy Awards, where it was named the Best Song For Social Change. The Recording Academy added the award this year to recognize "songwriters creating message-driven music that responds to and addresses the social issues of our time head-on while inspiring positive global impact," per the Grammys' website.
Presenting the award, first lady Jill Biden called the song "a powerful and poetic call for freedom and women's rights."
"Shervin was arrested," she added, "but this song continues to resonate around the world with its powerful theme: women, life, freedom."
Hajipour was released on bail a few days after his arrest, but he is facing charges that could lead to years of jail time, reports Jon Gambrell of the Associated Press. 
"Baraye," a word meaning "for" or "because of" in Farsi, takes its lyrics from protesters' social media posts, in which they write about their reasons for demonstrating with the hashtag #baraye. The song begins:
For dancing in the alleys
For the fear when kissing
For my sister, your sister, our sisters
For changing rusted minds
"'Baraye' winning a Grammy sends the message to Iranians that the world has heard them and is acknowledging their freedom struggle," Nahid Siamdoust, an expert on Middle Eastern studies at the University of Texas at Austin and author of Soundtrack of the Revolution: The Politics of Music in Iran, tells the New York Times' Farnaz Fassihi. "It is awarding their protest anthem with the highest musical honor."
Leading up to Sunday's ceremony, the Recording Academy had solicited submissions from the public for the new award. According to the Times, of the 115,000 submissions received, more than 95,000 were for "Baraye."
As the song's popularity grows, it continues to resonate with audiences. "I'd never seen my 74-year-old mother cry like she did the day I played her 'Baraye,'" writes Rebecca Morrison, whose family fled Iran in 1979, in Salon.
"So many of us have cried listening to it over and over," BBC News' Bahman Kalbasi wrote on Twitter in September. "The artist Shervin Hajipour has summed up the deep national sadness and pain Iranians have been feeling for decades, culminating in the tragedy of #MahsaAmini."
Mahsa Amini, a 22-year-old Iranian woman, died in police custody in September—just days after Iran's "morality police" detained her for wearing her hijab incorrectly. Her death sparked the protests that have been spreading ever since.
The new Grammy honor came after a year and a half of work. Singer-songwriter Maimouna Youssef, one of the artists behind the award, wanted to encourage young artists to make authentic, driven music—the kinds of songs that "bring about understanding where there was none," she told NPR's Leila Fadel in November.
"It is like a wildfire that you cannot stop," she added. "You can arrest the writer, but you can't arrest the song. It's already out there. It's in the hearts of the people."