In 1949, a Physicist Proposed Using Skyscapers And a Roof to Control NYC's Climate
No scorching summers, no freezing winters…just a nice pleasant time, all year round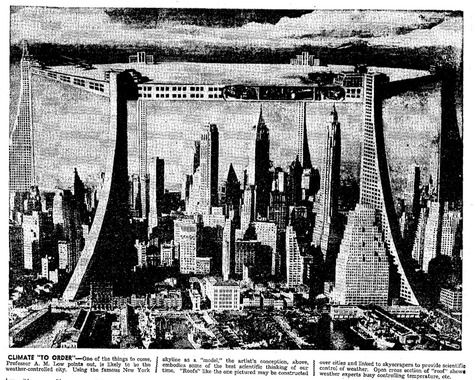 Long before we started worrying about global climate change, people were wondering how they could control the climate of major cities. Wouldn't it be nice, they thought, to have a climate-controlled metropolis? No scorching summers, no freezing winters...just a nice pleasant time, all year round.
In 1949, Archibald Montgomery Low, an engineer and physicist, proposed a plan to keep New York City nice and temperate. It involved putting a giant roof over the entire city. He wrote about the plan in San Antonio Light, saying:
CLIMATE "TO ORDER" -- One of the things to come, Professor A. M. Low points out, is likely to be the weather-controlled city. Using the famous New York skyline as a "model," the artist's conception, above, embodies some of the best scientific thinking of our time. "Roofs" like the one pictured may be constructed over cities and linked to skyscrapers to provide scientific control of weather. Open cross section of "roof" shows weather experts busy controlling temperature, etc.
This isn't the first time someone has proposed something like this. In 1952, the Edwardsville Intelligencer ran a piece envisioning our climate controlled future, as Matt Novak at Paleofuture quotes:
Weather-conditioned" communities in the future are perfectly feasible, according to a professor of architecture.

Ambrose M. Richardson of the University of Illinois announced that his graduate architecture students already are working on a model of plastic pillows, helium-filled and joined to make a mile-high floating dome.

Next spring Richardson intends to try the idea with a small dome covering about an acre of land.

He said the next step may be covering 10 or 15 acre areas such as football stadiums and baseball parks. Larger domes - made of thousands of transparent pillows each only a few feet square - covering whole communities would be only a step away.
Obviously, roofing New York City—or really any major metropolis—isn't exactly feasible. Today, we're more focusing on keeping the global climate from running away from us than on keeping the citizens of New York nice and comfortable.
More from Smithsonian.com:
The Origins of Futurism
The Jetsons and the Future of the Middle Class