Hurricane Otis Slams Mexico in 'Nightmare Scenario' That Shocked Meteorologists
The storm rapidly intensified in just 24 hours before it hit Acapulco as a category 5, killing at least 27 people and destroying infrastructure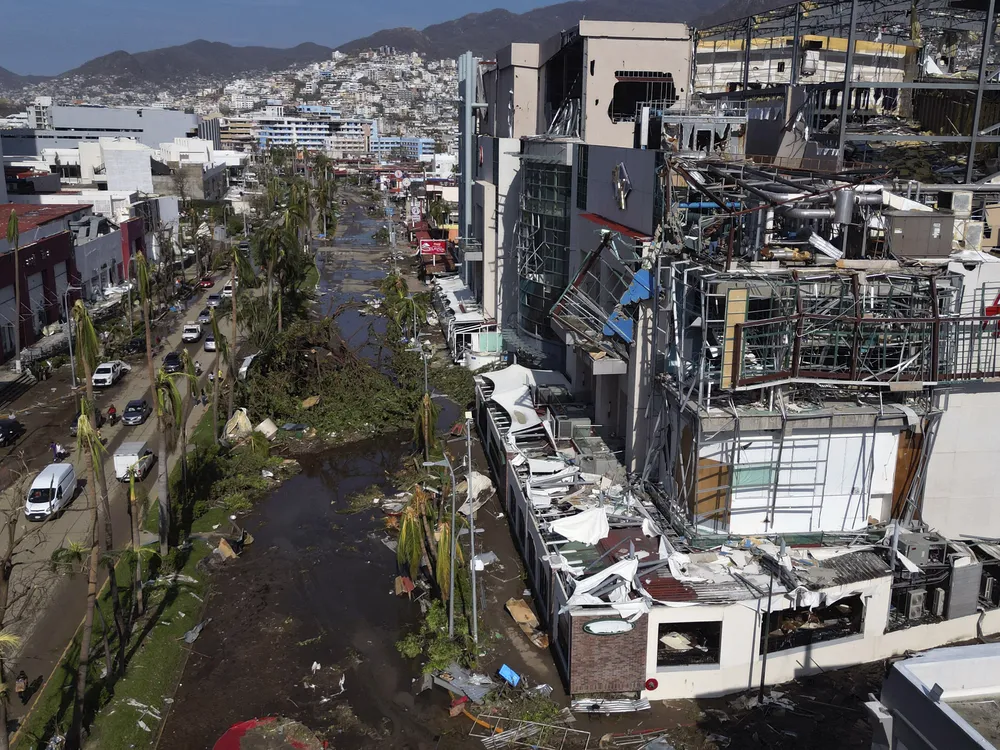 The Category 5 Hurricane Otis smashed into Mexico's Pacific Coast on Wednesday, killing at least 27 people and devastating the resort city of Acapulco. The storm made landfall with sustained winds of 165 miles per hour in what the National Hurricane Center (NHC) called a "nightmare scenario."
"There are no hurricanes on record even close to this intensity for this part of Mexico," the NHC said in a statement Tuesday night. "This is an extremely serious situation." 
The hurricane's intensity shocked forecasters, who had predicted just 16 hours before landfall that Otis would come ashore as a Category 1 storm. Satellite images captured at 2:30 a.m. on Tuesday show Otis located 210 miles south-southeast of Acapulco—still a tropical storm with winds at about 65 miles per hour. But by 12:25 a.m. on Wednesday, Otis had become the strongest hurricane to ever hit Mexico's Pacific Coast and the fastest-strengthening storm on record in the northeastern Pacific Ocean, report Jason Samenow and Kelsey Ables for the Washington Post. 
#Hurricane #Otis has intensified by 80 mph in the past 12 hours (from 65 mph to 145 mph). That's the fastest 12 hr intensification rate in the eastern North Pacific (to 180°) in the satellite era (since 1966), breaking the old record of 75 mph/12 hr set by Patricia in 2015. pic.twitter.com/O5BrIrUi5X

— Philip Klotzbach (@philklotzbach) October 25, 2023
When it reached Acapulco, the storm collapsed ceilings, smashed windows and leveled every electric utility pole in the city, leaving many of its one million residents without power. People left without food or other essentials waded through waist-high flooding to empty stores for supplies. 
"We have no gas, no water, no food," resident Miguel Ángel Dorantes tells the New York Times' Zolan Kanno-Youngs, Emiliano Rodríguez Mega and Elda Cantú. "Everything has been looted. There's nothing to take anymore."
Professional magician Erik Lozoya tells Reuters' Henry Romero and Diego Oré that he endured "three hours of terror" in his hotel room with his wife and two kids as the storm swept through the city. 
"It literally felt as though our ears were going to explode," Lozoya tells the publication. "We saw mattresses, water tanks flying. The ceiling began to cave in."
Acapulco is the largest city in the state of Guerrero, which is one of the poorest states in Mexico. The city relies heavily on tourism, but the storm caused extensive damage to about 80 percent of the city's hotels, reports Mark Stevenson for the Associated Press. In total, damages from the storm are approaching $15 billion, per Reuters.
Scientists have been warning for years that climate change will likely lead to stronger hurricanes. Warmer sea surface temperatures provide more energy to storms, which in turn leads to stronger winds, heavier rainfall and more flooding. Just last week, a new study suggested that in recent years, Atlantic hurricanes have become twice as likely to grow from a Category 1 storm or weaker to a major Category 3 storm within just 24 hours. Such rapid intensification is dangerous, because it gives people little time to prepare. 
Sea surface temperatures of 86 to 88 degrees Fahrenheit—about 1.8 degrees above the 1991 to 2020 average—may have aided in Otis' quick intensification, write Jeff Masters and Bob Henson for Yale Climate Connections. These higher temperatures can be attributed to a combination of the natural climate pattern El Niño and human-caused climate change.
In this case, another key contributor was the presence of a jet streak—or a strong band of winds—north of Otis, per the publication. This flow ventilated the storm, energizing it by adding moist surface air, in the way that fanning flames fuels a fire.