Hundreds of Fake Ads Protest Paris Climate Summit's Corporate Sponsors
Artists in Paris distributed 600 posters calling out companies' hypocrisy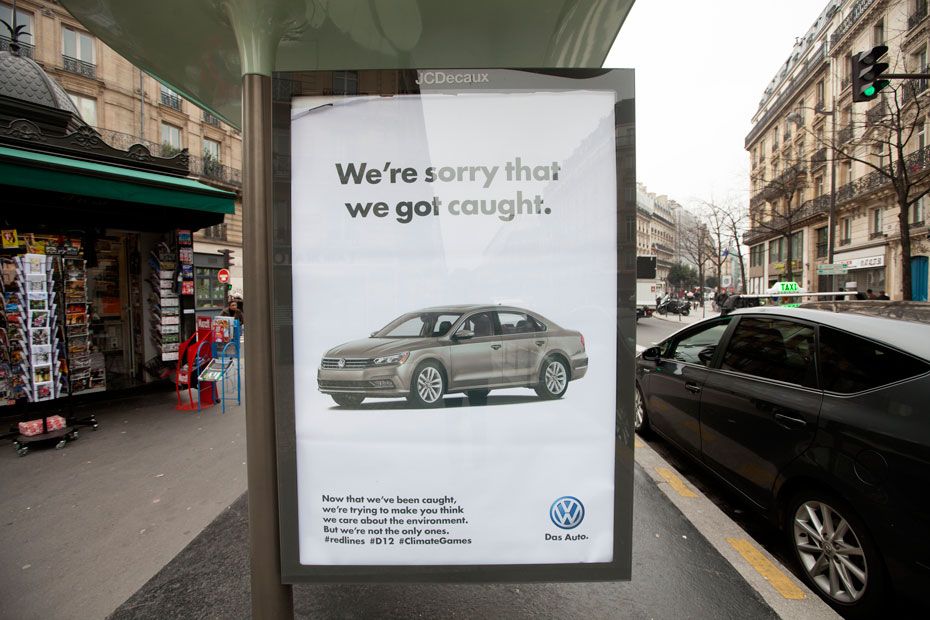 They may look like ads for Volkswagen, AirFrance and Exxon-Mobil, but many of the most recently hung posters at bus stations throughout Paris aren't promoting new products. Instead, they are meant to very publicly call out the corporate sponsors of the United Nations' COP21 Paris Climate Conference for their less than eco-friendly practices.
While Paris was under a state of emergency following November's attacks, teams from the British activist group Brandalism fanned out across the city and covertly installed 600 of the posters, which carefully mimic real advertisements for COP21's sponsors. The fake ads critique the connection between advertising, consumerism, fossil fuel consumption and climate change, Angela Natividad writes for AdWeek.
"By sponsoring the climate talks, major polluters such as Air France and GDF-Suez-Engie can promote themselves as part of the solution – when actually they are part of the problem," Brandalism's Joe Elan says in a statement.
The group commissioned 82 artists from around the world to contribute works to the campaign, including Neta Harari, Escif, Kennard Phillips, Jimmy Cauty and Banksy-collaborator Paul Insect. Many of the posters mimic the tone and branding of the ads they replaced in order to make Parisian commuters take a closer look at the posters and billboards they pass by every day, Kate Sierzputowski writes for Colossal.
One poster by the street artist Barnbrook borrows the look and voice of Volkswagen ads, for example, but blasts the car company for its recent carbon emissions scandal, saying: "We're sorry that we got caught. Now that we've been caught, we're trying to make you think we care about the environment. But we're not the only ones."
Corporations weren't the campaign's only targets: some of the posters included images of world leaders. One poster depicts a smiling Barack Obama swimming with one of his daughters as oil burns in the background, while another pictures David Cameron wearing a NASCAR racing suit plastered with corporate logos, George Dvorsky reports for Gizmodo.
"We are taking their spaces back because we want to challenge the role advertising plays in promoting unsustainable consumerism," one participating artist says in a statement. "Because the advertising industry force feeds our desires for products created from fossil fuels, they are intimately connected to causing climate change. As is the case with the climate talks and their corporate sponsored events, outdoor advertising ensures that those with the most amount of money are able to ensure that their voices get heard above all else."