How to Make a Sandwich in Space
Astronaut Hadfield is described as "the International Space Station's ambassador to the internet." Now, he's showing you how to make a sandwich, in space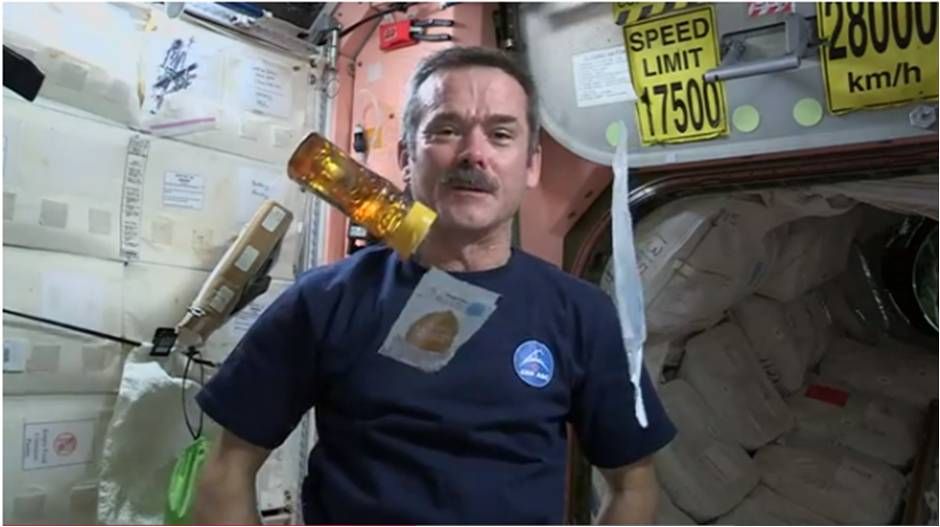 Canadian Astronaut Chris Hadfield has been described as "the International Space Station's ambassador to the internet." He's made videos about nail clipping, hand washing, and adapting to weightlessness. Now, he's showing you how to make a sandwich.
The Canadian Space Agency describes some of the solutions to the challenges presented by eating in space:
Astronauts consume mostly wet and sticky foods such as oatmeal, scrambled eggs, puddings and stews because they stick to an eating utensil long enough for the astronaut to put into their mouth. Foods like bread are rejected because they produce crumbs that can float around; tortillas, on the other hand, are perfect for eating in freefall. Salt and pepper are also consumed, but the salt must be dissolved into water and the pepper suspended in oil.
The CSA also had a contest for Canadian foods to go into space, bringing along things like Les Canardises Duck Rillettes, SeaChange Candied Wild Smoked Salmon, L.B. Maple Treat Maple Syrup Cream Cookies and Turkey Hill Sugarbush Maple Syrup.
In the United States, NASA has a food lab that researchers foods for space consumption. They test things like how many calories astronauts need, and how to actually package and store them. Last year, they tested some new foods for space missions.
But remember, in space, no one can hear you scream for ice cream.
More from Smithsonian.com:
Solar System Lollipops And Other Food That Looks Like Things
Inviting Writing: Lost Cereal, Kool-Aid and Astronaut Food