Just How Chilly Is the World's Coldest City?
The temperature in Yakutsk, Russia, dropped to a record-breaking minus 80 degrees Fahrenheit this month
Wake up and start layering on multiple hats, scarves and mittens. Go outside to check on the car that's been running all night, because turning it off could cause the engine to freeze. Visibility is poor because the city is shrouded in "ice fog"—a thick mist that forms when the temperature is too cold for hot air to rise. Welcome to winter in Yakutsk, the coldest city in the world.
Residents of this notoriously frosty city, the capital of Russia's Sakha Republic in eastern Siberia, regularly deal with temperatures as low as minus 40 degrees Fahrenheit in the winter. But last week, temperatures plunged to minus 80.9 degrees—the coldest in more than two decades, reports CNN's Heather Chen.
The air in Yakutsk is often cold enough to make exposed skin go numb, which, if unnoticed, can lead to frostbite. But even so, some locals seem unfazed.
"You can't fight it. You either adjust and dress accordingly or you suffer," resident Anastasia Gruzdeva tells Reuters. "You don't really feel the cold in the city. Or maybe it's just the brain prepares you for it, and tells you everything is normal."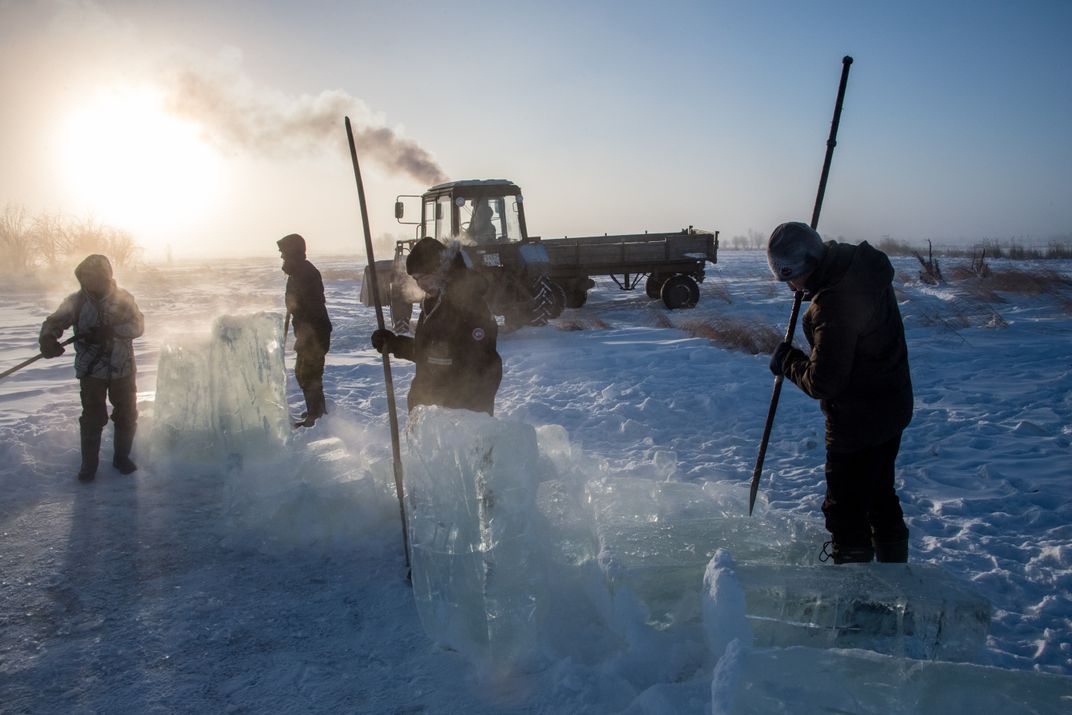 More than 300,000 people live and work in Yakutsk, which is one of Siberia's fastest growing regional cities, despite its cold temperatures and far-flung location, 3,100 miles from Moscow. Located on the Lena River, Yakutsk is a mining city—and wages can sometimes be higher there, a payoff for the harsh climate. It also attracts adventurous tourists intrigued by the city's frosty reputation.
Another resident, Nurgusun Starostina, sells frozen fish at an outdoor market—and she doesn't even need to use a freezer. "Just dress warmly," she tells Reuters. "In layers, like a cabbage!"
Yakutsk's other claims to fame? It's a great place to learn about the Ice Age—specifically, the woolly mammoth. The city houses the Mammoth Museum, where visitors can view woolly mammoth fossils, and the Melnikov Permafrost Institute's Underground Laboratory, which has a tunnel showcasing fossils in below-freezing temperatures.
The city is built on a continuous permafrost, meaning that a layer of frozen soil is present even in the summer. Many buildings are constructed on stilts because of these conditions, which can threaten structures' foundations when the frost starts to thaw.
Life in the freezing city may be difficult, especially when temperatures break records, but many have found ways to adapt. That's doubly true for the smaller villages outside the city, like Oymyakon, a rural locality in the Sakha Republic.
"A guy I was staying with [in Oymyakon] left his car running all night, but even so, in the morning, the drive shaft was completely frozen," photographer Amos Chapple recounted to Smithsonian magazine's Natasha Geiling in 2015. "Without any ceremony, he pulled out a little flamethrower, went under the truck and started fanning the bottom of his truck with a flamethrower. It's part of the toolkit [for living in Oymyakon], a little flamethrower."