Heat Wave Gripping the Southern U.S. Will Spread This Week
Some areas may face a heat index as high as 120 degrees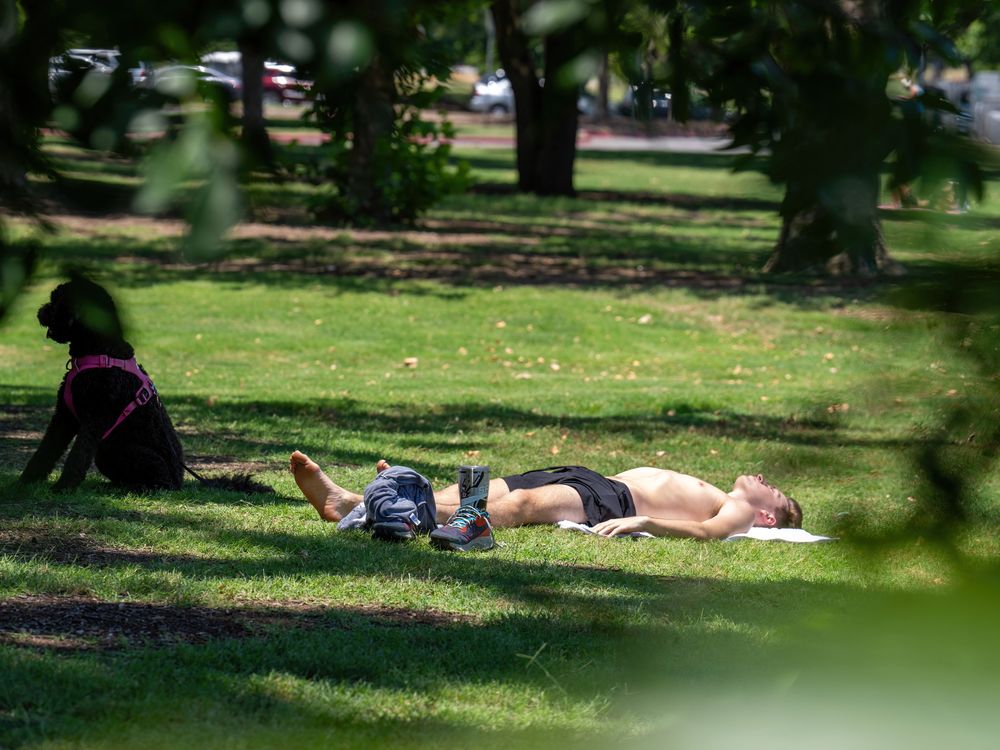 A record-breaking heat wave blasting Texas and Mexico this month is expected to spread across the South and intensify over the next week, with the heat index hitting 120 degrees Fahrenheit in some areas, according to the National Weather Service. The heat index—or a measure of how hot it feels to the human body—is considered dangerous when it passes 103 degrees Fahrenheit. 
"There may be more danger than a typical heat event due to the longevity of elevated record high nighttime lows and elevated heat index readings during the day," the NWS tweeted. "It is essential to have a way to cool down and interrupt your heat exposure."
From Texas to Florida, more than 150 temperature records could be broken this week, reports CNN's Jennifer Gray, Lauren Mascarenhas and Amy Simonson. At the time of publication, more than 100 million Americans were under some level of heat alert, including nearly 45 million under the more serious designation of excessive heat watch. 
Heat causes the most weather-related fatalities in the U.S., ahead of hurricanes, floods, rip currents and cold, per the NWS. More than 600 Americans die from extreme heat every year. On Friday, two hikers died in Texas' Big Bend National Park as temperatures hit 119 degrees Fahrenheit. In the Tulsa, Oklahoma, region, ambulance crews struggled over the weekend to keep up with calls from people experiencing heat exhaustion and falling ill because of power outages, report Edgar Sandoval and Judson Jones for the New York Times. In Texas' Webb County, nine deaths were attributed to heat-related illnesses over the past eight days, per CNN. 
"This is heat like we've not seen here before. Please, please, please. Deaths due to heat stroke are ruled as accidents, and accidents, by definition, are preventable deaths. All these deaths could have been prevented," Webb County medical examiner Corinne Stern said at a commissioners court meeting Tuesday, reports CNN. "Please check on your neighbors."
The heat wave in Texas was caused by a heat dome—a region of high pressure that traps heat over an area. Higher intensity and more frequent heat waves have been linked to human-caused climate change. The climate science non-profit Climate Central calculated the heat wave in Texas was made five times more likely because of climate change. 
Over the past few years, Texas has seen particularly extreme weather events. Tornadoes and wildfires hit the state last year, and in 2021, Winter Storm Uri led to deadly power outages and temperatures as low as 6 degrees. Since 1993, the state's average daily high temperatures have increased by 2.4 degrees, reports the Associated Press. 
Officials are urging people to take safety precautions in the coming days, including taking frequent breaks when working outdoors, staying hydrated, seeking relief in air conditioned buildings and checking in on vulnerable friends and family members, especially those that do not have air conditioning or are easily affected by heat.
"This may be outside of what you would normally expect in summer," David Roth, a meteorologist with the NWS's Weather Prediction Center, tells the New York Times' Marie Elizabeth Oliver, Stacey Cato and Livia Albeck-Ripka. "Prepare for that."