Hawaii Volcanoes National Park to Reopen Without Molten Lava or Lava Glow
The lava lake in the Halema'uma'u crater is gone and lava flows from Puʻu ʻŌʻō crater have stopped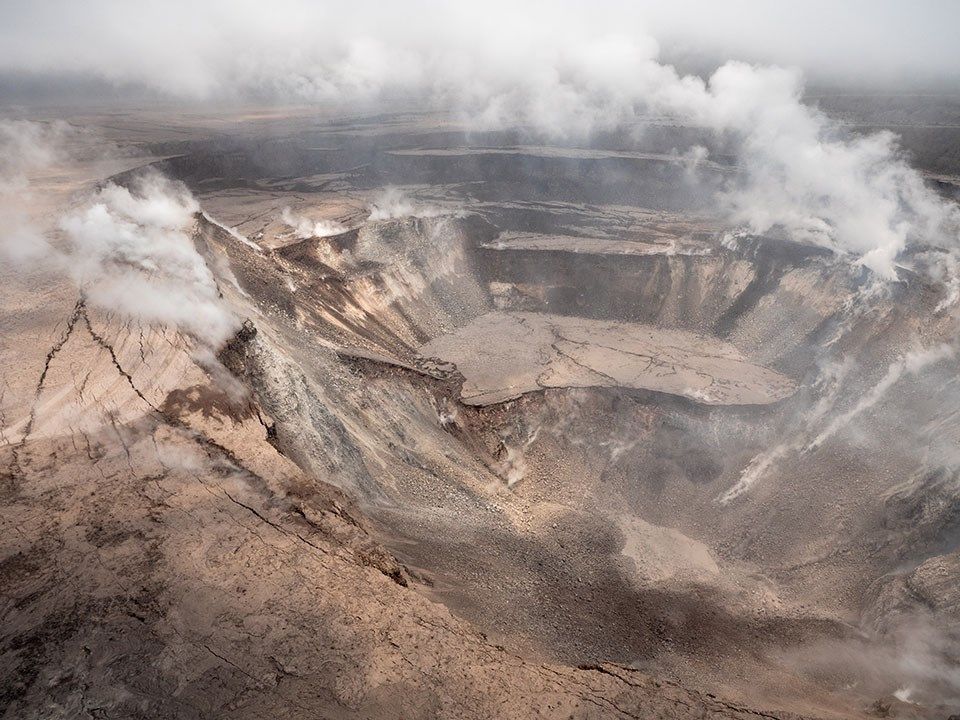 The eruption of Hawaii's Kīlauea Volcano in May kicked off a summer punctuated by earthquakes, plumes of ash, and flows of lava that destroyed approximately 700 homes on the Big Island. Understandably, in the wake of the eruptive activity, Hawaii Volcanoes National Park—which encompasses Kīlauea—closed its doors to the public. Now, as the fallout appears to have finally settled, Mark Kaufman at Mashable reports that portions of the park are set to reopen to the public tomorrow. For anyone familiar with the park, upon reentry they'll notice one stark change to its landscape: the complete absence of lava.
"It will not be the same park that it has been in the past," Mike Nelson, executive director of the Volcano Art Center, which hosts a gallery within the park's Volcano House Hotel, tells local news broadcaster KITV's Melody Gonzales in an interview. "Nor do we anticipate that the volume and revenues will be the same in the past... but we're not losing hope."
About a week after Kīlauea began erupting, the majority of Hawaii Volcanoes National Park was forced to initiate the longest shutdown in its history. Prior to its closure, the Park enjoyed nearly 5,500 visitors each day, according to a National Parks Service press release. A sizeable amount of that traffic was for Halema'uma'u Crater's glowing lava lake—a pool of molten, churning rock cradled atop Kīlauea's summit caldera. But Kīlauea's eruption drained the pool in a series of fiery belches, allowing lava to ooze out of its many new fissures. Now, all that's left is a massive, gaping mouth that, in many of the areas felled by seismic activity, plunges to depths of 1,500 feet.
This is the first time Halema'uma'u Crater has been empty in about a decade, when it refilled after a similar eruptive emptying in 1924. And it's not alone: Lava flows from Puʻu ʻŌʻō crater have also ceased—and the entirety of Hawaii Volcanoes National Park is now devoid of its lustrous lava lure.
For weeks, all eyes have been on fissure 8, the earthen gash where lava first broke in early May. In early August, after three months of the fissure gushing molten rock oceanward, reports from the Hawaiian Volcano Observatory tentatively announced that the output had dropped. The initial dip in activity wasn't enough to reopen the park, however: Volcanic eruptions are infamous for their ebb and flow. But in the weeks since, the fissure has mostly maintained its silence, emitting only the occasional gasp of lava or smoke, leaving Park superintendent Cindy Orlando feeling "optimistic," reports Jay Jones at the Los Angeles Times.
The park will reopen access to 14 roads and trails, as well as a few other tourism mainstays like the Kīlauea Visitor Center and the park bookstore. However, several other pathways and buildings will remain shuttered due to possible earthquake damage and await further assessment, reports Michael Brestovansky at the Hawaii Tribune-Herald.
Since the park's reopening coincides with National Public Lands Day, when admission to public lands in the U.S. is free, expect some serious crowds for the relaunch. Visitors attending are urged to wear sturdy shoes and long pants; some park officials have even advised packing protective eyewear and masks for those planning to hit the trails, report Christina Maxouris and Saeed Ahmed of CNN. Even the best equipped of hikers should take extra care to avoid cracks, sinkholes, and cliff edges (which, incidentally, is also good advice for those traipsing around parks that haven't recently experienced volcanic activity).
The explosive alteration to its terrain may make Hawaii Volcanoes National Park's forthcoming debut a touch unfamiliar—but just like the active volcanoes it houses, the park itself is always evolving.
"We are thrilled to … share the incredible changes that have taken place," Orlando affirms in the release.